Best Defense
Clinton Comes Out Swinging at Sanders Wall Street Plan—Before He Unveils It
The Democratic front-runner's campaign is criticizing Sanders's failure to address the issue of "shadow banking."
by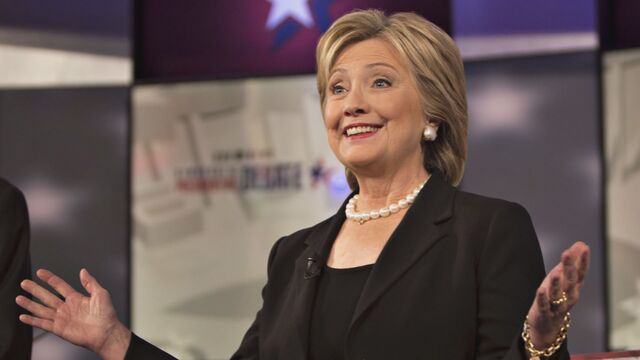 Hillary Clinton's campaign is attempting to preempt rival Bernie Sanders's big Wall Street policy speech by suggesting that the Vermont senator's plans wouldn't do nearly as much as hers to prevent a future financial crisis.
The Democratic front-runner has developed policies aimed at reining in the "shadow banking," an area that Sanders's proposals have yet to address. He's set to speak Tuesday in New York.
"Unfortunately, Senator Sanders has so far taken a hands-off approach to some of the riskiest institutions and activities in our economy, which were among the biggest culprits during the 2008 crisis," Gary Gensler, Clinton's chief financial officer and the former chair of the Commodity Futures Trading Commission, said in a statement, referring to the activities of hedge funds and high-frequency traders. "In his speech tomorrow, Senator Sanders should go beyond his existing plans for reforming Wall Street and endorse Hillary Clinton's tough, comprehensive proposals to rein in risky behavior within the shadow banking sector."

Not surprisingly, the Sanders campaign was less than enthusiastic about Gensler's assessment.  "Senator Sanders won't be taking advice on how to regulate Wall Street from a former Goldman Sachs partner and a former Treasury Department official who helped Wall Street rig the system," Michael Briggs, Sanders' communications director, said in an e-mail.  
Clinton faces the persistent notion that because she has many Wall Street donors and high-level advisers with ties to the financial services industry, she won't be as tough on Wall Street as many Democratic voters would hope. But her campaign has pushed back by stressing that she has offered nuanced proposals that reach beyond simply regulating the big banks. She's been endorsed by former Massachusetts Congressman Barney Frank and Gensler has widespread credibility with the left after aggressively pushing for tougher regulations during his time in the Obama administration. 
While avoiding direct attacks on Clinton, Sanders has stressed that he would be much more aggressive in his approach to the financial sector, thus far without the same level of detail in his proposals that Clinton has offered. During the most recent Democratic debate, Sanders said he doesn't expect "to get too many campaign contributions from Wall Street." He added: "The CEOs of large multinationals may like Hillary. They ain't gonna like me and Wall Street is going to like me even less."
During that debate, held in mid-December in New Hampshire, Clinton jabbed Sanders for voting in favor of the Commodity Futures Modernization Act, which was passed in 2000, and was signed into law by then-President Bill Clinton, who has since said he regrets doing so. 
Before it's here, it's on the Bloomberg Terminal.
LEARN MORE