Obama May Travel to Cuba as Part of Final Year's To-Do List
by
Steps needed by both sides before U.S. will commit: Rhodes

Briefing by national security aide before Obama's holiday ends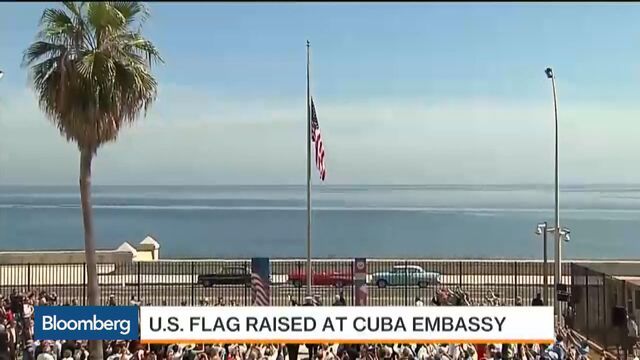 The White House will decide within a few months whether President Barack Obama marks his final year in office with a historic trip to communist Cuba, which has been under a U.S. trade embargo for more than 50 years.
Ben Rhodes, deputy national security adviser, declined on Saturday to make a commitment on an Obama visit, saying that moves need to be taken by both governments to make the opening of relations between the U.S. and Cuba "irreversible."
Rhodes spoke to reporters in Honolulu hours before Obama was due to fly back to Washington from a family vacation in Hawaii.
The U.S. has taken steps to facilitate travel and commerce with Cuba for the first time in decades, though "there is more we could do," Rhodes said.
"On the Cuban side, there are steps they could take over the course of the year that could allow them to absorb greater economic activity," Rhodes said, adding that "nobody expects Cuba in the next year to become a multi-party democracy."
The U.S. and Cuba started to re-establish ties in late 2014. Obama and Cuban President Raul Castro met at the Summit of the Americas in Panama in April 2015, the first meeting between U.S. and Cuban heads of state since 1961.
Ballistic Missiles
In a wide-ranging briefing, Rhodes also said the U.S. wasn't shifting its position on whether to announce further sanctions on Iran in response to recent ballistic missile launches. "We have additional work that needs to be done before we would announce additional designations," he said.
Separately, the U.S. expects Iran in the next few weeks to complete the work necessary to finalize the nuclear deal struck with world powers in July.
"They still have a number of important things they need to do," Rhodes said. "But we are on track to see the implementation of the Iran deal moving forward."
The Wall Street Journal reported on Dec. 31 that the new sanctions may be delayed, citing unidentified U.S. officials. Lawmakers, including some Democrats, have criticized the White House for dragging its heels.
"These recent violations underscore Iran's readiness to test the will of the international community, instigated by its hardline elements that want to scuttle the deal. That challenge must be met with a decisive response," Representative Steny Hoyer of Maryland, the second-ranked Democrat in the House, said Saturday in a statement.
Before it's here, it's on the Bloomberg Terminal.
LEARN MORE