Obama Moving Against 'Epidemic of Gun Violence,' Will Hold Town Hall Meeting
by and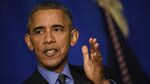 President Barack Obama is starting his final year in office with new efforts to restrain gun violence, including potential executive actions that quickly drew howls from Republicans aiming to succeed him. 
Obama will meet with Attorney General Loretta Lynch on Monday to discuss potential actions. On Jan. 7, the president will appear at a live town hall event at George Mason University in Fairfax, Virginia, to talk about ways to curb gun violence, the White House announced on Sunday. CNN's Anderson Cooper will join Obama for the ''Guns in America" special. 
Enacting new gun rules, which the administration promised in December, is part of "my New Year's resolution to move forward on our unfinished business as much as I can," Obama said is his weekly video and radio address, released on Jan. 1.
The president singled out gun control as a priority, saying federal efforts to limit violence had been stifled by a gun lobby that wields more power in Congress than public opinion warrants.
"Tens of thousands of our fellow Americans have been mowed down by gun violence," Obama said. "And yet Congress still hasn't done anything to prevent what happened to them from happening to other families."
No major gun-control measure has emerged from Washington since a 1994 assault weapons ban, which expired ten years later and wasn't renewed. Obama unsuccessfully tried for congressional passage of new gun-control laws after the December 2012 shooting at Sandy Hook Elementary School in Newtown, Connecticut, in which 20 young children and six adult staff members were killed.
"We know that we can't stop every act of violence. But what if we tried to stop even one?" said Obama. 
A Senate vote in December to strengthen background checks on gun-buyers, voted on the day after a mass shooting in San Bernardino, California, killed 14 people, failed largely along party lines. Nearly all Democrats supported the measures while Republicans, who hold the majority, were mostly opposed.
The plan quickly drew the attention of Donald Trump, front-runner for the 2016 Republican nomination, who said there were already enough "rules and regulations" governing the firearms industry and vowed to reverse any executive actions if elected. 
"It's not the gun that pulls the trigger," Trump said on CBS's Face the Nation broadcast on Sunday. "I don't like it. I don't like what he's doing."
"We have plenty of rules and regulations, there's plenty of things they can do, right now, that are already there, they don't do them," Trump said. The billionaire also said the U.S. should focus more on mental health measures to curb gun violence, such as building "institutions for people that are sickos." 
Another Republican presidential hopeful, former Florida Governor Jeb Bush, said Obama was taking rights away from law-abiding citizens. Bush said that, if elected, he would focus instead on punishing people committing crimes with guns. Speaking on Fox News Sunday, Bush called himself the most "pro-gun, pro-Second Amendment'' governor, and one who cut down gun violence in the state at the same time.
Others were more scathing. New Jersey Governor Chris Christie, also on Fox News Sunday, called Obama ''a petulant child'' in acting unilaterally to get his way, while Carly Fiorina, former chief executive of Hewlett-Packard, told CNN's State of the Union that the president has been ''lawless'' in his use of executive orders. 
The three major 2016 Democratic candidates for president have called for tougher gun control in the wake of the San Bernardino attack, carried out by a married couple who were followers of radical Islam.
That includes Senator Bernie Sanders. The Vermont independent, who has been criticized by rivals Hillary Clinton and Martin O'Malley for not being tough enough on guns in the past, was one of the 48 senators who voted in favor of West Virginia Senator Joe Manchin's amendment to expand background checks.
Sunday, Sanders told ABC's This Week that what Obama's proposing "will be the right thing to do."
A "wide consensus" of Americans "believe we should expand and strengthen the instant background check so that people who should not have guns, are i.e. criminals or people with mental issues, mental health issues, should not guns," Sanders said. 
Before it's here, it's on the Bloomberg Terminal.
LEARN MORE