Getting Nasty
Rubio on Defense During Heavy Campaign Week
The Florida senator finds himself in an ad war with Jeb Bush and trades barbs over absenteeism with Chris Christie.
by and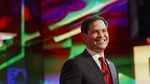 Republican presidential candidate Marco Rubio found himself under siege on two fronts Tuesday over his attendance record in the U.S. Senate as the Florida lawmaker embarked on a swing through snowy Iowa.
Right to Rise PAC, a super-political action committee supporting Rubio's one-time political mentor, former Florida Governor Jeb Bush, released an ad that it intends to air in Iowa, a state where Bush isn't making a strong push but Rubio is.
The spot attacks Rubio for attending fundraising events instead of Senate security briefings about the terrorist attacks in Paris and San Bernardino, California. "Politics first, that's the Rubio way," the narrator says in the spot. Calling Rubio's record of truancy the worst in the Senate for the past three years, the ad moves the rivalry between the two Florida presidential contenders into new territory. The aim of the ad seems more about damaging Rubio than helping Bush, who is never even mentioned by name. 
Meanwhile, New Jersey Governor Chris Christie invoked a more common vernacular to hit Rubio on the same issue during a town hall in Muscatine, Iowa. Christie teed off on Rubio's decision not to vote on a budget bill that the senator had panned.
"He never showed up. He was totally opposed to it, and didn't go there to vote no. Then what's it matter that you're opposed to it?" Christie said. "Dude, show up to work, and vote no. Show up to work and vote no. And if you don't want to, then quit."
Speaking to reporters Tuesday morning in the eastern Iowa town of Clinton, Rubio said the charge leveled by the Bush super-PAC is inaccurate. He said that as a member of the Senate Intelligence Committee, he received a briefing on the Paris attacks a full day before the rest of the Senate. Rubio's spokesman, Alex Conant, called it "dishonest" for the Right to Rise ad to omit that detail.
Paul Lindsay, a spokesman for the pro-Bush super-PAC, pounced, demanding that Rubio release his Senate Intelligence Committee attendance records. Records indicate that at least eight times since May—and six times since September—Rubio has missed votes on the Senate floor on the same day the Senate Intelligence Committee held meetings. On four of those days, Rubio was campaigning in Iowa, New Hampshire, or South Carolina. Rubio's Senate spokesman, Alex Burgos, did not respond to a request for comment.
But Rubio's super-PAC, Conservative Solutions, quickly retaliated with a Web ad attacking the former Florida governor, suggesting that a season of heretofore mostly positive political advertising is coming to a close.
Of Bush, Rubio said: "We see that as we get closer to Election Day the millions of dollars he's spent are not changing his fortunes—he's becoming increasingly negative in his attacks." Rubio served in the state legislature when Bush was governor. "Someone convinced him that attacking me was going to help him win and he has a right to run whatever campaign he wants to run."
As for Christie's attack, Rubio worked to turn it on the New Jersey governor. "In my time in the Senate I have close to a 90 percent attendance record. Chris has been missing in New Jersey for half the time," said Rubio, citing a calculation by WNYC reporter Matt Katz.
The Republican feuding came as Christie and Rubio both launched three-day runs through the eastern portion of the Hawkeye State, where Senator Ted Cruz of Texas has led recent polls and billionaire Donald Trump has come in a distant second. 
Before it's here, it's on the Bloomberg Terminal.
LEARN MORE