Race for New Hampshire
Donald Trump Urges Supporters to the Polls
The Republican front-runner appears to be making a move to turn enthusiasm into votes.
by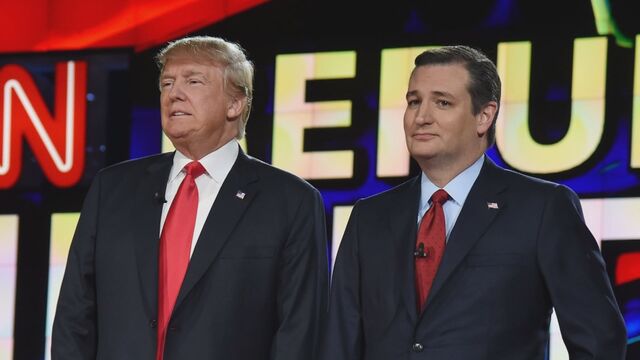 Donald Trump's message to supporters in New Hampshire on Monday night: If you want to make America great, show up at the polls.
The billionaire celebrity-turned-Republican presidential candidate sounded an urgent new note, urging an audience at a Nashua middle school to take their enthusiasm for his candidacy into the voting booth. "If you vote, we win," Trump said. He made his get-out-the-vote pitch both at the beginning and the end of his rally, and again when he spoke to backers in an overflow room.
"On the ninth, you've got to get out there and you've got to vote," he said, referring to New Hampshire's Feb. 9 primary. "You've stood here an hour-and-a-twenty minutes. I mean, what are you doing standing here all night long if you're not gonna vote?"
The question for Trump has always been whether he can translate the passion of his rallies into votes, a question the surprise national front-runner now appears to be addressing himself as he tries to turn his insurgent campaign into the more nuts-and-bolts operation required to score victories. His direct plea for supporters to turn out in the nation's first primary came as Politico reported Trump has reached a deal to access the Republican National Committee's voter files, a vital tool to any get-out-the-vote operation.
Addressing the New Hampshire overflow crowd, Trump also confirmed a Fox News report that he's preparing to make some major television advertising buys. Unlike most of his major rivals, Trump has not been on the air so far in the early-voting states.
Trump devoted much of his 80-minute speech to reading off poll numbers that he joked are so positive "I demand the election be today." 
But he devoted even more time to attacking his detractors, most notably Joseph W. McQuaid, the publisher of the New Hampshire Union Leader, which endorsed New Jersey Governor Chris Christie last month. McQuaid published an op-ed Sunday night calling Trump a "crude blowhard." Trump spent nearly 10 minutes more-than returning the favor, dubbing McQuaid a "low-life" and "Christie's lap-dog" and predicting the imminent demise of the state's largest newspaper. At one point, he tossed a copy contemptuously into the crowd.

Even some of Trump's supporters at the rally were confused by the long rant against the paper, long a prominent Republican voice in New Hampshire. "It was kind of irrelevant, especially since print media is already dead," said Tom Carter of Windham. 
Thomas Zajac of Merrimack was more approving of the attack, even on a local institution. "This is what we like about him," he said of Trump. "It's the consistency of his style—he's not going to take crap from anybody."
Trump seemed equally as peeved at Christie as he was at McQuaid.
He dismissed New Jersey as "a disaster state" and questioned why Granite State voters should want to vote for a governor who, by Trump's account, couldn't win re-election. "You know the people in New Jersey want to throw him out of office," Trump told the crowd, saying the Garden Staters wonder why their chief executive is "in New Hampshire every single day having town hall meetings.'"
"I love New Hampshire, but he shouldn't be up all the time," Trump said. "He's supposed to be running the state."
Trump was not above pandering to New Hampshire pride himself however. Warning of a threat to New Hampshire's traditional status as host of the nation's first presidential primary, Trump vowed: "I have to tell you, New Hampshire will always maintain its place if I win."
"There's a big movement to put you at the back of the pack or in the middle of the pack," he added. "I don't know why. Is it retribution? You have a lot of power." 
Trump also saved some zingers for Democratic presidential front-runner Hillary Clinton, whom he last week attacked with a Yiddish vulgarism.
"Can I say the word?" Trump taunted the crowd, which filled in the blank by chanting back the controversial term. "I won't give the press any more fun with it... we don't want to make that the story."
Before it's here, it's on the Bloomberg Terminal.
LEARN MORE