Fight Night
Sanders Heads Into Clinton's Foreign Policy Turf: The Democratic Debate By the Numbers
And Martin O'Malley stole the show on gun control, a Bloomberg Politics analysis shows.
by and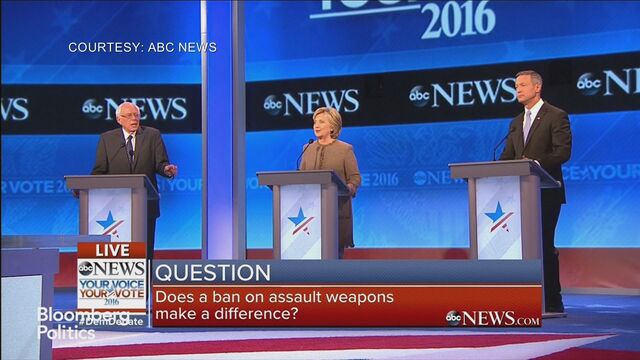 After months of branding himself as the anti-Wall Street candidate, Democratic presidential hopeful Bernie Sanders seems to be broadening his focus. A Bloomberg Politics analysis shows that, during the weekend debate with his rivals for the nomination, he spent far more time discussing foreign policy than he has in the past.
For Sanders, who has promised a "political revolution," the Democratic presidential candidates' third face-to-face encounter Saturday in New Hampshire, represented an evolution. In the previous debate with former Secretary of State Hillary Clinton and former Maryland Governor Martin O'Malley, which occurred 24 hours after the Paris attacks, Sanders offered just two sentences on terrorism in his opening statement. He then quickly pivoted to his more familiar broadsides against "millionaires and billionaires." On Saturday, Sanders spent a full third of his opening statement on national security.
That shift persisted throughout the debate, as Sanders focused less on Wall Street (nine mentions, down from 16 in the last debate) and more on the Islamic State (16 mentions, up from four).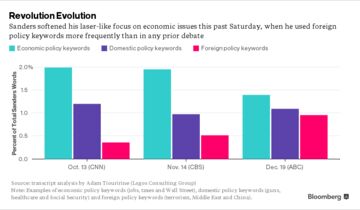 Considering that Sanders trails Clinton 26 percent to 64 percent on who would "best handle the threat of terrorism" in the latest ABC News/Washington Post poll, his debate-stage shift toward foreign policy marks a clear attempt to close that gap, less than two months before voting begins in the early primary and caucus states.  
The much anticipated conflict over a breach of Clinton campaign data by Sanders' aides never emerged—turning instead into a kumbaya moment when Clinton accepted Sanders' apology. Instead, the evening's major points of controversy centered on foreign policy and guns. 
Candidates on the attack
On Syria, Clinton argued for regime change while Sanders' position was to focus on fighting the Islamic State now and "get rid of Assad later." O'Malley was largely left out of the foreign policy fracas, but he stole the spotlight on the issue of gun control. The mayor of Baltimore before he went to the governor's mansion, O'Malley lashed out at "the flip-flopping, political approach of Washington that both of my two colleagues on this stage have represented there for the last 40 years." Sanders and Clinton respectively urged him to "calm down'"and "tell the truth."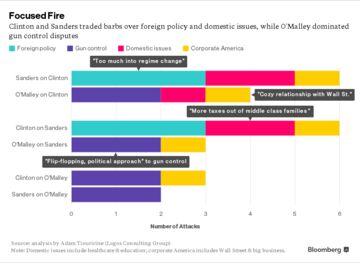 At times, the candidates even seemed to feed off their own disagreements. After a heated back-and-forth with Clinton over healthcare and higher education, Sanders remarked: "Now this is getting to be fun."
Perhaps the biggest free-for-all turned on the candidates' respective relationships with banks and big business, during which arrows flew in nearly every direction (except from Sanders against O'Malley). 
Still Clinton's show
Critics who've argued that the Saturday debate, the last of 2015, was deliberately scheduled by the Democratic National Committee to minimize viewership and thereby favor Clinton, may see some corroboration in the lopsided attention given to the front-runner, who before serving as secretary of state, was a U.S. senator from New York and the nation's first lady. In all, Clinton spoke the longest of any of the candidates, according to Politico's estimates. As tallied by Bloomberg Politics, she also received the most questions and rebuttals.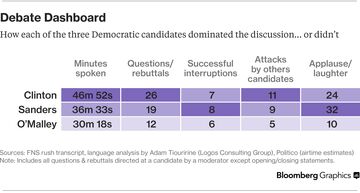 Where Clinton didn't fare so well was in her rapport with the audience: She chalked up 24 recorded applause or laughter events in the Federal News Service rush transcript, compared to 32 for Sanders. By these measures, O'Malley largely failed to make himself heard: He had five unsuccessful interruptions and by far the fewest minutes spoken, questions received or applause-or-laugh lines.
Over in the social media world, Bernie Sanders and his grassroots campaign continue to win the Internet primary. During Saturday's debate, Sanders was the most searched Democratic candidate on Google, and the most discussed on Facebook. He also amassed the most new Twitter followers. (The figures were provided by each of the companies.) Clinton's social media consolation prize: her "may the force be with you" Star Wars sign-off was the single most tweeted moment of the entire debate.
Bloomberg contributor Adam Tiouririne of Logos Consulting Group advises senior business leaders on high-stakes communication and researches language, leadership and the media.
Before it's here, it's on the Bloomberg Terminal.
LEARN MORE