Report Card: Clinton Still Leader of the Pack
Front-runner hangs tough; Sanders improves; O'Malley struggles to move the needle
by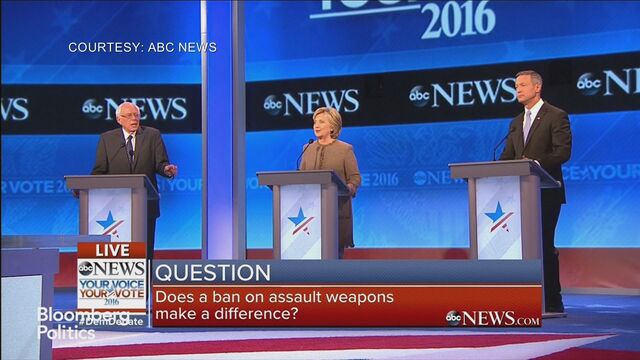 Focused most of her negativity on the Republican side (especially Trump, by name) rather than on her Democratic rivals. Lived by the aphorism of Clinton '92: specificity is a character issue. Achieved her apparent goal of staying good-humored whenever possible. Staunchly and tartly defended herself from jibes, especially from O'Malley (which she did once again with bountiful, well-memorized opposition research in retaliation). Exposed some potential general election vulnerabilities, but carefully sidestepped significant nomination battle land mines. At times gave off the air of being too lofty to share a stage with her remaining Democratic rivals -- but with a dwindling number of remaining debates and sitting on a lead, may be wise to largely focus on the general election.

Apologized early for DNC data violation, defusing the issue but delaying the groove of confidence and spirit he found halfway through the night, when he began to flash his brand of gruff charm and smarts. Showed off newly-honed answers on gun control. Received a strong reaction from the in-house audience throughout, equal to Clinton's own spectator support. Made references to opposing the invasion of Iraq but failed to frame the matter well enough to put Clinton on the defensive. Same on Wall Street ties, where he wasn't nearly as tough or specific as the rapid response press releases his campaign emailed during the debate. Expressed frustration when he was unable to weigh in on topics addressed by his rivals. His strongest debate performance, but still needs to offer a crisper alternative to Clinton's agenda.

Confident and conversational, but had trouble with the timing and potency of his attacks and interruptions. His tone veered from largely assured to occasionally whiney. One successful moment: Assertively demanded the floor to make the case he has the strongest record on gun control. Impressive, but not nearly enough of a force to move his low needle up
Before it's here, it's on the Bloomberg Terminal.
LEARN MORE