Game Changer
Democratic Race Erupts on Eve of Third Debate
Tonight's New Hampshire showdown might not be quite as civil as the two that preceded it.
by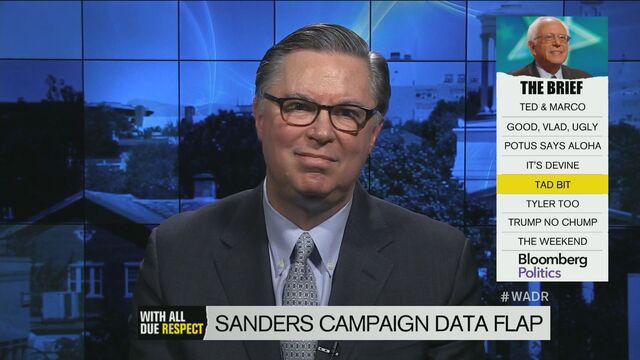 A Democratic presidential campaign that has looked tame compared to the one being waged by Republicans appears to be taking a sharp turn for the nasty as the three candidates prepare for their third debate Saturday.
The complexion of the race—and, most likely, the ABC News debate, which will be broadcast from New Hampshire at 8 p.m. local time—changed significantly Friday after word broke that a data glitch allowed staffers for Bernie Sanders' campaign to view voter files compiled by his rival, Democratic front-runner Hillary Clinton.
That set the two chief rivals for the nomination on a rhetorical roller-coaster: First the Clinton campaign officials charged data theft and Sanders sued the Democratic Party for breach of contract. Late Friday, however, the Clinton campaign issued a statement suggesting it supported Sanders' efforts to regain access to the voter file data. Early Saturday morning, the DNC announced it would restore Sanders' access to the data.
Simmering resentments over what Clinton's rivals consider favoritism towards her campaign by the Democratic Party exploded Friday after the Democratic Party announced it was blocking the campaign from accessing voter data files that it maintains until it could investigate the data breach. Sanders has so far scrupulously avoided personal attacks on Clinton. He even defended her in the controversy over her use of a private e-mail server while she was secretary of state. But on Friday, aides to the Vermont senator were pulling no punches.
Deliberately Poor Timing?
In an appearance on Bloomberg Politics With All Due Respect, senior Sanders' adviser Tad Devine suggested that the DNC's penalty on senator's campaign, which he likened to "giving somebody 20 years in jail for jaywalking," was part of an effort to keep any of Clinton's challengers from gaining momentum. The timing of the third debate is another example. Devine said.
"There's a debate the Saturday night before Christmas, OK?" he noted sardonically. "I don't think that time slot was picked so we'd get maximum viewership."
The third candidate who will be on the debate stage Saturday, former Maryland Governor Martin O'Malley, has complained vociferously about the debate schedule and the role of Democratic National Chair Debbie Wasserman Schultz in setting it, but this is the first time the Sanders camp has provided a second. 
Clinton's campaign manager, Robby Mook, told reporters on a Friday night conference call that Sanders was engaging in political ju-jitsu to make himself the victim of a data breach that his staff initiated. Mook said the Sanders campaign has started a fundraising campaign around the controversy. "I would certainly hope they stop trying to make money off what they did," he said.
Feeling the Bern
Sanders is heading into the debate buoyed by some good news: He just received his biggest union endorsement yet, from the Communication Workers of America; he won the endorsement of liberal group Democracy for America with 87.9 percent of the vote; his campaign says it received more than $2.4 million in a 48-hour period this week—and he's leading Hillary Clinton in New Hampshire by 10 points in a Dec. 9 CNN/WMUR poll.
But even if Sanders wins New Hampshire, his challenge will be to reach outside of his coalition of young people and white liberals. And outside of his New England home turf, the hill gets steeper. A new national poll by ABC and The Washington Post shows Clinton besting him by a 2-to-1 margin.
At the very least, he needs to focus on drawing clear contrasts between himself and Clinton on income inequality, social issues, and foreign policy, according to Democratic strategist Bill Carrick.
"If I were him I would frame his whole debate performance around 'I'm for this, here's why she's not as good as me on the issue,'" Carrick said. "I don't think he has to attack her, I just think he has to make a contrast."
Too Gallant?
For months, Sanders has been taking veiled shots at Clinton, specifically over her vote in favor of the Iraq war (which she now says was a mistake) and her ties to Wall Street. But earlier this week, when the campaign was asked about an online ad that said Clinton is funded by "big money interests," the Sanders campaign took the ad down. Sanders was equally hesitant to make an issue of Clinton's e-mail controversy. Carrick believes that the Sanders campaign lost some of its momentum after the first Democratic debate on Oct. 13, when Sanders declined to discuss Clinton's e-mail controversy.
"To me, Senator Sanders lost the energy that was in his campaign and the expectation that he was going to be a competitive challenger to Secretary Clinton in that debate," Carrick said. "Even if he had decided that he didn't want to get into that, the way he did it, damn sick of hearing about your e-mails, took a lot of the air out of his candidacy."
The polls seemed to reflect that the first debate was indeed a win for Clinton. An Oct. 20 NBC/WSJ poll showed Clinton leading Sanders by 20 points (49 percent to 29 percent) up from just seven points (42 percent to 35 percent) in the September version of the same survey. 
"I hate to say there's not much he can do, but I think that the die is very much cast for him, unless she makes a mistake," said Steven Schale, a Democratic strategist previously involved in the Draft Biden movement. "And at this point, when you watch the 11 hours testimony that she did with the Benghazi hearing, and the first debate, I think the odds of her making a mistake are pretty low."
Base Broadening
Sanders needs more than a good debate to win the nomination—he has to win one of the early nominating states. Even then, Schale said, he's not sure Sanders can broaden his support group enough to take advantage of a win in New Hampshire. 
"His coalition doesn't look like the voters in the March 1 states and South Carolina," he said. "That's the problem, he's not talking to a broad enough audience to even take advantage of any mistakes she might make."
The Sanders campaign has been working for months to reach out to minorities, a key Democratic constituency. In November, Sanders held a rally in Atlanta, Georgia, where he was introduced by rapper Killer Mike. The rapper's six-part interview with Sanders, filmed during the same trip, went live this week to extensive coverage; the first video has so far received over 300,000 views. On Thursday night, Sanders held an over-the-phone town hall on Latino issues, featuring comedian George Lopez, the latest celebrity to endorse him.
In the face of discouraging national polls, Sanders' advisers believe the momentum from a New Hampshire win could change the game.
Devine has worked for campaigns that have both won the New Hampshire primary (Michael Dukakis, John Kerry) and lost it (Walter Mondale), and said there's a big difference between the leaving the state a winner vs. a loser. "I know that that momentum, particularly if it's against a front-runner, can be overwhelming and can jeopardize the front-runner's standing and can cost them the nomination," Devine said.
Before it's here, it's on the Bloomberg Terminal.
LEARN MORE