Truancy Report
Only One Senator Seeking the White House Missed the Big Spending Vote
Marco Rubio's rivals are criticizing him for skipping the Senate roll call.
by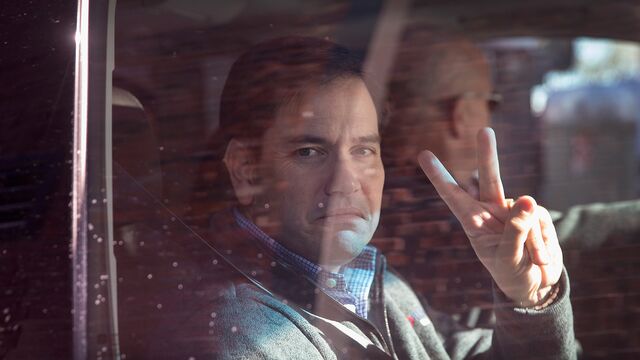 Marco Rubio was the only senator running for president who missed the Senate vote Friday on the massive $1.1 trillion tax-and-spending bill, one of the most consequential of the year.
The Floridian did, however, release a statement in opposition to the "omnibus" bill, calling it an example of a "broken Washington."
"Washington's leadership has created another massive spending bill in secret and rammed it through Congress, hoping that the American people don't notice or have become numb to this kind of business as usual," Rubio said in the statement.
Republicans Ted Cruz of Texas and Rand Paul of Kentucky voted 'no'; Lindsey Graham voted 'yes.'
The evening before the vote, Cruz wrote an op-ed torching the legislation, point by point. "I cannot and will not support this massive crony Christmas gift—a bill that effectively forfeits our massive Republican victories of 2014 and cements [President Barack] Obama's priorities for nearly the full remainder of his term."
Cruz campaign spokeswoman Catherine Frazier needled Rubio, with whom Cruz is locked in a heated battle, for missing the vote, referencing an interview in which he indicated he would try to slow it down.
The Democratic super PAC American Bridge similarly attacked Rubio, who has taken criticism from rivals for his poor voting-attendance record. "Rubio embarrassed himself on TV yesterday by promising obstructionist grandstanding that Senate procedure prevented him from following through on—he didn't know at the time because he wasn't at work," the group said in a statement.
Bernie Sanders of Vermont, who's running second place for the Democratic presidential nomination, voted 'no,' lamenting that the package "gives more tax breaks to billionaires, encourages large corporations to ship jobs overseas and makes worse an already corrupt campaign finance system."
Lindsey Graham of South Carolina, who is running near the bottom of the Republican field, was the only presidential candidate to vote 'yes.'
The bill passed 65-33.
Rubio was scheduled to headline an early afternoon rally for his presidential campaign in Dubuque, Iowa—a stop his campaign just added a week ago. Interviewed by CBS in Dubuque, Rubio defended the decision, arguing that his absense was as good as a "no" vote. 
Before it's here, it's on the Bloomberg Terminal.
LEARN MORE