Closed Door Poliicy
Ted Cruz 'Unequivocally' Opposes Legalizing Undocumented Immigrants
The Texas senator issues his most definitive position on the subject to date as he battles Marco Rubio.
by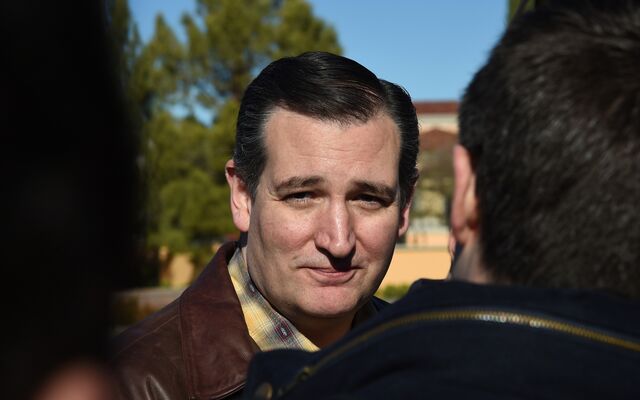 Hours after a fiery exchange during Tuesday's Republican presidential debate with Marco Rubio on immigration, Ted Cruz's campaign said definitively that the Texas senator opposes any path to legalization for people in the U.S. illegally.
"I want to make this super clear, so put me on the record on this. Senator Cruz unequivocally—unequivocally—does not support legalization," Chad Sweet, Cruz's campaign chairman, told reporters Tuesday in Las Vegas after the Republican presidential debate. "His plan is attrition through enforcement... He's a champion of legal immigration, but he's also unabashedly a champion of border security."
It is the first time the Texas senator has closed the door on legal status for undocumented immigrants, a position that could help him with immigration-wary conservatives in a Republican primary, but which poses dangers in a general election. Cruz has strongly opposed a path to citizenship for years, but had not definitively opposed a lesser form of legal status down the road, and dodged recently when asked.
Tuesday's debate featured a testy back-and-forth in which Cruz attacked Rubio's co-authorship and vote in 2013 for bipartisan immigration reform with a path to citizenship. "There was a battle over amnesty and some chose, like Senator Rubio to stand with Barack Obama and Chuck Schumer and support a massive amnesty plan," said the Texan, who voted against the legislation. Rubio retorted, "Ted, you support legalizing people who are in this country illegally," a reference to an amendment Cruz offered to the 2013 bill that stripped out the citizenship component but kept the legal status and work permits for undocumented people.
The debate fireworks have continued throughout the week, with the two 44-year-old Cuban American senators sparring over the issue on the campaign trail, while a debate between their supporters over what Cruz really meant with his amendment raged in the media.
"I introduced an amendment that made anyone here illegally permanently ineligible for citizenship. That amendment called their bluff because it revealed that the proponents of the 'gang of eight' were being hypocrites," Cruz told reporters in Las Vegas.
In 2013, Cruz said that, under his amendment, undocumented immigrants "would still be eligible for legal status ... so that they are out of the shadows, which the proponents of this bill repeatedly point to as their principal objective, to provide a legal status for those who are here illegally to be out of the shadows. This amendment would allow that to happen, but what it would do is remove the pathway to citizenship so that there are real consequences that respect the rule of law."
Rubio spokesman Joe Pounder hit back in an e-mail to reporters on Thursday, saying that "the only one who might have gotten bluffed by Senator Cruz in 2013 was Senator Cruz in 2015," and added that the Texas senator is "[p]roving yet again that he will say anything for political gain." On the campaign trail, Rubio demanded that Cruz declare his position on how to deal with the estimated 11 million people in the country illegally.
Wednesday on Fox News, Cruz was grilled and argued that "the fact that I introduced an amendment to remove part of the gang of eight bill doesn't mean I support the rest of the gang of eight bill." According to lawmakers and aides who had a front row seat to the 2013 debate, Cruz's move featured a bit of parliamentary trickery. His amendment eliminated the bill's citizenship component without adding any legal status. At the time, Cruz's remarks defending the amendment left open the impression that he was in favor of legalization; the Rubio campaign is now pouncing on those remarks to say their positions are similar. Republican opponents of the immigration bill, including leading restrictionist Senator Jeff Sessions, voted for the Cruz amendment as it was deemed by Republicans and Democrats as a "poison pill" to kill it.
Sessions' spokesman Stephen Miller called it an "extremely untenable interpretation" to say that supporting Cruz's amendment amounts to supporting legal status.
Representative Steve King, an outspoken immigration hawk who has endorsed Cruz, said Thursday on MSNBC that on the amendment, "the border security people voted with Ted Cruz, and the pro-amnesty people voted with Marco Rubio." He continued, "At no point did Ted Cruz indicate that he was going to vote for this bill."
Members of the 2013 "gang of eight," on the other hand, praise Rubio on immigration.
"I think that Senator Rubio has a very good understanding of the issue," Senator John McCain, the 2008 Republican presidential nominee, told Bloomberg Politics. "And I don't pay that much attention to Senator Cruz, to tell you the truth."
Senator Jeff Flake said he's optimistic that Rubio, if elected president, would pursue immigration reform based on the principles of the gang of eight bill. "I do think that we will have meaningful immigration reform if he's president. As a party we have to have it. As a country we have to have it," the Arizona Republican said.
Flake said Rubio's salesmanship and work on the 2013 bill was crucial to steering the bill through the Senate—it passed 68 to 32 in June 2013. "He was more important than the rest of us combined," Flake said, "in terms of getting the bill passed." The legislation subsequently died in the House, and four months later Rubio abandoned the idea of a comprehensive immigration overhaul, calling for a sequential approach.
—With assistance from Kevin Cirilli in Las Vegas
Before it's here, it's on the Bloomberg Terminal.
LEARN MORE