Photographer: Joe Raedle/Getty Images
Jeb Bush (Jr.) Has a Very Bright Political Future
Millennial, Hispanic, bipartisan: The candidate's son embodies Jeb's theory of how the GOP can win the White House. But 2016 may be much, much too early.
by
The Bush family has always been fond of nicknames, and Jeb Bush Jr., who is in charge of "millennial outreach" for his father's campaign, has several. Among Florida friends, he is Jebbie. Or Jebito. On social media, "El Jebe." Around his father's campaign, he's sometimes called "2.0."
"I call him Sugar Bear!" said Andrew Korge from his car in Miami. Korge himself is the son of political royalty—his father, Chris Korge, one of Florida's top Democratic rainmakers and close to Hillary Clinton, was a Jeb Bush, Sr. business partner in the infamous InnoVida deal. The sons, too, have been business partners, in a venture focused on making South Florida a tropical Silicon Valley. "We love innovation," said Korge. "It is kind of a passion."
Their company, a "bipartisan business consulting firm," that, "responds dynamically to each client's pressing needs," was, Korge says, ahead of its time when it came to South Florida's readiness to embrace the tech revolution. "We were looking at putting together a fund for early stage companies. The timing wasn't right in the end. We didn't think the market was ready."
Still, he added, "Our friendship is a model. I hope people see how we interact and they can see where we need to go, politically and beyond."
Just at that moment, Jeb Bush Jr. pulled up at the same red light.  
"Hey Sugar Bear!" Korge shouted out the window. "I am just telling a reporter how I call you Sugar Bear and what a bad chess player you are!"
"He really is," Korge continued after Jeb Jr. drove off. "I'm nine games up on him. He's a regular guy, a family guy, loves to have fun. He's not some kind of celebrity. But a very competitive guy. Every time I beat him in chess he wants to start a new game."
The campaign thus far, with its dispiriting poll numbers and flying, sticking insults, must be testing Jeb Jr.'s competitive spirit. But if so, it's hard to tell. On a recent visit to New Hampshire to make the generational case for his father, Jeb Jr. spent the evening with a dozen members of the St. Anselm College Republicans, (an event which, like most of Bush Jr.'s outreach, was off-limits to the press) then gamely sat down with 15 members of the Londonderry New Hampshire Chamber of Commerce to convince them that all was well with his father's campaign.
Dressed in a blue blazer, Brooks Brothers button-down, khaki pants, and cowboy boots reminiscent of his uncle George's, Jeb Jr. sat at attention as representatives from a legal services company, a paper printer, the Miss New Hampshire pageant and the like spun their services and asked their chamber-mates for referrals.
When it came to his turn, Bush talked about his own experience in small business. "Over the last seven years I have been extremely blessed," he said. "I started a small business with my dad called Jeb Bush and Associates. He was Jeb Bush, And I was the associate.
"I learned a lot from my dad—learned that he is the hardest working person I have ever met. He is a total grinder. One of the nerdy sayings he has is 'small strokes fell great oaks.' And those are words he lives by. You are seeing a lot in this crazy primary season, especially as the guy with crazy hair makes a lot of noise, but the campaign is focused on working really hard...not just going out and screaming and yelling but listening and learning."
He went on to tout his father's record in Florida, instilling conservative values, and disrupting the education system. 
Jeb Jr.'s diction is classic Bushian stumbling delivered in a bushy-tailed millennial tone: "Having a foreign policy where we lead from the front and not the back, that is how we get our country back. So it's been a total blast." He's charming, unceasingly optimistic, and no one would call him low-energy. Prior to the campaign, he may have been most famous for being arrested as a 21-year-old for public drunkenness and resisting arrest in Austin—though such antics have not always stood in the way of distinguished political careers.
Jeb Jr. is an avatar of his father's original operating theory of the campaign—"lose the primary in order to win the general" (of which only the first part seems to be going OK). He embodies an answer to the GOP's demographic problems with Hispanics and millenials. As a political creature, he's a kind of hybrid of old-line GOP and Obaman transcendence. "I'm trying to campaign everywhere equally and do it in a way that is hopeful and optimistic for Dad," Jeb Jr. said in an interview after the event. "You know, he's trying to not just win the primary, but win the general, and more importantly get to Washington and try to actually do something. He's not trying to get a Fox News contract, or sell books, or something like that."
And the state of the race, with its talk of border walls, has not dimmed Jeb Jr.'s ardor for the immigration issue at all. "We are all in on the Hispanic front," he said. "It's important, as Dad would say, to campaign in places where Republicans haven't been in a long time, so Dad is totally focused on it."
The Bush family template has often included a serious brother, marked early for great things, with a charming, slightly rogue-ish sibling. Of Jeb's sons, George P. Bush was supposed to be the serious one. Jeb Bush, Jr.'s job on the campaign was a job originally intended to be shared with George P. Bush, Junior's older brother and the one who has been wowing Republican audiences since he recited the Pledge of Allegiance at the 1988 GOP convention on behalf of his grandfather. That led to campaign appearances on behalf of his uncle George W. in 2000 and 2004. After a stint as a Navy reservist in Afghanistan, he ran for and won a job as Texas Land Commissioner, a highly sought-after statewide post in Lone Star country.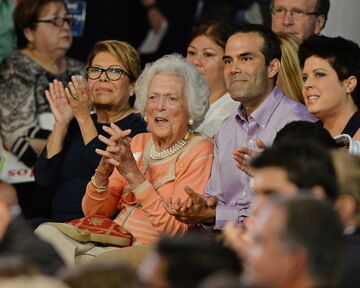 That job has taken George P., now 39, mostly off of the campaign trail, much to the disappointment of some Bush loyalists. "I always thought it would be the older son that would be out there," said one family friend. "I am never quite sure if this is Jeb's cup of tea."  ("The commissioner is busy with his land commissioner duties," as a campaign spokeswoman put it when asked why Jeb Jr. had taken on most of the millennial outreach.)
The 31-year-old, unlike his older brother, has stuck fairly close by his father's side as he's made his way in the world. While his father was still governor, Jeb Jr. went to work for a boutique real estate investment firm with some former colleagues of his father's, just as Jeb Sr. did when he first graduated from college. He co-produced Underwater Dreams—a documentary about how a group of undocumented Mexican immigrants from a poor Arizona high school squared off against MIT in a robotic competition—along with other members of the American one percent, like Jeff Bezos' parents. At 29, he became a board member of the National Immigration Forum, an association that would raise alarms on the right as the 2016 campaign got under way in earnest. And young Jeb slipped easily into the world of Florida politics, becoming something of the Bush clan's consigliere to two groups crucial to the family's continued political success: young voters and Hispanics. He became the Florida chairman of Maverick PAC (a political action committee his brother helped found) which spun off of the 2004 George Bush re-election campaign and was designed to get young professionals interested in the GOP through a series of low-dollar fundraisers. Another group, SunPAC, founded by Jeb in 2010, was designed to recruit Hispanics to the Republican cause.
All of which led Jeb Jr. to his current job, crisscrossing the country visiting campuses. These have mostly been understated affairs, covered by the local school newspaper if they were covered at all. Bush told Bloomberg that the effort was designed to mimic what Obama did to engage young voters in 2008. So far, Mission Next has signed up more than 2,000 students on 450 campuses, according to the campaign. The College Republicans at Marquette University reached out to all the GOP contenders before the debate in Milwaukee last month. Only the Bush camp responded, sending Jeb, Jr., according to an organizer. ("People asked what the Bushes talked about over dinner," Adam Kouhel, the head of the state chapter of college Republicans told Bloomberg. The answer? "Football.")
In his pitch, Bush sounds exactly like the kind of campaign surrogate up on the tech-infused jargon one must master when trying to lure Silicon Valley firms to the tropics. His father didn't merely govern the nation's largest swing state, said Jeb Jr., "He disrupted Tallahassee. He disrupted Florida," Bush told the Londonderry crowd, echoing statements his father has adopted.
Millennial outreach may have been Bush's personal brand, but it has taken on a new urgency with the rise of Marco Rubio. In fact, Jeb Jr. worked on Rubio's 2010 campaign. The criticisms of Rubio for missing Senate votes in order to campaign, disastrously brought up by his father in a debate, also led to Jeb Jr.'s signature moment in the campaign thus far. Asked about it at a college Republicans meeting in New York, Jeb Jr. took a Spicoli approach: "As a Floridian, I'm a little disappointed, because he's missing, like, 35 percent of his votes," Bush said. "And it's just, kind of, like, dude, you know, either drop out or do something, but we're paying you to do something, and it ain't run for president."
The attack took some in Bushworld by surprise. "He is out there talking about his Dad, and his Dad is who he should be talking about," said one campaign advisor. "What is his standing to attack a U.S. Senator? He is just the son of some guy."
"I don't think Marco necessarily has an advantage with younger voters," Bush said in an interview after his event in New Hampshire, and invoked Ronald Reagan's success with younger voters. "I think young people are looking, you know, for proven leaders who can disrupt D.C.," he said
"Dad's a little older, has some grey hair," his son concedes, but he also has "a proven track record and experience. Look, you don't just talk the talk, you walk the walk."
In Florida, there is little doubt that young Bush is quietly laying the groundwork to follow his father, grandfather, and great-grandfather into the family business. A few Florida politicos noted that just like Jeb Jr. followed his dad into the real estate business, he is also, as his dad did a generation ago, using his father's campaign as a way to make the right political connections. He consistently brushed off questions about his own political future, but according to Florida political sources, was actively exploring a run for the Miami Beach City Commission back in 2010 before dropping the idea.
"I would be incredibly surprised if that doesn't happen eventually," said Jorge Arrizurieta, a longtime Bush family friend. "It's in his blood, and he enjoys being in the mix. I think it's a matter of time before he gets the call and someone says, 'Hey, how about this… ."
Bush has already pivoted publicly to a political place where most analysts think the electorate will arrive in a few years, with his longstanding push for a more humane immigration policy and his efforts at education reform. He talks about preserving a social safety net "for the most fragile." Even Obamacare, he says in New Hampshire, "I mean, full disclosure, has some good parts. It doesn't need to be totally destroyed."
Which explains why Jeb Jr. doesn't get top billing in the Bush surrogate circuit. In a political cycle in which the party is debating the meaning of anchor babies and whether or not Syrian toddlers pose a threat to the homeland, Jeb Bush, Jr. is talking to a GOP electorate that doesn't yet exist.
As Jeb Jr. travelled around the country on behalf of his political action committees, long before his father began laying the groundwork for his own presidential bid, he could sound like an early warning system for the troubles that would plague the Republican Party. Addressing a group of Florida Republicans in the spring of 2011, Bush spoke of the "900 pound gorilla in the room—the immigration issue."
In the years since, of course, the problem hasn't been wrestled with. Mostly, among Republicans, it's been run away from. Jeb Jr. may well be the future for the Bush family and the G.O.P.—2.0—but it's one which, for his father, won't come fast enough.
Before it's here, it's on the Bloomberg Terminal.
LEARN MORE