Battle Plans
Cruz Ditches Iowa, Heads South
Rising in the polls in the Hawkeye State with less than two months to go before the caucuses, the Texas senator eyes other prizes.
by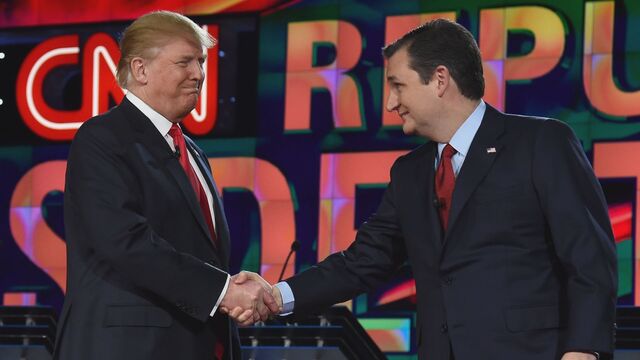 His confidence growing that he can defeat Donald Trump and win the Iowa caucuses, Ted Cruz is turning his attention to the South. 
That political calculus, coming less than two months before the Feb. 1 caucuses, is informed in part by the example of past Iowa winners who fizzled in subsequent states. 
Jeff King, a prominent Cruz backer and son to Iowa Congressman Steve King, said that Cruz's campaign blitz through the South shows that the campaign has "a long-term strategy to win this."
"We're not doing the same thing over and over again of just winning the caucus and hoping for the best elsewhere," King said. 
Cruz's team knows full well that in order to carry over momentum from an early Iowa win, the candidate must win over hard-right conservatives in the South. That explains why Cruz is launching a whirlwind campaign blitz this week that will take him to 12 cities in seven Southern states that vote on March 1, known as "Super Tuesday."
His schedule includes rallies in Super Tuesday states like Virginia, Georgia, Alabama, Oklahoma and Arkansas. Not on the itinerary, however, is Iowa, where Cruz has surged to the top of the pack and landed key endorsements from Bob Vander Plaats, president of the ultra-socially conservative Family Leader; as well as from King, the influential Iowa Republican conservative.
Trump, meanwhile, will campaign in Hawkeye State this weekend. And Senator Marco Rubio, of Florida, jetted straight to Iowa after the the Vegas debate ahead of another campaign stop in New Hampshire, the second primary state. 
Rubio posted a picture to Instagram with a big grin and a thumbs up while clutching a copy of The Des Moines Register. The front-page post-debate headline? "Iowans: Trump slips, Rubio shines." The senator's caption? "Great headline to see this morning before my rally in Ankeny, Iowa. Now off to Manchester, NH!"
King brushed off concerns that Cruz leaving Iowa through the Christmas holiday could potentially slow down his momentum. "Caucus-goers put no faith in The Des Moines Register," King quipped. "While Ted's down South, he's got my dad and Vander Plaats campaigning for him up here."
A Bloomberg Politics/Des Moines Register Iowa Poll released Monday put Cruz ahead of celebrity billionaire Donald Trump by 10 percentage points. But the Public Policy Polling survey released Tuesday had Trump ahead of Cruz in Iowa by three percentage points.
Republican strategist David Merritt said that it while it could be politically risky for Cruz to ditch Iowa for several days, it shows his campaign is well-positioned for the long-term
"It's a testament to his strength," Merritt said. "His ground game, his volunteers, and his surrogates, like Bob Vander Plaats and Steve King. He gaining strength, not losing it. But if something changes, he'll be back quickly." 
As he showed during Tuesday night's Republican debate in Las Vegas, Cruz will likely continue to refrain from attacking Trump on his southern swing. 
"All you need to do to see why it's risky to take on Trump is to look at the bodies that litter the campaign trail," Merritt said. "They are either out of the race or soon will be. He is the most dominant political force we've seen. Maybe ever. There is more playbook for how to take him on. It's much easier and less dangerous to take on a mere mortal candidate."
Instead, Cruz will continue to portray Rubio as his top political foil. The two senators clashed on immigration during the most recent debate, with each arguing that he is the more conservative candidate.
En route to meet with donors in Beverly Hills, Cruz boasted to reporters just outside of Los Angeles International Airport that Rubio's campaign was "incredibly nervous that conservatives are getting behind our campaign" in Iowa.
When asked about Trump, the typically outspoken Cruz paused and cracked a smile. He said the media practically begged him to "hit Donald Trump with a stick" and engage in "nasty personal attacks." 
"The Washington establishment wants a cage match between Donald Trump and me. I like Donald," Cruz said. "I don't think he's going to be the nominee." He then pivoted to attacking Rubio.
Cruz campaign spokesman Rick Tyler dubbed the Trump foil narrative as little more than a "media creation." Tyler noted that supporters of Cruz and Rubio are notably different. "Rubio's are establishment voters," Tyler said. "Cruz's supporters are conservatives."
Merritt said that Cruz benefits from either Trump or Rubio dipping in the polls.
For now, anyway, Cruz is hoping that his surrogates in Iowa will help accomplish that without him.  
Before it's here, it's on the Bloomberg Terminal.
LEARN MORE