Tale of the Tape: Republican Contenders Address Fearful U.S.
by
Debate paints vision of a nation at war with outside forces

Rubio sets sights on Cruz, trying to snatch insurgent mantle
Americans say they're scared. On Tuesday night, Republican presidential candidates each tried to convince voters: I can keep you safe.
In a grim, gloomy debate dominated by the terrorist attacks in Paris and San Bernardino, California, the candidates tried to one-up each other on who is tougher, with Marco Rubio, the charging establishment candidate, repeatedly taking on Ted Cruz, looking to consolidate his insurgent appeal.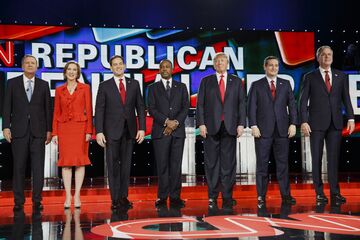 Once again, Jeb Bush led the attack on Donald Trump -- calling him "the chaos candidate"-- but found the task of attacking the real-estate mogul as difficult as other hopefuls who have failed to generate momentum by attacking the front-runner. Trump emerged largely unscathed, despite having to defend his plan to bar Muslims from entering the U.S.
Here's the tale of the tape from Tuesday night's debate:
Banning Muslims


Bush lit into Trump early, saying that his Muslim ban would cripple foreign policy.
"This is not a serious proposal," Bush said. It would "make it harder to do what we need to do," he said, because Middle East allies would balk at helping the U.S. defeat Islamic State if their citizens were excluded.
Trump was ready for the attack. He said Bush didn't believe his rhetoric but was struggling to breathe life into his effort to reach the White House.
"He has failed in this campaign," Trump said. "He has been a total disaster."
Trump was working from a position of strength. While his proposal has been widely condemned, it has only boosted his standing in national polls of Republicans.
Almost two-thirds of likely 2016 Republican primary voters favor his proposal, according to a Bloomberg Politics/Purple Strategies online survey conducted a week ago. The same survey showed much less support among the broader electorate, with just 37 percent of all likely general-election voters supporting the idea.
Rubio and Cruz, whose poll numbers have recently surged, avoided a fight with Trump, pivoting from questions about opposition to Muslim ban and into criticism of President Barack Obama. Both said Trump's traction reflected frustration and fear of the rise of Islamic State.
"I understand why they feel that way, because this president hasn't kept us safe," Rubio said. Cruz said America is at war with "radical Islamic terrorism" but "we have a president who is unwilling to utter its name."
Government Surveillance
Rubio and Cruz -- who voted opposite ways on changes to the National Security Agency's surveillance programs -- sparred over the issue early in the debate.
Rubio said Cruz was wrong to vote in June for the USA Freedom Act, which requires federal agents to get a court order to access the communications data of people suspected of terrorism, which is now housed at telecommunications companies such as AT&T Inc. and Verizon Communications Inc. The bill also limits the connections to a suspected terrorist that the National Security Agency can investigate.
The law took effect Nov. 30, two days before Islamic State sympathizers killed 14 people in San Bernardino.  
Rubio said the government needs to "quickly and rapidly access phone records" to investigate such attacks.
Cruz parried, citing conservative radio host Mark Levin's charge that Rubio's "knowingly false" attacks were like those of community organizer Saul Alinsky, a Republican bogeyman in campaigns against Obama. He also said his vote was meant to provide new tools to investigators, such as access to a suspect's mobile-phone records.
Fighting Islamic State
The tough talk veered into descriptions of exactly how each candidate would stop Islamic State, from overwhelming air power to better algorithms to spot them on the Web.
Ben Carson was asked if he was prepared to take military action that could cause massive civilian deaths, including those of children. The neurosurgeon tore into the media over the question, drawing boos from the crowd, but also said he would be willing to do whatever it took.
"You have to be able to look at the big picture and understand that it's actually merciful if you go ahead and finish the job rather than death by a thousand pricks," Carson said.
Trump, for his part, wouldn't back down from his suggestion that the U.S. target the families of terrorists. And the front-runner also called for shutting down the Internet in areas of Iraq and Syria controlled by Islamic State.
"These are people that want to kill us, folks," Trump said.
Other candidates warned of unintended consequences.
Cruz, for example, warned against toppling Syrian dictator Bashar al-Assad.
"Assad is a bad man. Qaddafi was a bad man. Mubarak had a terrible human-rights record. But they were assisting us -- at least Qaddafi and Mubarak -- in fighting radical Islamic terrorists. And if we topple Assad, the result will be ISIS will take over Syria, and it will worsen U.S. national security interests," he said, using an abbreviation for Islamic State.
And Rand Paul said Chris Christie was "reckless" for saying he would be willing to shoot down a Russian plane that violated his proposed no-fly-zone.
"If you're in favor of World War III, you've got your candidate," Paul said.
Carly Fiorina, the former chief executive officer of Hewlett-Packard, said, "Why did we miss the San Bernardino couple? It wasn't because we had stopped collecting metadata. It was because, I think, as someone who comes from the technology world, we were using the wrong algorithms."
Polls show Americans increasingly in favor of a more significant military effort to combat the Islamic State. A CNN/ORC poll released this month found that a majority of Americans -- 53 percent -- supported sending in ground troops. That was the first time a majority said so, and up 10 points from a year ago. Almost seven in 10 Republican voters back using ground troops against the Islamic State.
The same survey found 68 percent believe America's military response to the terrorist group hasn't been aggressive enough, including a full 90 percent of Republicans.
On Leadership
The candidates also fought over the intangible quality of leadership, leveling charges at one another of weakness, foolishness and fecklessness.
"Leadership is not about attacking people," Bush told Trump, adding that the front-runner was "not going to be able to insult your way to the presidency."
The former Florida governor repeatedly interrupted Trump, accusing him of a "lack of seriousness" and getting foreign-policy advice from television shows.
Trump said Bush lacked a will to power and said that with his attitude, "we will never be great again."
Rubio and Cruz fought over similar ground. 
While Obama and Democratic front-runner Hillary Clinton lead from behind, Rubio said Cruz's strategy "is not to lead at all." 
Christie, the New Jersey governor, said his eyes were glazing over as the senators debated the fine points of congressional votes, calling lawmakers "people who have never had to make a consequential decision."
And Fiorina took shots in both directions, ridiculing those who "talk tough" as well as "first-term senators who never made an executive decision in their life."
Immigration
One of the night's sharpest exchanges came when Rubio and Cruz traded shots over immigration.
Cruz criticized Rubio over his work on a 2013 bipartisan immigration bill that would have provided a pathway to citizenship for undocumented immigrants in exchange for stepped-up border security that was championed by Democratic Senator Charles Schumer of New York.
"I have never supported legalization, and I do not intend to support legalization," Cruz said in a swipe at Rubio. And, for good measure, Cruz pledged to "build a wall that works, and I'll get Donald Trump to pay for it."
Paul piled on.
"If we want to defend the country, we have to defend against who is coming in," the Kentucky senator said. "Marco has more of an allegiance to Chuck Schumer and the liberals than he does to conservative policy."
Rubio has disavowed the bill, and said his policy wasn't significantly different from Cruz's.
And while Rubio sidestepped a question on whether he still supported a pathway to citizenship, Cruz avoided a question on what to do with those already in the U.S. illegally.
Attempting to turn the issue back on Cruz, Rubio said, "Ted Cruz supported a 500-percent increase in the number of H-1 visas, the guest workers that are allowed into this country, and Ted supports doubling the number of green cards."
Immigration is a liability for Rubio within a Republican electorate that has otherwise warmed to the Florida senator after strong debate performances. According to a CNN/ORC poll in July, 63 percent of Republicans favor deporting undocumented immigrants in the country illegally, while just a third say they should be allowed to become legal residents.
A Bloomberg Politics poll conducted in November found that 43 percent of Republicans wanted to end Obama's executive action giving legal status to those brought to the country illegally as children. By contrast, just 18 percent of Democrats agreed, and three in 10 voters overall.
Before it's here, it's on the Bloomberg Terminal.
LEARN MORE