Target Practice
Trump Survives Another Debate Despite Best Efforts of Rivals
Several GOP observers thought the billionaire stumbled on Tuesday, but that his poor performance was unlikely to matter.
by and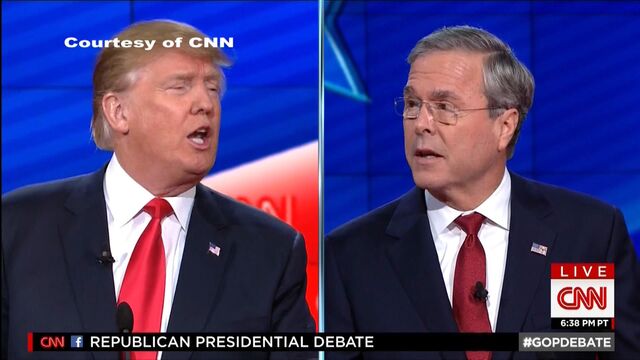 After five Republican presidential debates, Donald Trump's rivals still haven't figured out how to land a fatal blow against their party's front-runner. That was true again on Tuesday, as the New York businessman survived the latest meeting of the party's White House contenders as the discussion focused on the complex issue of foreign policy, a topic on which he's demonstrated little mastery.
Trump was attacked more than any other candidate on the debate stage inside the Venetian hotel and casino in Las Vegas, according to data compiled by Bloomberg, yet appeared to emerge relatively unscathed.
Marco Rubio suggested Trump's foreign policy proposals, including a ban on Muslims entering the country, weren't serious. Rand Paul said Trump's plan to shut down parts of the Internet was an assault on the U.S. Constitution. Even mild-mannered Ben Carson used the celebrity real estate mogul as a laugh line when, after boasting about himself, he turned to Trump and said, "I sound like this guy."
Trump did appear frustrated at times in the final debate of 2015, particularly when former Florida Governor Jeb Bush burrowed in against his rival, calling the party's unlikely front-runner a "chaos candidate" who wouldn't keep the country safe.
"Donald, you're not going to be able to insult your way to the presidency," Bush said in the debate's most talked-about moment on social media.
Bush's camp, which has had little to celebrate as the son and brother of former presidents has slid in the polls, said it was his best debate night yet with record web traffic, e-mail sign-ups and online donations.
Trump even had to battle the crowd, getting booed at least once when he defended his plan for "closing the Internet" as a way to fight ISIS propaganda. "I just can't imagine somebody booing," Trump said to the crowd. "These are people that want to kill us, folks, and you're objecting to us infiltrating their conversations? I don't think so."
Still, few Republicans saw the evening causing any change in first three spots in the Republican race, which polls generally have shown with Trump in first, followed by U.S. Senators Ted Cruz of Texas and  Marco Rubio of Florida.
"The top tier is unchanged by the debate," Tony Perkins, a conservative Republican strategist, said in an interview. "When you attack Trump you only enhance his standing with voters. If there's anything to be learned from this process so far, it's that anyone who goes after Trump goes by the wayside."
Trump, perhaps emboldened by his survival, declared during the debate that he wouldn't run as a third-party candidate, a scenario that Republican Party leaders have feared would ensure a third consecutive Democratic presidential victory.
"I'll be honest, I really am," Trump said, when asked whether he was committed to running only as a Republican. "I've gained great respect for the Republican leadership."
While Trump, at times, took a "back seat" at the debate, he's unlikely to lose his front-runner status, said Republican consultant Ron Bonjean. "Bush failed to strip the paint off of Trump with his attacks," he said. 
Even on his character attacks, which have become his political trademark, Trump seemed "unhinged," said Peter Wehner, who has served in the administrations of the past three Republican presidents.
Trump praised Carson as "one of the finest men" just weeks after comparing him to a child molester. After calling Cruz "a bit of a maniac" on Sunday, Trump walked it back at the debate, saying the Texan "has a wonderful temperament."
Cruz spokesman Rick Tyler expressed relief that Trump held back. "There was a lot of build up that there was going to be a fight or cage match and it didn't really materialize," Tyler said. "It's looking like it's not going to happen."
So will it hurt Trump in the polls?
"Probably not," Wehner said. "It hasn't happened yet. If Republicans want to nominate someone who doesn't know anything and is erratic and unstable, that's their prerogative."
Wehner said Cruz and Rubio both delivered impressive performances and said Bush was "much stronger, much better." He likened Trump's performance to a kindergartner taking a college graduate course, saying, "He's objectively out of his depth."
"Trump has held his own and my guess is that his poll number will not be affected much by this debate," said John Tuman, chairman of the political science department at the University of Nevada Las Vegas. "He has been effective in deflecting the attacks of the other candidates."
Fred Malek, finance chairman for the Republican Governors Association, said Trump was outshined by Rubio, New Jersey Governor Chris Christie and Bush, who had a "break out night" and "was effective in eviscerating Trump's bombastic and unrealistic proposals."
"Any drop by Trump is likely to be gradual, versus abrupt," Malek said.
Reed Galen, a Republican strategist who was deputy campaign manager for John McCain's presidential bid, said he doubted that Trump would fall as a result of Tuesday's the debate. He said other candidates were able to build their case against a front-runner who has shown an unparalleled ability to dominate the media spotlight on days between the debates.
"Here's the difference between Donald and everyone else in these deals," Galen said. "Everyone sees and hears Donald on a daily basis. For the bulk of this field, debates are their only real chance to reach a national audience."
Galen said Cruz missed an opportunity for a big night, thought Bush would get a "moderate boost," and said "Carson might not make it to Iowa," the state that holds the first nominating contest on February 1.
And as for Trump? "He's had worse debate performances than this previously and not been harmed by it," Galen said. 
—Steve Yaccino contributed to this article. 
Before it's here, it's on the Bloomberg Terminal.
LEARN MORE