Congress Sends Puerto Rico Little Help as Crisis Escalates
by , , and
Measure would boost payments to hospitals, doctors on island

Bankruptcy, immediate financial help left out of spending bill
U.S. lawmakers agreed to extend some health-care aid to Puerto Rico as part of a $1.1 trillion spending bill that would avert a government shutdown, a step that fell far short of the lifeline the Caribbean island was seeking to rescue it from its escalating debt crisis.
The legislation, which marks Congress's first step to assist Puerto Rico, failed to include any of the island's key priorities, opting instead for measures that would increase health funding by about $900 million over a decade and allow the Treasury Department to provide technical assistance. The bill may be the last chance this year for the commonwealth to receive help from the federal government.
The bill doesn't provide "any meaningful provision to help Puerto Rico address its economic and fiscal challenges," Pedro Pierluisi, the territory's non-voting House member, said in a statement. "Leaders in Congress missed a major opportunity to do the right thing."
Puerto Rico Governor Alejandro Garcia Padilla has been pleading with lawmakers for assistance as it runs out of cash and struggles to pay its $70 billion of debt. The commonwealth this month narrowly averted a default on government-guaranteed debt for the first time, and he said Wednesday that the island may be unable to cover $957 million of interest payments due on Jan. 1.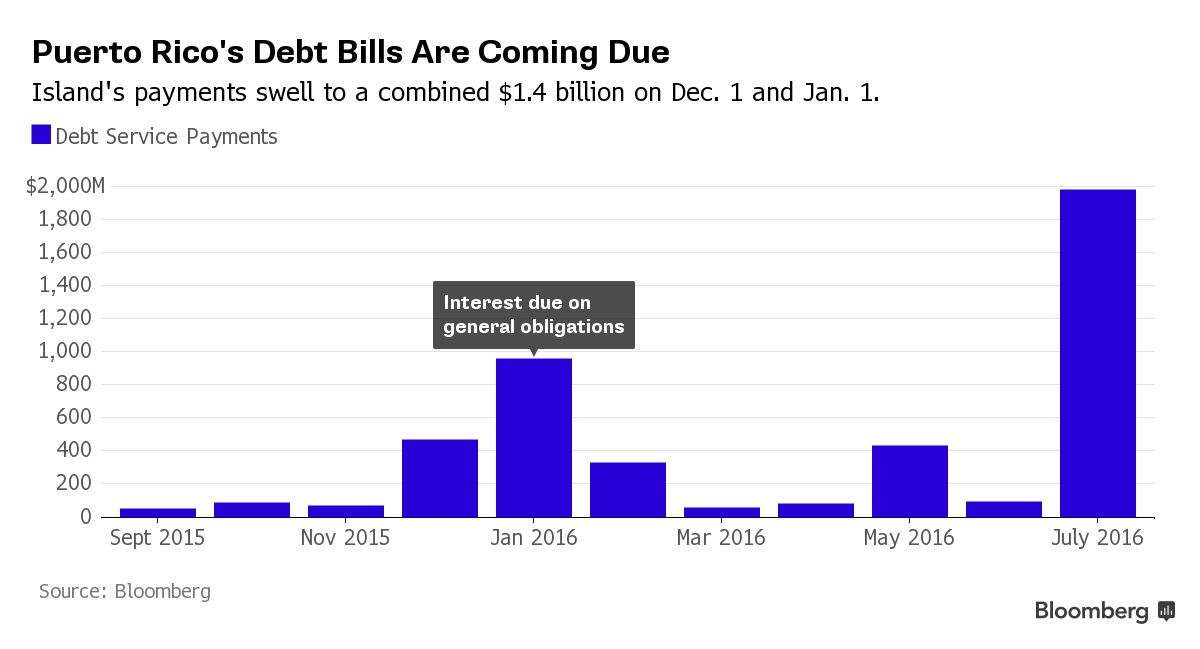 The bill didn't include a provision to grant Puerto Rico agencies access to Chapter 9 bankruptcy, one of the island's key requests.
Puerto Rico had also been prodding lawmakers to give it the same funding that states receive under the Medicaid and Medicare health-care programs, saying that has helped create the government's chronic fiscal strain. The spending bill didn't address the full scope of that disparity. Instead, it would increase Medicare payments to hospitals and provide bonuses to doctors and facilities that adopt electronic record keeping.
Garcia Padilla said it will do little, likening it in an interview to "treating a stroke with a diet."
'Not Going Away'
House Speaker Paul Ryan, the Wisconsin Republican, said that he has instructed committee leaders to come up with a way to address Puerto Rico's problems by the end of March.
"Puerto Rico's fiscal crisis is a problem that is not going away any time soon," Ryan said in a statement. "While we could not agree to including precedent-setting changes to bankruptcy law in this omnibus spending bill, I understand that many members on both sides of the aisle remain committed to addressing the challenges facing the territory."
The legislation caps a last-ditch lobbying effort by the island before lawmakers leave for the Christmas holiday. Republican Senator Orrin Hatch, who heads the finance committee, and two other Senate committee chiefs last week introduced legislation to direct as much as $3 billion to Puerto Rico through a newly-created authority that would help oversee the island's budget, a bill that's now virtually certain to languish until next year.
Garcia Padilla says the island can't afford to repay debt built up from years of borrowing to paper over budget shortfalls brought on by its faltering economy.
Bond-Market Skeptics
Puerto Rico's bond prices have tumbled this year, and some investors expressed skepticism that a U.S. lifeline will emerge. Puerto Rico general-obligation bonds due in 2035 traded Wednesday for an average of 72.9 cents on the dollar, down from 73.2 cents two days earlier.
"It's not exactly a game changer for Puerto Rico," Matt Fabian, a partner at Municipal Market Analytics, said of the spending-bill provisions. "I don't think it will have any effect on bond prices or the ultimate resolution. Puerto Rico needs far more than that."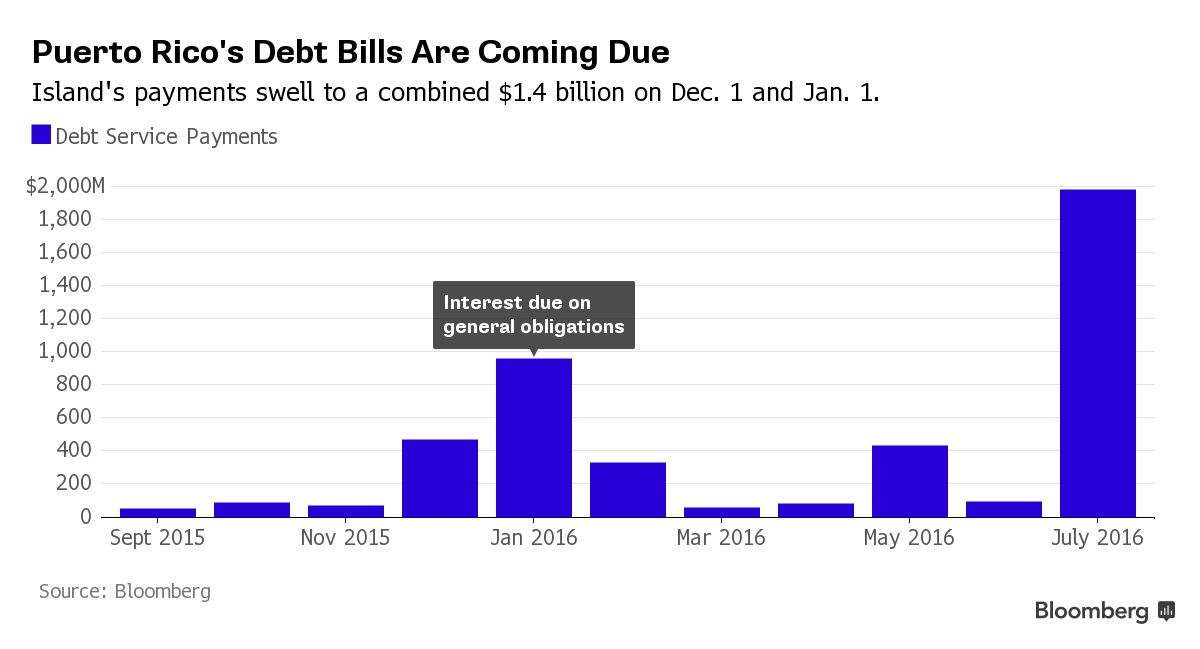 With his government rapidly draining its cash, Garcia Padilla told senators this month that he's running out of ways to avert a default on government-guaranteed debt, which is given the top legal priority. His administration has started diverting revenue earmarked for some securities to ensure that the island doesn't skip payments on general-obligation bonds.
During an appearance at the National Press Club in Washington Wednesday, Garcia Padilla said he was disappointed by Congress's failure to help. He said the island will default on its debt in January or May, when another round of payments are due.
"There's no money," he said. "I don't have a printing machine."
Before it's here, it's on the Bloomberg Terminal.
LEARN MORE