Counter Attack
Hillary Clinton Hits Republican National Security Views Ahead of GOP Debate
In a Tuesday afternoon speech at the University of Minneapolis, Minnesota, the Democratic front-runner went after her Republican rivals.
by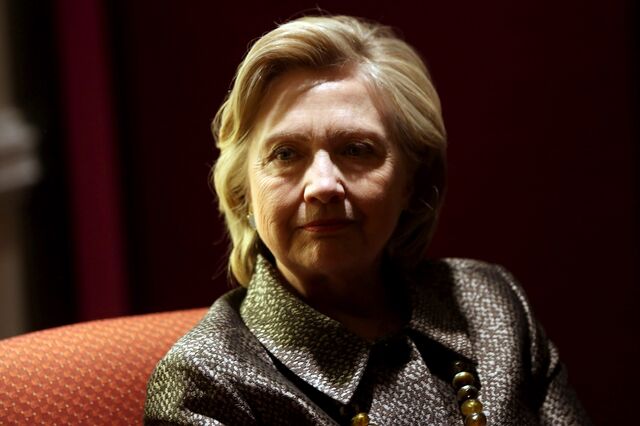 Anticipating a barrage of foreign policy attacks against her during Tuesday night's Republican presidential debate, Democratic front-runner Hillary Clinton offered a pre-buttal as she laid out proposals for fighting Islamic State terrorism, aiming squarely for two of the party's leaders in the polls, Ted Cruz and Donald Trump.
"Shallow slogans don't add up to a strategy," Clinton said at the University of Minneapolis, Minnesota, Tuesday afternoon during a speech that was heavy on contrasts between her positions on counterterrorism and national security and those of much of the GOP field. "Bluster and bigotry are not credentials for becoming commander-in-chief."
The former secretary of state didn't mention Cruz—who's increasingly seen by Clinton's campaign and its closest allies as the most likely Republican nominee—by name, but hurled one of her sharpest criticisms at him, suggesting that he's too inexperienced when it comes to the critical question of whether he's prepared to be commander-in-chief. "Promising to carpet bomb until the desert glows doesn't make you sound strong. It makes you sound like you are in over your head," she said, referring to comments the Texas senator made 10 days ago in Iowa.
Later on in her speech, Clinton again turned back to the commander-in-chief question as she urged Republicans to change gears and support legislation that would block people on the no-fly list from buying guns. "I have this old fashioned idea that we elect a president to keep us safe from terrorists, from gun violence," she said. "I'm not going to let the gun lobby or anyone else tell me that's not right."
Clinton hasn't been shy about expressing her disgust with Trump's rhetoric, especially since he unveiled plans last week to ban Muslims from entering the United States, and she again unleashed her rhetorical ire on him. He's "rightly sparked outrage" with his anti-Muslim positions, she said, and Islamophobic language "plays into the hands of terrorists. It alienates partners and undermines moderates we need around the world."
"We cannot give into demagogues who play to our basest instincts," she added.
Other Republicans, even those who have spoken disapprovingly of Trump's positions, "have also said disgraceful things about Muslims," she said, repeating language she's used on the campaign trail in recent weeks as she's tried to tie the rest of the field to the billionaire real estate mogul. 
Picking up on Clinton's focus on Republicans, GOP opposition research group America Rising PAC attacked her approach. "When it comes to national security, Hillary Clinton demonstrated today that she just doesn't get it," communications director Jeff Bechdel said. "Clinton is still linking terrorism to gun control, still standing by failed government bureaucracy, and still echoing President Obama's tired rhetoric. This speech today was more focused on partisan politics than the existential threat we face from ISIS."
While Clinton's speech was heavy on contrasts with the Republican presidential hopefuls, it was also an opportunity for her to unveil what her campaign is billing as "360-degree strategy to keep America safe," which includes shutting down Islamic State recruitment, especially online; stopping potential terrorists from getting training overseas and from entering the United States; discovering and disrupting terror plots before they can be carried out; providing more support to law enforcement officers; and empowering Muslim-Americans to respond to threats of radicalization in their own communities.
One key piece of the puzzle is encouraging the tech industry to work with government to improve oversight of social media and other technology. "We need stronger relationships between Washington and Silicon Valley and all our big tech companies and entrepreneurs," she said. Security officials "need to more effectively track and analyze" terrorist social media use, and "companies should redouble their efforts to maintain and enforce their own service agreements."
Encryption is "a particularly tough problem with important implications for security and civil liberties," she said, but there must be efforts made to balance priorities. "I know there's no magic fix to this dilemma that will satisfy all these concerns. But we can't just throw up our hands."
Clinton called out tech companies by name earlier this month, urging Facebook, Twitter and YouTube to tighten their restrictions on activities that could be linked to terrorists. "Just as we have to destroy their would-be caliphate—we have to deny them online space," she said last week at the Brookings Institution in Washington.
Clinton unveiled a few new policy ideas Tuesday, including her support for requiring a "full visa investigation," regardless of nationality, for anyone who has in the last five years visited a country with serious terrorism problems. She also called for an expansion of the target for airstrikes in Syria.
Before the speech, Clinton met with a group of Muslim community leaders from the Twin Cities and made clear that she and many Americans stand by them as some Republicans attack. "George W. Bush was right" in speaking out in defense of Muslim-Americans just days after the Sept. 11, 2001, attacks. "To all our Muslim-American brothers and sisters: this is your country too," she said. "I'm proud to be your fellow American."
Before it's here, it's on the Bloomberg Terminal.
LEARN MORE