Health Nut
Trump Would Be 'Healthiest' President; Don't Ask for Details
Candidate's doctor says the billionaire would be healthier than any of the nation's 44 presidents.
by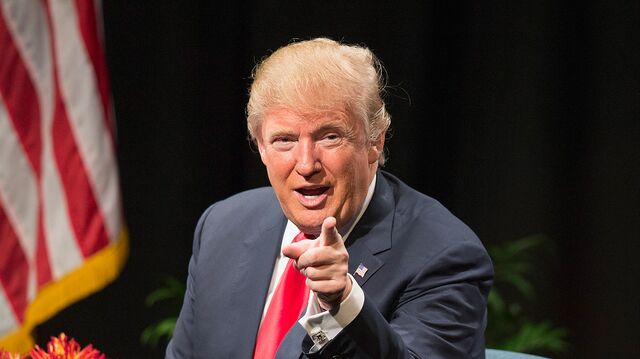 Donald Trump, the front-runner for the Republican presidential nomination, would be the "healthiest individual ever elected" should he win the race for the nation's highest office, his doctor said. You'll have to take him at his word.
A four-paragraph letter, released by Trump's campaign on Facebook Monday and addressed to "To Whom My (sic) Concern," was short on evidence and long on hyperbole. 
Trump's blood pressure of 110/65 and other laboratory tests were "astonishingly excellent," according to the letter signed by Harold Bornstein, a gastroenterologist and internal medicine specialist who said he had served as Trump's doctor since 1980. Trump takes a daily aspirin and a low dose of a statin, a drug used to lower cholesterol, according to the letter released by Trump's campaign. No details or cholesterol levels were given to explain why the billionaire businessman would need to pop the pills each day.
No laboratory results were given except a PSA score of 0.15, which Bornstein characterized as "very low."
The PSA test for prostate cancer is no longer backed by the U.S. Preventive Services Task Force, which said the risks that stem from treatment after undergoing screening outweigh the possible benefits. Prostate cancer is the most common malignancy in men, and studies have shown evidence of cancerous cells in about two in three men over age 70. Trump is 69.
Bornstein didn't say whether Trump has undergone a colonoscopy, a screening test for colon cancer recommended beginning at age 50.
White House spokesman Josh Earnest didn't call into question Bornstein's medical credentials or his ability to guarantee that Trump is healthier than the 43 men who previously led the nation, including President Barack Obama.
"You've gotten some regular updates about the president's health," Earnest said. "I don't have a specific comment on the findings of Mr. Trump's physician."
While Obama is significantly younger, 54, he was a longtime smoker who only recently kicked the habit. His blood pressure at 112/70 millimeters of mercury during his most recent physical in June 2014 is similar to Trump's, with both falling well below any signs of trouble. A healthy blood pressure is 120/80.
Obama also had no significant past medical problems, no surgeries and was current on all screening tests. He exercises routinely, eats a healthy diet and takes only ibuprofen -- on occasion for plantar fasciitis -- and vitamin D, his doctor said.
Trump has lost 15 pounds during the past year, Bornstein said, without giving his height or weight. He wrote that Trump's physical strength and stamina are "extraordinary," though again no results or details about Trump's performance on a treadmill or other test were given. He has never had surgery other than the removal of his appendix at age 10, the doctor reported.
Trump has never used tobacco products, Bornstein said, a decision public health authorities agree is one of the most important health moves anyone can make to improve their physical well being. He also doesn't drink and has no history of "using alcohol," the doctor said. That decision may be less thoroughly embraced, as research shows that moderate alcohol consumption actually helps the heart and benefits health.
Bornstein's office declined to give any more details and deferred questions to Trump's campaign office, which provided no further comment beyond that offered in the candidate's Facebook post, where Trump crowed about having been "blessed with great genes."
On Twitter, Trump initially thanked Jacob Bornstein, his first doctor and Harold Bornstein's father, for the clean bill of health. Jacob Bornstein, who was listed at the top of the letter's masthead, died in 2010.
Before it's here, it's on the Bloomberg Terminal.
LEARN MORE