Money Matters
How Trump Has Neutralized Super-PAC Cash
The Republican front-runner has dominated his rivals in terms of free media coverage.
by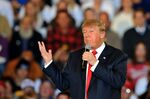 In the race for the Republican presidential nomination, this was supposed to have been the year of the mighty super-PAC. Perceived widely as creatures of a distorted campaign finance system, the groups have jockeyed for the country's wealthiest set, with the promise of paving their candidate's path to the White House with big money.
Instead, they ran into Donald Trump.
After a year of fundraising and with just seven weeks until the first contest in Iowa, super-PACs have had little success influencing public opinion, baffling candidates and their donors alike. Trump's dominance in the polls and free media like TV appearances, combined with a field of more than a dozen candidates, has made it hard to stand out or even to pick a target to attack. Many candidates, wary of costly advertising campaigns that could burn through cash quickly, are now sitting on tens of millions of dollars, concerned that any spending would get lost in the noise.
"We're husbanding resources," said Kellyanne Conway, who handles polling and focus groups for super-PACs backing U.S. Senator Ted Cruz. Spending now would likely have little impact because "voters feel like they have so many choices and so much time, and no pressure to be told what to do, how to think, or whom to coalesce around."
Super-PACs are at the heart of a transformation in American elections that has been spurred by a series of court rulings, including the Supreme Court's 2010 decision in Citizens United, which loosened decades-old limits on money in politics by declaring that political spending was a form of speech protected by the First Amendment. Thanks to those rulings, super-PACs can raise unlimited amounts from individuals and corporations, and can spend money directly on campaign advocacy, as long as they don't coordinate with a candidate.
In 2012, both Barack Obama and Mitt Romney were aided by such groups, but outside spending in this cycle has been expected to dramatically outpace previous elections. This year, the groups were being created even before their beneficiaries officially declared themselves to be candidates, and many top campaign advisers decamped to run affiliated super-PACs, showing they were considered key to the candidate's strategy.
Still, conventional wisdom about the dominance of super-PACs continues to be upended. In September, after many candidates had already spent months courting mega-donors, Rick Perry and Scott Walker dropped out of the race leaving millions of super-PAC dollars unspent and showing that an outside group couldn't simply step in for a financially troubled campaign. Meanwhile, Right to Rise, a super-PAC supporting Jeb Bush, has already spent about $45 million, only to see Bush's poll numbers stagnate. That's made many traditional Republican donors stay on the sidelines, concerned about the impact their money can have in an environment where not even Right to Rise's $103 million fundraising haul has been enough to lift a more pro-establishment candidate to the top of the pack.
One of the most significant forces, according to Conway, is the "immovable object of the past five-plus months named Donald J. Trump."
Ahead in most polls since July, Trump has been the most singularly disruptive force in the Republican race. And he's done it by spending next to nothing. Instead, Trump has dominated the news week after week, getting hours of free time on the airwaves, known as "earned media" in the industry.
"Paid ads can't overwhelm earned media. It never could," said one official with a super-PAC backing a Republican presidential candidate who wasn't authorized to speak on the record. "All of that stuff is a much louder microphone than anything we have, but in a very real sense the campaign is just starting now."

Since the start of the year, Trump has been on the ABC, NBC or CBS evening news programs for a total of 234 minutes, according to the Tyndall Report, which studies the content of these programs. That's more than all other candidates combined. A 30-second national ad on the network news costs about $50,000, according to a media buyer who wasn't authorized to speak publicly about the cost. That means Trump has gotten as much as $23.4 million in free media this year on those three programs alone.
In Des Moines, the largest media market in Iowa, a 30-second spot costs about $1,460 during the evening news. So while Jeb Bush's super-PAC has spent $1.2 million in that market, Trump's time has earned about $683,000 in free time there just by appearing on the evening news.
"There's really no precedent for the amount of free media that Trump is able to get," said Richard Skinner, who studies money in politics for the Sunlight Foundation. "In part just because he's a celebrity in a way we've really never seen before in a presidential candidate. His name ID is comparable to a sitting president. And this is his career. It's what he's been doing for the past several decades, which is generating lots and lots and lots of free media."
Trump's time on Fox News has dwarfed the competition. From May 1 through Dec. 10, he appeared for a total of 22 hours and 17 minutes, according to data compiled for Bloomberg by Media Matters for America, a liberal-leaning group in Washington. The candidate with the next biggest presence, New Jersey Governor Chris Christie, clocked 9 hours and 50 minutes.
A 30-second spot on Fox News in the evening costs about $17,000 and increases to multiples of that during the network's highly rated prime time programs, according to a media buyer, who asked not to be named because he wasn't authorized to discuss the prices publicly. Using the conservative estimate, Trump's time on Fox has been worth about $45.5 million, more than the Bush super-PAC has bought in total.
Trump has also been mentioned 112,900 times on other cable this year, according to data compiled by the GDELT Project. That's about 41 percent of all mentions of Republican candidates, and roughly as many Bush, Christie, Ben Carson and Marco Rubio combined.
Trump's dominance in free media has made the paid attacks against him almost meaningless. His rivals watched as a $1 million-blitz against him from Club for Growth did little-to-no damage.
"If it's all Trump all the time and everyone's looking out the same pane of glass, and we're dancing off in a corner? Maybe no one will see us," said Conway. "Could we have broken through with a message or two on TV? The answer is I don't know."
The same has been true with social media. Since June 15, Trump has nearly doubled his Twitter following to 5.23 million. That's 564,000 more followers than his top eight competitors combined have picked up during that time. On Facebook, Trump has 4.67 million likes, compared to the 1.7 million that liked his page in June, according to Business Insider.

The unexpected idling of super-PACs suggests to some operatives that March could prove particularly explosive on television in states that aren't normally targeted with presidential election ads. Already the most frenetic and consequential stretch in the party's five-month primary race with 33 contests in 31 days, Bush's super-PAC is the only one to have reserved air time in those states, according to media buyers from multiple campaigns. Right to Rise USA has reserved time in Georgia, Michigan, Tennessee and Texas, with smaller buys planned for Virgina, Oklahoma and Idaho.
There have been some successes on TV. Conway credited an early blitz from John Kasich's super-PAC for helping the Ohio governor reach the main stage of the first debate. Also, paid ads from Conservative Solutions Project, a nonprofit group that doesn't have to disclose donors, probably aided the rise of U.S. Senator Marco Rubio in the polls, Skinner said.
Some super-PACs are spending elsewhere, instead focusing on things like talk radio, direct mail and field staff. Conway's super-PAC, which recently mailed an 8-page tabloid style political promotion to 460,000 households in Iowa, has hired eight people in that state and 14 in South Carolina.
Just because super-PACs aren't spending freely, it doesn't mean they've stopped raising money. Groups continue to court mega-donors who can deliver of an operating budget in one gift. And others are soliciting small donations to support a cottage industry of political operatives rather than bolstering a campaign. American Legacy PAC raised almost $6 million in 2014 using Ben Carson's candidacy as the face for fighting Obama's health care law. Most of the money went to the group's own operations, with only about 2 percent going to Republican candidates or other committees, according to a Los Angeles Times analysis.
Far from the trigger-happy behemoths imagined as the campaign first began to unfold this year, super-PACS instead have so far more closely resembled their increasingly nervous donors. As Trump appears impervious to paid attacks—and is praised by voters for swearing off any help from similar groups—super-PAC operatives have been stockpiling as they frantically search for the right target.
"Quick math tells you there's $150 million waiting to be spent," said a top official with second super-PAC backing a Republican presidential candidate, who requested anonymity to talk about strategy. "No one knows where or when the deluge begins. There is definitely a collective hesitancy."
Right to Rise USA, the super-PAC backing Bush that has spent upwards of $45 million—more than the combined total of at least 10 other super-PACs backing specific presidential candidates, according to Federal Election Commission reports compiled by the Washington-based Sunlight Foundation—has at least $65 million in its coffers. The group reported $97 million in its account as of June 30, and its spokesman, Paul Lindsay, told Bloomberg in October that the group had raised at least $10 million since then.
The quartet of super-PACS supporting U.S. Senator Ted Cruz, who was the first candidate to get into the race eight months ago, have an estimated $38 million on hand.
Add to that at least $10 million from Conservative Solutions, the super-PAC backing U.S. Senator Marco Rubio that has spent little of the total it reported five months ago. The group is likely to have added to that total as Rubio has since won the support of Paul Singer and Ken Griffin, a pair of billionaire money managers in New York; former Romney national finance co-chairmen John Rakolta and Frank Vandersloot; and Art Pope, a former board member of Americans for Prosperity, the national conservative advocacy group backed by Charles and David Koch's political network.
"People expected spending to ramp up quicker, but this season has been unique so far," said Brendan Galvin, who has studied political spending for a decade at the Washington-based Campaign Finance Institute.
Before it's here, it's on the Bloomberg Terminal.
LEARN MORE