Photographer: SAUL LOEB/AFP/Getty Images
Obama Says Paris Climate Deal Can Be Turning Point for World
by
President says 195-nation accord is result of U.S. leadership

Agreement bridges gaps between developed, developing nations
President Barack Obama hailed an international agreement that would limit fossil-fuel pollution to put a brake on the effects of climate change, calling it a marker of historic consensus that will make a difference for generations to come.
The 195-nation accord, agreed to Saturday after two weeks of intense negotiations overseen by the United Nations in Paris, ratifies Obama's drive to make climate change a central issue for his second term and a legacy achievement of his presidency.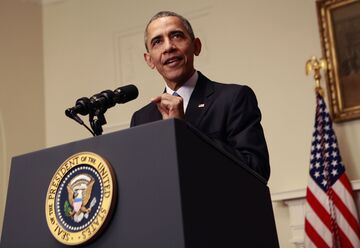 "This historic agreement is a tribute to American leadership," Obama said at the White House hours after the accord was announced. "This moment can be a turning point for the world. We've shown that the world has both the willingness and the ability to take on a challenge."
The framework, which encountered quick criticism from environmentalists for not going far enough and from some Republican lawmakers in the U.S. who question whether humans are affecting the global climate, was described by the administration as the starting point for developed and developing nations to cut carbon emissions.
Senate Approval?
Senate Majority Leader Mitch McConnell, a Kentucky Republican, said Obama is making promises he can't keep, because he doesn't have the authority to enforce the pledges. The administration said it intentionally wanted the deal to not be a treaty because this way it doesn't require approval from the U.S. Senate to enact. But the promises are just that and aren't enforceable.
"Before his international partners pop the champagne, they should remember that this is an unattainable deal based on a domestic energy plan that is likely illegal, that half the states have sued to halt, and that Congress has already voted to reject," McConnell said in an e-mailed statement.
Senator Bernie Sanders, who is vying for the 2016 Democratic presidential nomination, said in a post on Twitter that the agreement "goes nowhere near far enough. The planet is in crisis. We need bold action now."
Obama characterized the agreement as a first step rather than definitive action on climate change. He has traveled this year to cities, including New Delhi and Manila, where air pollution is palpable. In 2014 he visited Beijing, where recent pictures portray a gray, toxic haze that's alarmed even residents there who are accustomed to pollution.
'Part of the Way'
"Negotiations that involve nearly 200 nations are always challenging," said Obama. "Even if all the initial targets in Paris are met, we'll only be part of the way there when it comes to reducing carbon from the atmosphere. So we cannot be complacent because of today's agreement."
The voluntary commitments would take effect in 2020, expanding on a 1997 climate treaty reached in Kyoto, Japan. The new agreement calls for average temperature increases recorded since the Industrial Revolution to be limited to 2 degrees Celsius (3.6 degrees Fahrenheit), and encourages nations to reduce greenhouse gas emissions. It also promises that richer nations will help poorer ones to meet the goals.
The accord bridges a gulf over climate-change policy that opened between industrial and developing nations in 2009, when the last big push for a deal dissolved amid finger pointing over who should take the first step. The Paris agreement sets steps for nations large and small, developed and developing, to take, though the steps aren't the same for all.
One turning point in the process was an agreement, negotiated in secret, that for the first time committed China, the world's biggest polluter, to setting caps on emissions. It was announced during Obama's 2014 visit to Beijing.
"That accomplishment encouraged dozens of other nations to set their own ambitious climate targets, and that was the foundation for success in Paris," Obama said Saturday.
Before it's here, it's on the Bloomberg Terminal.
LEARN MORE