Carson Appears to Threaten Republican Establishment as Campaign Falters
After reports of official preparations for a brokered convention, Carson warns of Republican leaders destroying the party.
by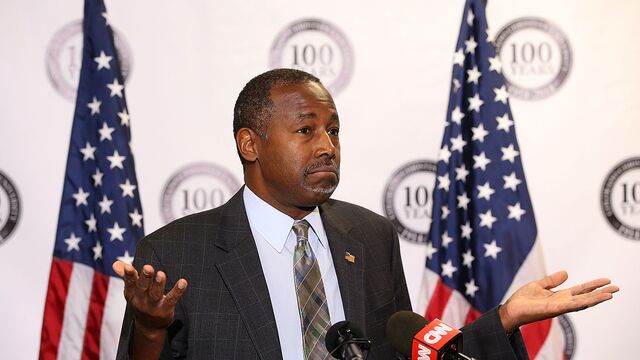 Just over a month ago, Ben Carson was the only Republican presidential candidate who had managed to overtake Donald Trump at the top of the almighty RealClearPolitics polling average. Now, he is holding on to third place and appearing to threaten to exit the party altogether.
On Friday, the retired pediatric neurosurgeon released a statement that slammed reports of Republican leaders preparing for a possible brokered convention in July.
"Donald Trump will not be the only one leaving the party" if the officials continue to discuss how to "manipulate" the process, Carson said in the statement, referring to the front-runner's past openness to a third-party bid if he isn't treated "fairly." Several outlets interpreted Carson's statement as a threat from the candidate himself, who also said that Republican leaders should only hold such meetings "if the leaders of the Republican Party want to destroy the party."
The apparent threats came just hours after news that Carson had fallen to seventh place in the latest poll in New Hampshire. He garnered support from just 6 percent of likely Republican voters in the key primary state, down from 18 percent in September.
A Sliding Candidacy
Since he shot to popularity in September, Carson has faced questions about his biography, squabbles over staff positioning, clashes with Trump, and concerns about his abortion record.
He also stumbled publicly on foreign policy, with the New York Times quoting an adviser who said the Carson wasn't prepared. At an event held by the Republican Jewish Coalition, he mispronounced the name of a Palestinian militant group, just as the race has turned to questions of terrorism following the San Bernardino and Paris attacks.
Carson told ABC News Friday he has "no intention of running as an independent" but said he doesn't "want to be a part of corruption."
His effort also drew further scrutiny on Friday when CNN reported that Carson's business manager and adviser Armstrong Williams felt the campaign staff needed "to do a better job at preparing him." (Williams is not a campaign official but is a frequent surrogate.)
Campaign Squabbles
The campaign responded by criticizing Williams but conceded that Carson, who has never before sought elected office, relied heavily on staff who do not always "meet up to the standard."
In the meantime, Carson has continued his downward trend in other polls, leaving him tied for third nationally on the RCP average.
In Iowa, where Carson had found earlier success with the key evangelical Christian bloc after intense investment, Carson has fallen to third, more than six points behind second-place Ted Cruz.
Trump, who targeted Carson as his success briefly appeared to threaten the mogul's, continues to hold first place on both averages, as well as in New Hampshire.
Carson has said he is not worried about his position.
"Polls go up and down, when people were asking me when I was polling at the top spot was I excited, I said no, because polls go up and down, and I will say that now, I think you will see them continue to rise," he told CNN.
Before it's here, it's on the Bloomberg Terminal.
LEARN MORE