Iowa's Branstad Says Trump Lacks Experience, Nuance to Be President
by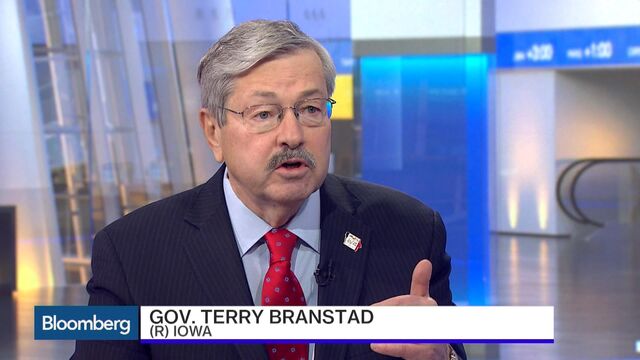 Iowa Governor Terry Branstad criticized Republican presidential front-runner Donald Trump on Wednesday for his proposal to temporarily ban Muslims from entering the U.S.
"This is not the kind of leadership we need," Branstad said in an interview at Bloomberg headquarters in New York. "We need somebody that has more experience and will be a strong leader, but also is nuanced enough to recognize that you can't make just kind of flat-out statements like we're not going to permit anybody of a particular religion to come into this country."
Branstad, who typically takes a hands-off approach to Republican presidential politics in his state, has ruled out endorsing anyone ahead of the first-in-the-nation Iowa caucuses on Feb. 1. The governor said he doesn't know whether Trump's proposal will help or hurt him in Iowa.
"For months, we've thought he's said outrageous things that should have a real impact," he said, adding that he thinks potential voters have "kind of given him a pass" in the past for colorful and controversial statements because he's viewed as a "real leader."
Branstad, who later this month will become the longest-serving governor in U.S. history, said recent terrorist attacks are generating fear even in America's sparsely populated heartland.
"Iowans are welcoming and supportive," he said. "What they're fearful of is the administration's unwillingness to tell us who from Syria is coming and who they're being placed with because we're afraid that ISIS has infiltrated and we could have happen in Iowa what happened in Paris or what's happened at the Boston Marathon."
Branstad said he's yet to make his own personal decision on which presidential candidate he'll support. "I'm like a lot of the Iowa caucus-goers," he said. "I probably won't make up my mind until the last couple days."
The governor predicted turnout well above the roughly 122,000 who participated on the Republican side in 2012. "I think we are going to break the all-time record," he said. "Turnout is going to be huge."
Before it's here, it's on the Bloomberg Terminal.
LEARN MORE