Christie Faces Undocumented Immigrants' Push for Licenses
by
N.J. measure would allow lawful driving, access to insurance

Governor says laws in 12 states threaten homeland security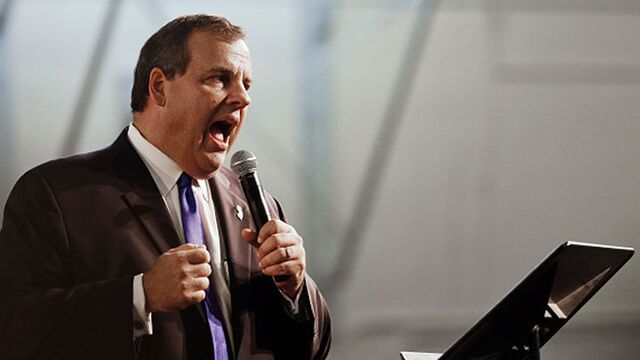 As Chris Christie seeks the Republican presidential nomination during one of the most tumultuous times for immigrants in years, activists are trying to put the New Jersey governor on the spot with a push to extend driving privileges to people living in the U.S. illegally.
Supporters of the effort, including more than 150 clergy members, will rally Thursday at the capital in Trenton for a second time this week, seeking government-sanctioned relief from the fear of traffic fines, jail and deportation. New Jersey, where as many as 464,000 people may be eligible to apply, stands to gain millions of dollars in fees, plus as much as $245 million in new business for insurers, according to New Jersey Policy Perspective, a Trenton-based group that researches issues affecting the poor and middle class.
The idea, as the U.S. debates immigration policy and investigates terror links to a Dec. 2 shooting rampage that killed 14 people in San Bernardino, California, isn't groundbreaking. New Jersey would be the 13th U.S. state to grant licenses for undocumented immigrants. Its legislation, approved last month by an Assembly panel, is modeled after one in California whose security features were commended by the U.S. Department of Homeland Security.
Christie, 53, who was the state's top federal prosecutor in the aftermath of the Sept. 11, 2001, terrorist attacks, broke his usual practice of not commenting on pending legislation and promised to veto any bill to certify "people with no definitive proof of their identity."
"To consider doing this in the current environment is not only irresponsible, but dangerous," Christie said in a statement Nov. 16, three days after coordinated terror attacks in Paris led to the deaths of 130 people. Homeland Security since has begun modifying a program that allows visa-free U.S. travel for about 20 million citizens annually from 38 countries.
Investigators have linked the Paris attacks to European radicals, some on watch lists, who crossed national borders to visit extremist hotbeds in Syria and elsewhere. Today, the New Jersey activists are trying to distinguish their cause from the recent violence in California and France.
Keeping Track
"We're up against a lot," said Carlos Rojas, 27, a community organizer for Faith in New Jersey, a Camden group that links congregations and social causes. "But this would improve security. You'd have addresses of where people are living."
New Jersey lost about 700 residents in the Sept. 11 terror attacks, the most of any state other than New York. The Democrat-controlled Assembly Homeland Security and State Preparedness Committee on Nov. 16 released legislation to give access to the licenses. Democratic sponsors said the goal was road safety.
"These folks are already driving," Assemblyman Reed Gusciora, from Trenton, said in a statement. "Allowing them to take a driver's test and properly register their vehicles ensures they understand the rules of the road and are responsible for following them."
Language on the California licenses indicates they can't be used for federal purposes, such as boarding aircraft. New Jersey would do the same, and stipulate that the documents can't form the basis for detainment or deportation. A dozen states, including Illinois, Vermont and Connecticut, ease access to licenses for residents without proof of legal immigration, according to the National Immigration Law Center, a Los Angeles-based non-profit group that litigates for access to education, health care and other public benefits.
The rally in Trenton comes two years after Christie signed legislation extending the resident tuition rate at New Jersey public colleges to students who live in state but lack immigration documents.
During his first term, in 2010, Christie said he supported a path to citizenship for people who didn't follow immigration procedures. He captured 51 percent of the Latino vote in his 2013 re-election, he said in June at a business summit hosted by the Latino Coalition, an Irvine, California-based non-profit group that lobbies on economic issues.
At a New Hampshire presidential campaign event in August, Christie said the path to citizenship is "garbage," and the U.S. should fine businesses that hire undocumented immigrants.
Before it's here, it's on the Bloomberg Terminal.
LEARN MORE