Base Politics
Despite Outcry, Muslim Ban Unlikely to Spell Quick Fall for Trump
Voter antipathy toward Islam, plus competitors' inability to outmuscle Trump so far, suggest this won't be the uproar that finally ends his bid.
by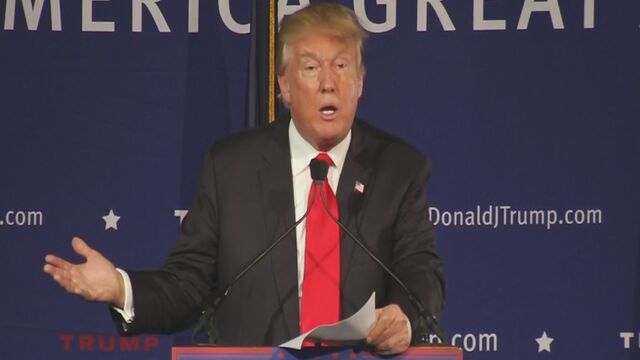 Republican presidential front-runner Donald Trump's proposal to bar Muslims from entering the U.S. won't destroy his candidacy—but would severely threaten the party's chance at the White House in 2016 if he's the nominee, GOP strategists and pundits said.
Trump in a statement on Monday called for "a total and complete shutdown of Muslims entering the U.S. until our country's representatives can figure out what is going on," days after a mass shooting in California that authorities say was an act of terrorism by a radicalized Muslim couple. The temporary move wouldn't betray the Constitution and would be waived for Muslim heads of state, he said on TV on Tuesday.
His plan ignited a firestorm among rival Republicans, Democrats, and party chairpeople in the three states that will hold the first nomination votes next year. House Speaker Paul Ryan said Trump's proposal "is not what this party stands for, and more importantly, it's not what this country stands for." Former Vice President Dick Cheney, a vocal proponent of stronger counterterrorism measures, said Trump's proposal "goes against everything we stand for and believe in." 
But GOP voters' antipathy toward Islam and frustration with President Barack Obama, plus competitors' inability to outmuscle Trump so far, suggest this won't be the uproar that finally ends his bid and clears the way for a stronger nominee to face Hillary Clinton, the likely Democratic standard-bearer.
"Hate Donald Trump all you want, be offended by his proposal all you want, but it is really brilliant politics for Trump right now in the Republican primary and the reactions from the other candidates prove it," wrote conservative radio host Erick Erickson. Candidates "attacking Trump on his immigration proposals now attacking him on this have done themselves no favors within the primary process" by aligning themselves with Obama on both issues in voters' eyes.
Angry Voters
Trump's critics have become all too familiar with the pattern: The New York billionaire says something they consider offensive, sexist, or racist; prognosticators forecast his downfall; but he stays strong or even rises in GOP polls. The pattern held when Trump trashed migrants from Mexico, attacked Senator John McCain's war record, and insulted Fox News host Megyn Kelly.
Polling indicates Trump's suspicion of Muslims will appeal to many Republican voters. A study by the Public Religion Research Institute released last month found 76 percent of Republicans say Islam is "at odds with American values and way of life," compared to 43 percent of Democrats. A survey by the Pew Research Center last year found Republicans rate Muslims more negatively than any other religious group, giving them an average of 33 on a scale of 100, compared to 71 for evangelical Christians, 67 for Jews, and 66 for Catholics.
In a Bloomberg Politics national poll conducted last month, 32 percent of Republicans said Islam is "an inherently violent religion" that leads its followers to violence.
"As much as anyone may disagree with his policies (and I do), Trump is not hurting himself with GOP voters with his negativity toward Muslims," said Eric Fehrnstrom, a senior adviser to 2012 Republican nominee Mitt Romney, on Twitter.
Trump has led nearly every national Republican poll for five months, cruising past 30 percent in some surveys while rivals in the historically crowded field struggle to approach that threshold.
"I think he will still pull about 25 to 30 percent (in the polls)," e-mailed Republican lobbyist and longtime strategist John Feehery. "There's not a lot of love for Muslims right now," he added, extending beyond news events including the San Bernardino and Paris attacks to pop culture. "You have the television series Homeland that portrays them all like a bunch of terrorists."
"While he could lose a little support, the people that are supporting Trump will most likely agree with his viewpoints because they only see the violent actions committed by Islamic jihadists on cable news," said Republican strategist Ron Bonjean. "These voters are angry at what's happening in America and most agree with even some of the most outrageous comments he makes."
General-Election Risks
Trump's proposal is roiling the party less than two months before first votes are cast, and supporters have shown they're drawn to him for deep-rooted personal and policy reasons, upending any hope of party leaders that his bid might have been a media-fueled summer fling. He's demonstrated a unique talent for harnessing the anxieties of white working-class Americans about a country that is becoming more racially and religiously diverse.
In a general election, however, his strategy could be poisonous for the Republican Party. In 2012, Romney lost Hispanic Americans 71 percent to 27 percent and Asian Americans 73 percent to 26 percent. Those are the fastest-growing demographics in the U.S., and many political analysts say the GOP's chances of winning back the White House hinge on its ability to narrow those margins. 
Establishment Republican leaders hope that Trump has peaked and that the party will unite behind an alternative once the field winnows. That's not a safe bet yet, and at the very least it'll require more patience.
The Muslim ban proposal "doesn't bring him down, but it will weigh him down," said Jack Pitney, a political science professor at Claremont McKenna College in Southern California. "Trump is a cargo plane that is carrying too much craziness to rise any higher."
—With assistance from Angela Greiling Keane, Derek Wallbank, and Billy House in Washington.
Before it's here, it's on the Bloomberg Terminal.
LEARN MORE