Attack Lines
Carson Defends Abortion Record as Poll Numbers Fall in Iowa
The retired neurosurgeon has been under attack for saying that pro-life groups needed to "tone down their rhetoric."
by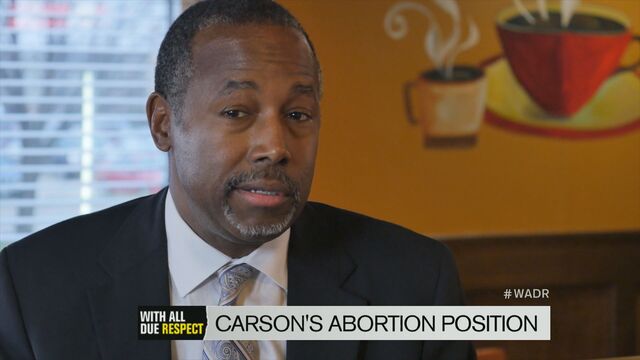 Ben Carson has suddenly found himself in an unlikely position—defending himself against claims by supporters of Republican presidential rival Senator Ted Cruz that his anti-abortion rhetoric is too soft.
"Of all the people running, I think I can safely say I'm the only one who has ever saved anybody's life," the retired neurosurgeon said in an interview with Bloomberg Politics. "I'm the only one who has ever operated on premature babies all night long to save them—the only one who's operated on babies inside of the womb, the only one who's come up with new techniques and procedures to save lives, over which I got a lot of controversy early on, but now many of those things have become standard procedure that continue to save lives all over the world."
Carson said "there should be no question" about where he stands on abortion. "My position is that abortion should not be done. I believe that it's murder and I don't think that's hateful speech. That's just telling the truth. Including in cases of rape and incest," he said.
Carson's defense of his positions comes as his poll numbers have fallen in the Hawkeye State. A Monmouth University poll released Monday found that Cruz had captured Carson's lead among Iowa evangelicals, contributing to Cruz's 24 percent lead among Republican caucus-goers overall. Trump held steady with 19 percent, while Carson fell to 13 percent, dipping below Senator Marco Rubio, the Florida Republican. The poll also showed that Carson's support from Iowa evangelicals dropped from a commanding 36 percent in October to a current level of 15 percent. Meanwhile, Cruz more than doubled his 12 percent of support of Iowa evangelicals in October to his current 30 percent. 
To his detractors on the right, Carson misstepped during a Nov. 29 interview with CBS News following the shooting at a Colorado Planned Parenthood in which he said that people on both sides of the abortion debate needed to "tone down their rhetoric."
Cruz supporters say Carson failed to defend pro-life advocates from their pro-choice critics. Kellyanne Conway, president of the pro-Cruz PAC Keep the Promise I, said Carson's rhetoric left evangelicals "dismayed" and "disappointed."
"Evangelicals like him, but now is decision time—folks are bewildered to hear him sound like a cross between [Planned Parenthood president] Cecile Richards and Terri Schiavo's husband," she said. "Words matter."
Penny Nance, CEO of Concerned Women for America, a conservative pro-life group, said that she doesn't think "anyone thinks Dr. Carson isn't pro-life."
"It may not be that his pro-life ethic is weak—it's just that he didn't have the substance down and that's just him being, at some level, a political outsider," she said.
She said that she interpreted Carson's comments to CBS to mean that "he had no idea what we've been saying."
"He didn't have the connection between the reality and the conversation just showed weaknesses in his campaign," said Nance, who is undecided but called Cruz one of the "top candidates."
As he continued to make his pitch to Iowa voters, Carson, the onetime front-runner in in the state, did his best to counter that perception. 
"Of course the rhetoric needs to be toned down but some of my opponents would say, 'See, he's blaming the right.' And that's not what I'm saying at all," Carson told Bloomberg Politics. "I'm saying the only way we can make progress in a pluralistic society is if we're able to sit down and talk to each other. And let's not get into all of the inflammatory comments."
(
Corrects first paragraph to say anti-abortion rhetoric.
)
Before it's here, it's on the Bloomberg Terminal.
LEARN MORE