Biden Says 'Illegal' Russian Occupation of Crimea Must End
by
Vice president visits Ukraine to show U.S. support in conflict

Russia, U.S. remain at cross-purposes in Ukraine and Syria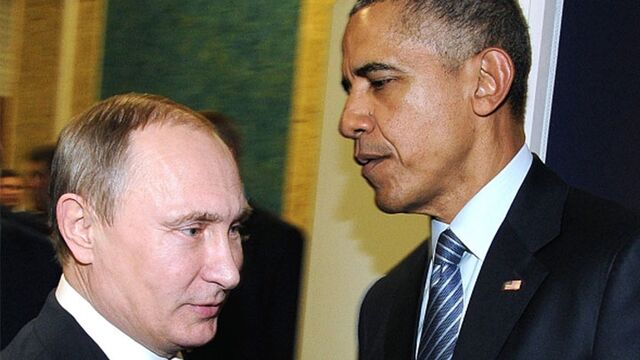 Vice President Joe Biden called Russia's annexation of Crimea "illegal" in a demonstration of solidarity with Ukraine's government that signaled the U.S. won't bargain away its support for the country to win Russian cooperation in the fight against Islamic State in Syria.
"The United States stands firmly with the people of Ukraine in the face of continued -- and I emphasize continued -- aggression from Russia and Russian-backed separatists," Biden said in Kiev on Monday, following a meeting with Ukrainian president Petro Poroshenko.
Biden announced $190 million in new aid for Ukraine contingent on the government continuing to make progress rooting out corruption. That brings direct U.S. assistance to nearly $760 million since the formation of a new government in 2014, including more than $260 million for security. The latest funds is for helping law enforcement fight corruption, reforming the justice sector, and streamlining regulations and privatization of state-owned enterprises, Biden said.
Biden's two-day visit to Ukraine is intended to deliver reassurance that the U.S. won't budge in its commitment to Ukraine at a time when attention has shifted to Syria and fighting the Islamic State.  That includes keeping in place sanctions on Russia to pressure President Vladimir Putin's government to fully implement the Minsk agreements that outline a path to end nearly two years of conflict.
Minsk Accords
The separatists, Ukraine and Russia must continue to respect a cease-fire signed earlier this year in Minsk, Belarus, Biden said. "Both sides need to hold up that bargain," he said, echoing the position of U.S. allies in Europe.
"The fact that we are not talking as much every single day about Crimea does not mean in any way we have forgotten" what happened, Biden said, calling Russia's move to annex Crimea in 2014 an "illegal invasion" that "will not be accepted" by the U.S. or international community. "We will not accept it under any circumstance, and Moscow eventually has to end its occupation of Ukraine's sovereign territory" including Crimea.
Tensions rose recently after power lines to Crimea were cut by Ukrainian saboteurs. Russia and the U.S. remain at loggerheads over both Ukraine and Syria, where a Russian military intervention has complicated that country's civil war.
Syria Conflict
Putin says his military is attacking Islamic State in Syria. The U.S. says Putin's forces have targeted relatively few Islamic State-held areas, and instead is attempting to reinforce Syrian President Bashar al-Assad, a close ally, by bombing rebels backed by the U.S. and Persian Gulf states.
Poroshenko, through a translator, told reporters that he pledged to Biden that Ukraine is ready to provide "maximum support" to U.S.-led coalition forces in Syria, though he did not say what such support might entail.
"Ukraine is no stranger to terrorist threats," he said. "We cannot be frightened by the terrorist threat."
As Russia has turned its attention to Syria, Ukraine sees signs for hope and concern. While clashes between separatists and Ukrainian forces have eased since September, eastern Ukraine's status remains unsettled. Insurgent tanks were spotted in Horlivka northeast of Donetsk, and rebels continued provocations with mortars, rifles, machine guns and grenade launchers, officials said Sunday.
Ukraine is seeking assurances from the U.S. and European Union that it will not become a bargaining chip in efforts to coordinate with Russia on attacking Islamic State targets.
Biden earlier Monday held a closed-door roundtable discussion on political and government reforms with about a dozen Ukrainian officials and members of civil society. He also visited the Heavenly Hundred memorial, an unofficial memorial with a wooden cross and framed photos of those killed in the Maidan protests of February 2014.
"We are starting to see real signs of economic progress" in Ukraine, Biden said, including "stabilized" currency.
Biden is to meet with Ukrainian Prime Minister Arseniy Yatsenyuk later Monday. He will address Ukraine's parliament on Tuesday.
Before it's here, it's on the Bloomberg Terminal.
LEARN MORE