Air Wars
Undefeated Iowa Football Team Means Big Political Ad Dollars for Local TV
When the undefeated Hawkeyes play Saturday, ahead of the state's February caucuses, a 30-second ad will go for up to $25,000.
by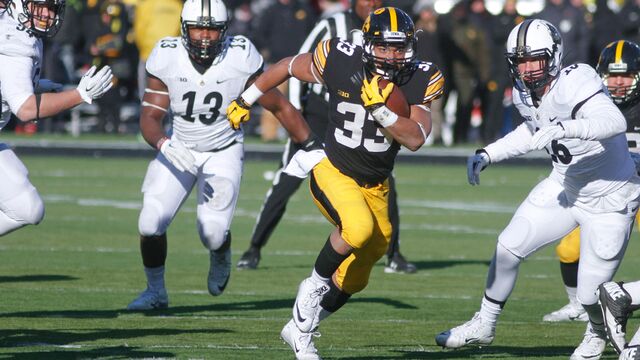 Good news for the University of Iowa's football team is also good news for local TV stations seeking advertising dollars from presidential campaigns and allied groups.
When the undefeated Hawkeyes play Michigan State in Saturday's Big Ten championship game, politicos will pay up to $25,000 to air a 30-second ad to thousands of Iowans ahead of the state's Feb. 1 caucuses. 
As the Hawkeyes' odds have improved this season, so has the cost for a half-minute ad during Saturday's game. On Nov. 25, the pro-Jeb Bush super-PAC Right to Rise bought two spots from Sioux City's Fox affiliate, KPTH, for $7,000, or $3,500 each, according to public FCC documents. Five days later, after the Hawkeyes beat Nebraska to advance to the championship, the pro-Marco Rubio super-PAC Conservative Solutions paid the station $17,000 for two ads during the championship, at a rate of $8,500 each. (For comparison, a 30-second ad during the station's Siouxland News at Nine on the same station goes for $300.)
"Live sports gives you a captive audience, and our analytics indicate this game in particular will draw a large segment of our target universe in Iowa," said Paul Lindsay, a spokesman for Right to Rise, in an e-mail. "It's a good opportunity for Hawkeye fans to learn more about Jeb Bush." The former Florida governor is polling at just 4 percent in Iowa, according to a Quinnipiac University poll released Nov. 24.
The Cedar Rapids Fox affiliate, KFXA, is also making a killing. On Nov. 23, Conservative Solutions paid $8,000 apiece for two 30-second ads during the game. On Dec. 1, Democrat Bernie Sanders's campaign paid $25,000 for one ad of the same length, according to public FCC documents. (The law requires candidates to be offered the lowest rate available; that rule doesn't apply to super-PACs.) The Des Moines affiliate, KDSM, doubled its super-PAC rate from $4,000 to $8,000 as the team inched toward the championship game, said an official from one group who didn't want to be identified discussing rates.
Prices for media buyers depended partly on how big they were willing to bet the University of Iowa would make it to the championship. Most political ad buyers know that live college sports like football tend to have high concentrations of Republican caucus-goers watching, said Deep Root Analytics CEO Brent McGoldrick. (The firm's co-founder, Alex Lundry, is also the chief analytics officer for Bush's campaign.)
"Obviously it's Iowa, it's December, the caucuses are coming up, the analytics would indicate that there's a good bet to buy the Big Ten championship game," McGoldrick said. "If you were smarter about it and used more analytics, you were going to place that buy earlier." 
The Sioux City Fox affiliate expects viewership numbers for the Big Ten game to be similar to the 2014 Super Bowl, when about 130,000 of the market's 157,000 households tuned in, said general manager Steve Scollard.
"I think it really represents a tremendous opportunity for candidates and/or PACs to reach an unprecedented-size audience," said Scollard. The Sioux City area is "knee-deep" in Hawkeye fans, who are enjoying their first undefeated season since 1922, he said.
The Cedar Rapids media market—including Dubuque, Iowa; Waterloo, Iowa; and the Hawkeyes' home of Iowa City, Iowa—is even bigger, with an estimated 350,000 homes in the area, according to Nielsen, helping explain the higher ad prices.
"It's not a question of who will be watching, the bigger question is who won't be, and that number is going to be very small," Scollard said. 
(
Correction: The original version of this story stated that Dubuque was in Indiana.
)
Before it's here, it's on the Bloomberg Terminal.
LEARN MORE