Number Crunch
The Literary Primary: How the GOP Candidates' 2015 Books Stack Up
New books released by Republican presidential hopefuls differ in some telling ways.
by , , and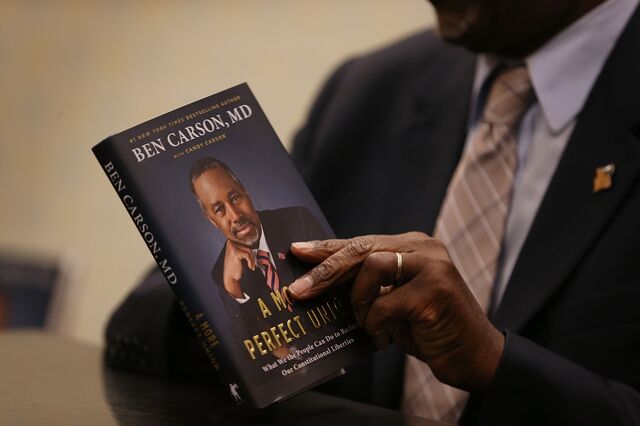 Releasing a book to coincide with a presidential campaign has become a rite of passage for candidates. Some opt for policy-driven manifestos (think Bill Clinton's Putting People First in 1992) while others go the autobiographical route (Barack Obama's Dreams from My Father in 2007, for instance). This year's batch of literary offerings—with publications from at least 10 candidates in both parties—stands out as one of the largest of any cycle in recent memory.
In what we are calling the literary primary, Bloomberg Politics takes a deep dive into the 2015 books released by eight leading contenders in the hotly contested Republican primary to learn what we can from the candidates' own published words.
Book Buzz
Starting with Nielsen data for each book's first week of sales reveals Dr. Ben Carson's treatise on the Constitution handily leading the pack with 38,000 copies sold, followed by real estate mogul Donald Trump's 28,000 copies.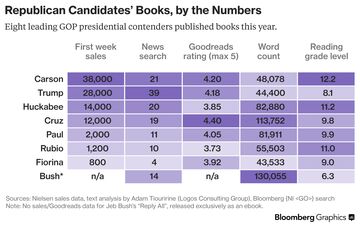 To gauge media buzz, we conducted a search of how many news stories by major publications included the candidates' last names and abridged book titles in the first 100 words. Trump is far ahead with 39 such story hits. 
In terms of what users actually thought of the books, we looked at ratings on Goodreads.com, which claims to be the world's largest site for readers and book recommendations. Goodreads users gave Senator Ted Cruz top marks (4.4 out of 5).
Nielsen sales data for ebooks, such as former Florida Governor Jeb Bush's self-published Reply All, are not available until three months after release. Goodreads ratings were also unavailable for Bush's book.
It's the Economy, Stupid
Trump's campaign may have kicked off with a tirade against illegal immigration, but the subject barely registered in the stack of books his political rivals published this year.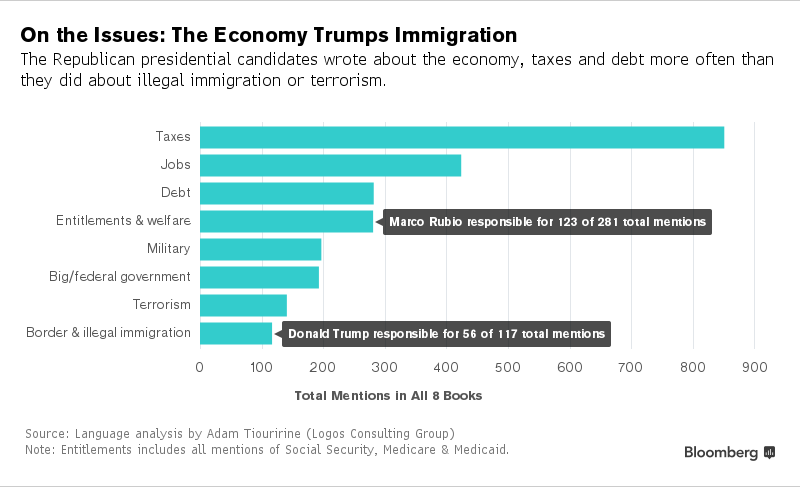 Hyperpartisan
Cruz is the most anti-Democrat of any of the candidates in the literary primary, referring to President Obama (or Obamacare) and the Democrats four times as often on average as the other Republicans' books. 
Analyzing candidates' language for divisiveness also reveals that, more than any other, Trump writes in an "us vs. them" style. In all, he used "us" words (we, us, our and ours) 2.6 percent of the time and "them" words (they, them, their, theirs) 1.9 percent of the time.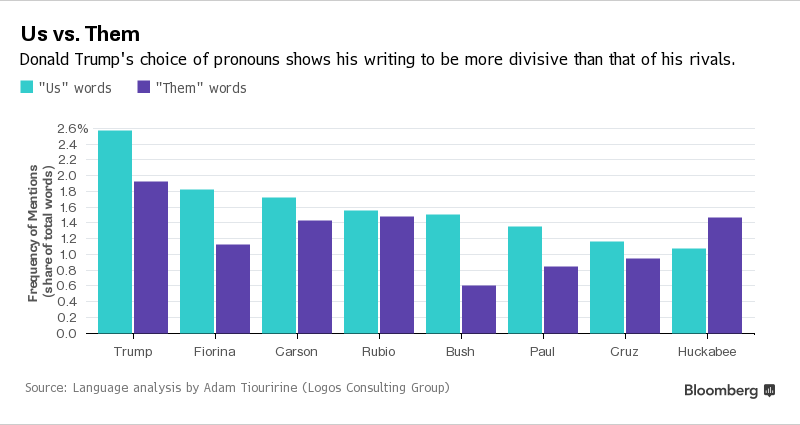 Culture Wars
One candidate whose book isn't shying away from the so-called culture wars is former Arkansas Governor Mike Huckabee, who in 2008 won the Iowa caucuses on the back of strong evangelical support. His poor showing in recent polls, however, means that unless he can regain momentum the social conservative mantle will likely pass on to Carson or Cruz, whose books paid balanced attention to issues such as God, guns, and gay marriage.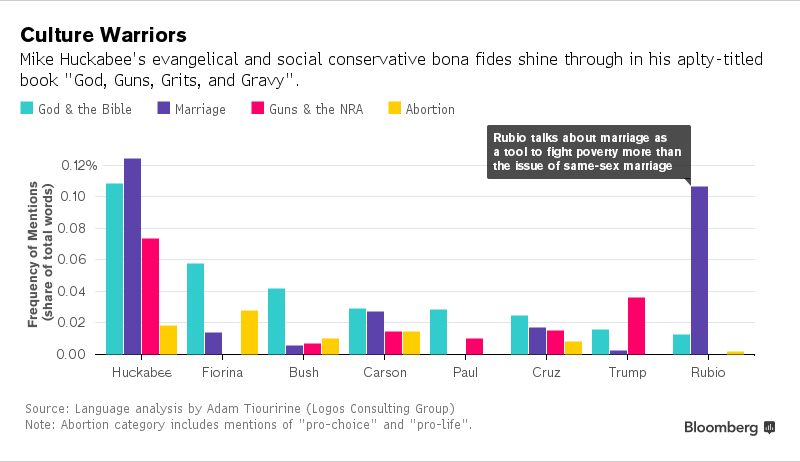 Republican Geography
The outsize importance of the early voting states is increasingly hard to ignore, yet only New Hampshire appears among the 10 most mentioned states in the literary primary, with 31 total references. South Carolina had 20 mentions and Iowa just 13. Compare that to nearly 800 references for Florida, home to two of the eight presidential hopefuls, and 456 for the oft-maligned District of Columbia, which was mentioned more times than 49 of the actual U.S. states.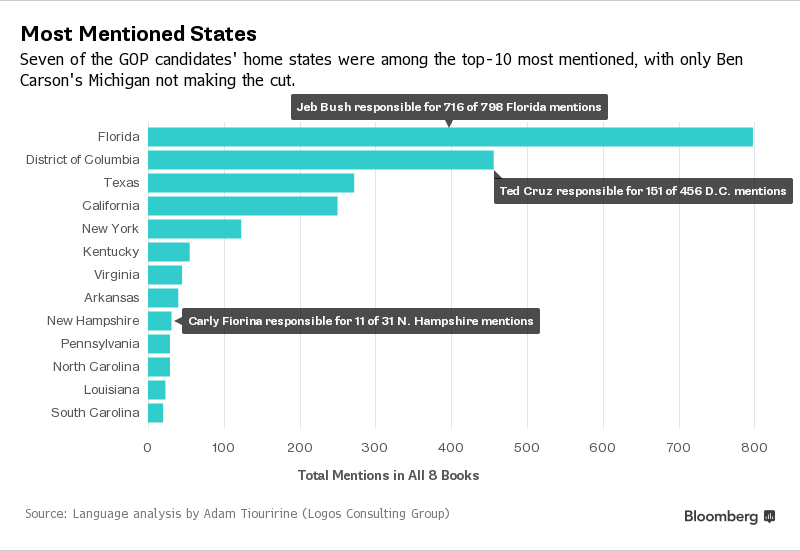 Turning to foreign countries, Trump mentions China and its people nearly 50 times in his latest book. Israel is also a frequent rallying cry for the conservative base and is championed most frequently by Cruz, who's solely responsible for two-thirds of the 74 mentions. Cruz also refers to his parents' homeland, Cuba, three times more often than Bush, who devotes a section of his book to the Elian Gonzalez story.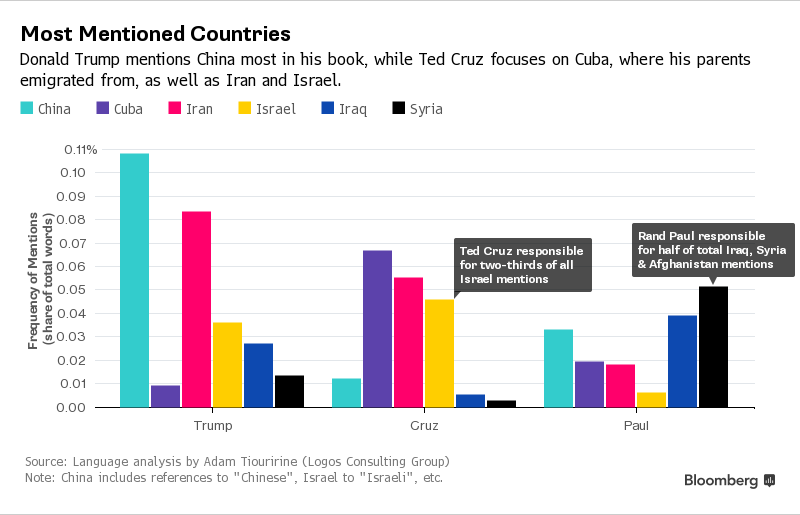 As for Afghanistan and Iraq, only Senator Rand Paul paid them much heed, often to bemoan their unstable post-war aftermath.
Going Corporate
In terms of what businesses the candidates mention most frequently in their books, Hewlett-Packard, the company Carly Fiorina once led, ranks at the top with 34 mentions. Other top brands that the candidates name-dropped include Disney, a somewhat frequent topic of conversation in Bush's gubernatorial e-mails, as well as Silicon Valley giants Facebook, Google, Apple, and Amazon.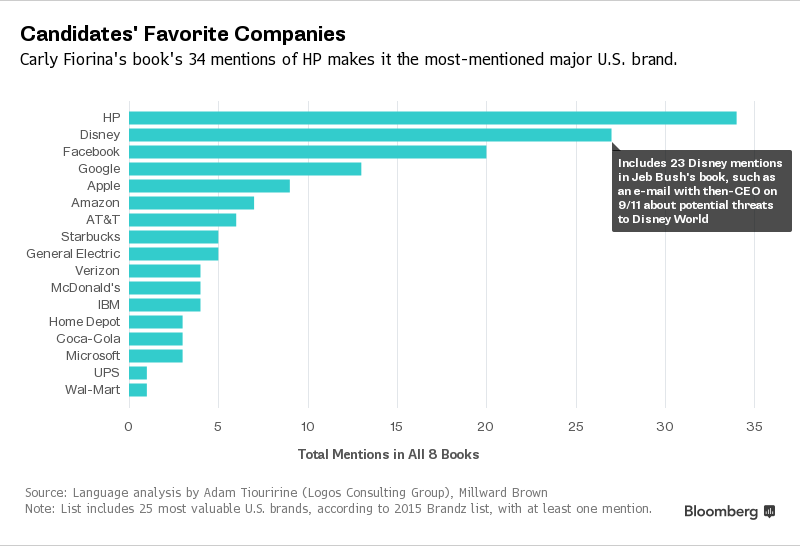 Bibliography 
While the New York Times is rarely considered favorite reading for the conservative right, it is the single-most mentioned news source in the eight books analyzed (30 times). This is largely thanks to 16 purely factual citations in Paul's Taking a Stand. Perhaps less surprising are the 37 combined references for Fox News and the Wall Street Journal, flagship properties of Rupert Murdoch's News Corporation. Other frequently-cited media organizations included NBC, CNN, and the Washington Post.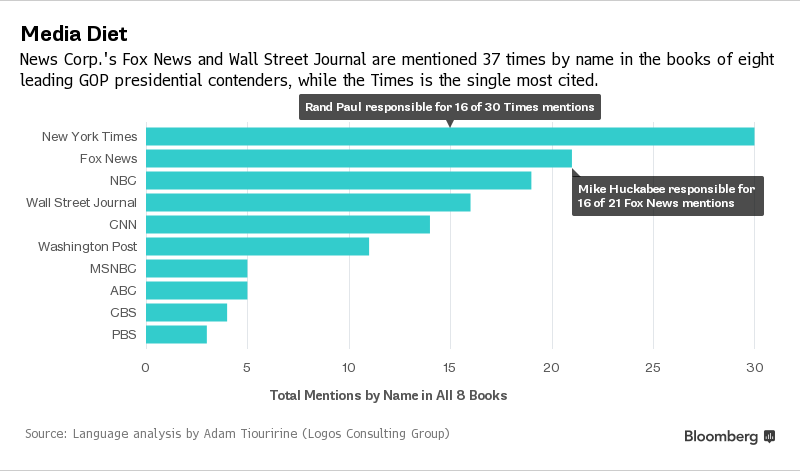 Reading List
Books included in our Bloomberg Politics analysis:
Donald Trump's Crippled America: How to Make America Great Again (Nov. 3)
Jeb Bush's Reply All: A Governor's Story 1999-2007 (self-published on Oct. 30)
Ben Carson's A More Perfect Union: What We the People Can Do to Reclaims Our Constitutional Liberties (Oct. 6)
Ted Cruz's A Time for Truth: Reigniting the Promise of America (June 30)
Rand Paul's Taking a Stand: Moving Beyond Partisan Politics to Unite America (May 26)*
Carly Fiorina's Rising to the Challenge: My Leadership Journey (May 5)
Mike Huckabee's God, Guns, Grits, and Gravy (Jan. 20)
Marco Rubio's American Dreams: Restoring Economic Opportunity for Everyone (Jan. 13)
*Because Paul published two books in 2015, we focused on the more campaign-oriented of the two and left out Our Presidents & Their Prayers: Proclamations of Faith by America's Leaders (Oct. 20).
— Adam Tiouririne of Logos Consulting Group advises senior business leaders on high-stakes communication and researches language, leadership and the media.
Before it's here, it's on the Bloomberg Terminal.
LEARN MORE