Congress Sends 5-Year, $305 Billion Highway Plan to Obama
by and
Measure revives Export-Import Bank after five-month lapse

McConnell says bill is longest-term plan in almost two decades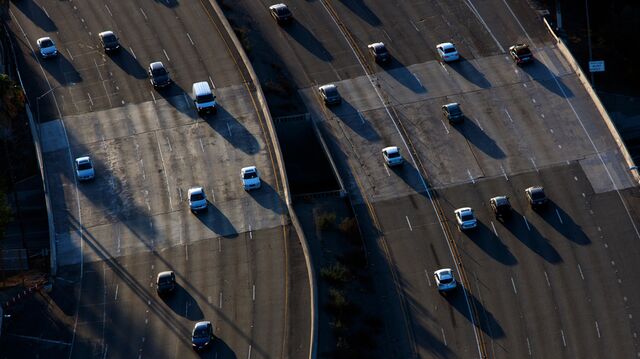 Republicans and Democrats in Congress teamed up to send President Barack Obama a five-year, $305 billion U.S. highway funding plan despite some lawmakers' misgivings that it would be paid for in part by cuts in Federal Reserve dividend payments to large banks.
The bill, passed 83-16 by the Senate Thursday night, will also revive the U.S. Export-Import Bank, whose charter lawmakers had allowed to expire on June 30. The House passed the highway measure 359-65 earlier in the day.
Obama will sign the bill, said White House spokesman Josh Earnest, who on Wednesday called the measure a "real step forward."
Senate Majority Leader Mitch McConnell, a Kentucky Republican, said the plan was the longest-term highway funding bill to pass Congress in almost two decades.
"After years of inaction, this Senate took bipartisan action to meaningfully improve our roads and infrastructure over the coming years," McConnell said on the Senate floor Thursday. "This bill will finally provide state and local governments with the kind of certainty they need to focus on longer-term road and bridge projects. That's a significant department from years of short-term extensions."
Voting against the bill were 14 Republicans and Democrats Elizabeth Warren of Massachusetts and Tom Carper of Delaware.
The long-term plan will be a boon to companies like Caterpillar Inc., the world's largest maker of mining and construction equipment. The Peoria, Illinois-based company is also a top Ex-Im Bank beneficiary.
Janet Yellen
Fed Chair Janet Yellen said Thursday that tapping Federal Reserve surplus funds to help finance the bill would set a "bad precedent." In response to questions by members of Congress's Joint Economic Committee, she said it would diminish the stream of revenue coming into the central bank over the coming years.
The bill, H.R. 22, is the product of a bipartisan conference committee that reconciled differences in separate measures passed by the House and Senate. Its passage will likely be used by House and Senate Republican leaders, including new House Speaker Paul Ryan, as evidence their majorities can deliver on major legislative items.
The biggest chunk of the bill's contracting authority is $281 billion over five years for the Highway Trust Fund for roads, bridges, mass transit and other programs. It also includes more than $12.2 billion for capital investment grants, $10.36 billion for freight and rail-related projects, $980 million for National Highway Traffic Safety Administration vehicle safety provisions and hundreds of millions of dollars for other projects or agencies, including emergency preparedness.
Overseas Sales
The Export-Import Bank, a federal agency that helps American companies sell products overseas, would be reauthorized through September 2019. 
Lawmakers in the Senate and House overwhelmingly support reviving the bank, but it was opposed by some Republican leaders, including Ryan, who say it helps big companies that shouldn't need government assistance. Some critics, like House Financial Services Committee Chairman Jeb Hensarling of Texas, have described the bank as an example of "crony capitalism."
Supporters led by Republican Representative Stephen Fincher of Tennessee and Democrat Steny Hoyer of Maryland teamed up to force a House vote Oct. 27 that demonstrated majority support for reviving the bank.
Some House Republicans said they are disappointed in how the highway bill was being financed, though they ultimately decided to support it. Much of the new revenue is needed because the highway fund is running a shortfall, in large part because lawmakers have kept the federal gasoline tax that has financed the Highway Trust Fund unchanged at 18.4 cents per gallon since 1993.
'Phony Pay-Fors'
Representative Reid Ribble, a Wisconsin Republican who was on the conference committee, said he was among those who had to weigh the bill's policy benefits against its "phony pay-fors" in deciding to support it.
The measure would be financed partly by taking $19 billion from the Federal Reserve surplus account, which totaled $29.3 billion as of Nov. 25. In addition, the 6 percent dividend that national banks receive from the Fed would be reduced by an amount tied to yields on 10-year U.S. Treasuries, currently about 2.2 percent.
If Treasury yields rose higher than 6 percent, the Fed wouldn't pay the banks more. The change to banks' dividends would generate $6.9 billion, according to the Congressional Budget Office. Banks with $10 billion or less in assets would be exempt from the cut.
The bill would raise other revenue by authorizing the sale of an estimated 66 million barrels of crude oil from the Strategic Petroleum Reserve, to raise $6.2 billion.
Other aspects of the bill reflect several regional victories. It would keep in place a program that distributes shares of mass-transit funding for seven high-density Northeast states, including New York and New Jersey, which the earlier House version would have eliminated. It also would separate budgeting for Amtrak's Northeast corridor from the rest of the passenger-rail network.
Before it's here, it's on the Bloomberg Terminal.
LEARN MORE