Emanuel Reverses Stance, Backs U.S. Probe of Chicago Police
by , , and
Mayor announces shift after Hillary Clinton supports move

Shooting fallout threatens return to racially charged politics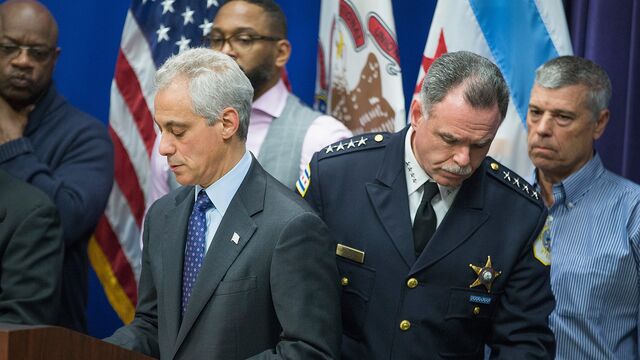 Hours after Democratic presidential candidate Hillary Clinton backed calls for a federal probe of Chicago police practices, Mayor Rahm Emanuel reversed himself and voiced support for such an investigation.
"The city welcomes engagement by the Department of Justice when it comes to looking at the systemic issues embedded in CPD," Emanuel said in a statement Thursday. "I am open to anything that will help give us answers and restore the trust that is critical to our public safety efforts."
Emanuel's announcement was his latest move to limit the fallout from the city's release of a video showing a white police officer repeatedly shooting a black 17-year-old, Laquan McDonald, even as he lay crumpled on the ground. The mayor and local prosecutors have drawn fire for the 13 months it took to release the video and charge the officer involved with murder.
The mayor fired his police superintendent Tuesday. Until Thursday, he had resisted calls from black community leaders and Illinois's attorney general, Lisa Madigan, for the Justice Department to investigate the department amid accusations of a cover-up. Clinton's statement was particularly notable because Emanuel has long been close to her and her husband, working in former President Bill Clinton's White House.
Emanuel's reversal addressed a broader challenge: avoiding a return to the racial politics of the 1980s that would damage Chicago's carefully built brand as a corporate-headquarters town, and undermine his efforts to improve its deteriorating credit and pensions.
"How many crises can you manage at once?" asked Adam Buchanan, senior vice president of sales and trading at Ziegler, a broker-dealer in Chicago.
Superintendent Dismissed
The latest erupted last week after the city released a video showing Officer Jason Van Dyke shooting McDonald 16 times. Emanuel had sought to reduce the criticism by firing his police superintendent, Garry McCarthy, but that move quickly created another source of tension over who will replace him in a city whose 2.7 million population is almost equally divided among whites, blacks and Hispanics.
The acting superintendent, John Escalante, is Hispanic, and many Latinos would like to see him get the job. Leaders from the black community, which has been disproportionately affected police abuse, are pushing their own candidates. In May, the city apologized for 20 years of torture led by a white former police commander, mainly against black men.
The issue of police misconduct unifies blacks, U.S. Representative Bobby Rush, a Democrat from Chicago, said in an interview Wednesday.
"Every city in the nation was waiting" to see how Chicago would handle protests after unrest in Ferguson, Missouri, Baltimore and elsewhere after citizens died at the hands of police, he said.
Rush was an alderman during the 1980s when Chicago was known as Beirut on the Lake and white aldermen clashed with the first black mayor, Harold Washington.
The current situation has wider implications because of the national spotlight, said Donald Haider, a former Chicago finance director who ran against Washington in 1987.
"Beirut on the Lake was a local squabble," said Haider, who teaches at Northwestern University's Kellogg School of Management. "It was a good old Chicago backroom brawl for political power with racial overtones. This is also a call for power, but it is also a cry for justice. This is a call for fair treatment."
At a minimum, instability complicates the city's efforts to fix its finances, said Richard Ciccarone, Chicago-based chief executive officer of Merritt Research Services. Chicago's pension debt has grown to $20 billion, more than $7,000 for each resident.
"You've got a two-front battle," Ciccarone said. "Which do you put on your priority plate this morning -- do you put your public safety on the front burner, or do you put the pensions?"
Attracting Businesses
Molly Poppe, a city spokeswoman, said in a statement that the Emanuel administration has passed a budget that shores up the police and fire retirement funds. It has also attracted 39 company headquarters relocations.
"Chicago will continue steady progress in further improving our finances and growing our business sector," Poppe said. "We are confident this hard work will continue to benefit all Chicago neighborhoods."
Several investors said they didn't expect the police furor to affect the city's longer-term fiscal outlook and noted that Emanuel bolstered Chicago's finances by passing the largest property-tax increase in city history in October. Bonds have rallied about 4 percent since then.
Still, the turmoil could weaken the mayor in dealings with the city council as the black and Hispanic caucuses jockey over power, said Dick Simpson, a former alderman who advised transition teams for Washington and former Mayor Jane Byrne.
Emanuel doesn't enjoy the union support that previous mayors did, Simpson said, noting that a possible teacher strike would be the second in three years. Chicago's schools need about $480 million from the gridlocked legislature to fix their budget gap, and without that bailout, Forrest Claypool, the district's chief executive officer, has warned of thousands of teacher dismissals.
The police-video controversy has drawn renewed negative attention. Trevor Noah, the host of "The Daily Show" on Comedy Central, joked Monday that he doesn't want to go to Chicago "because I don't want to die." Noah made the comment during an interview with filmmaker Spike Lee, whose movie about violence on the city's South Side, "Chi-Raq," opens Friday.
Murders Increase
Shootings are up 17 percent, and murders have jumped 13 percent this year from a year ago, as of Nov. 22, according to police data.
The accumulation of criticism has also affected Emanuel's national standing. The New York Times and Washington Post have written editorials critical of his leadership and handling of the situation.
During an interview with Politico reporters at Chicago's Willis Tower on Wednesday, Emanuel explained why he had canceled his trip to the Paris climate talks this week.
"This is a challenging time for the city," he said. "It needs sustained effort, and part of that sustained effort requires the mayor to be present."
Emanuel said he's not considering resigning, and won't shrink from making "the very tough decisions to move the city forward."
"I'm not perfect," he said, "but like everything, I try to do what I think is right and be willing to be held accountable for that."
Before it's here, it's on the Bloomberg Terminal.
LEARN MORE