Hedging Bets?
Karl Rove Opens His Rolodex for Ben Carson
Donald Trump's team thinks the top-gun Republican consultant is aiming a bank shot at the billionaire.
by and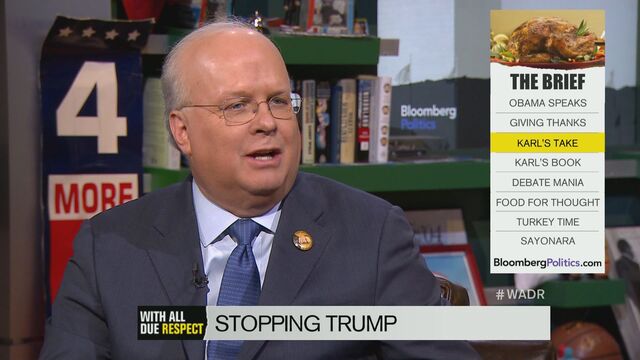 Republican strategist Karl Rove helped set up a meeting between top fundraisers for Ben Carson and casino mogul Steve Wynn.
Rove confirmed to Bloomberg Politics that he acted as the go-between for the Carson camp and Wynn, a sometimes business competitor of Donald Trump, the rival Carson has been batting all fall for the Republican nomination.
"I introduced them but I don't know anything further about that," said Rove, who added that he did not attend the meeting.
The mastermind of George W. Bush's presidential victories in 2000 and 2004, Rove has not signed on with any of the presidential candidates this year, though he says he has dispensed advice to a number who have asked. Trump's camp is viewing the effort to help the billionaire real estate mogul's chief rival as an attack on the front-runner. 
"Karl Rove is at the center of the GOP establishment—fearful of what real leadership in Washington D.C. will accomplish," said Trump campaign manager Corey Lewandowski in a statement when asked about Rove's role in facilitating the meeting between Carson and Wynn. "Mr. Trump continues to expose the all-talk, no action politicians propped up by their dark money super PACs that have failed the American people for far too long." Rove helped found one of the pioneering dark money groups, Crossroads GPS, which as a non-profit does not have to disclose the identities of its donors.
Lewandowski did not address the role of Wynn, who, according to a Fox Business Network report in September, has repaired his sometimes rocky relationship with Trump and become a campaign adviser. Wynn and Trump have a complicated history dating back to the 1990s, where the two businessmen battled in the casino real estate market. 
Michael Weaver, a spokesman for Wynn, said in an e-mail that he so far has not been able to confirm the meeting with his boss. Weaver added that Wynn "is not an advisor to Mr.  Trump; Mr. Wynn speaks occasionally and informally with many candidates."
In June, according to records on file at the Federal Election Commission, Wynn donated $25,000 to America Leads, a super political action committee (one that can take contributions in unlimited amounts) that backs New Jersey Governor Chris Christie's presidential bid. Wynn and his wife, Andrea, also donated $5,000 apiece to Christie's traditional political action committee, Leadership Matters for America. Meanwhile, Wynn's ex-wife, Elaine Wynn, has made several contributions, totaling more than $11,500, to Right to Rise, a super-PAC backing former Florida Governor Jeb Bush for president.
On Bloomberg Politics' With All Due Respect earlier this week, Rove listed Bush, Christie, and Senator Marco Rubio as the three candidates most likely to knock Trump off when "the other 70 to 75 percent of the party begins to coalesce behind somebody." The reference is to Trump's polling numbers. Though consistently leading the Republican pack since the summer, Trump has never been able to get much past the 30 percent mark in the polls tracked by RealClearPolitics.
Rove's role in setting up the meeting between Wynn and Carson advisers raised some eyebrows within Carson's political orbit, with some advisers questioning Rove's intentions, said one source familiar with the meeting and the campaign.
The source said they were skeptical that Rove was only acting to inflate Carson in an effort to ultimately take out Trump. "Karl Rove isn't just going just to help Ben Carson out of the goodness of his heart," the source said. Terry Giles, a Texas lawyer who was one of the Carson advisers at the meeting, is no longer formally associated with Carson's campaign or a pro-Carson super-PAC. 
Giles said in a statement to Bloomberg that Rove was "a class act whose willingness to share his knowledge of political process to be second to none."
"One of the special experiences of being involved in a presidential campaign is the people you meet. Karl Rove has been one of those special experiences for me," Giles said in a statement. "Anyone in any campaign that discounts Karl Rove is either foolish or uninformed—or both."
Giles said that Rove "was kind enough to suggest the meeting" with Wynn. He said it was a "natural" given that Giles, Wynn, and Carson are each member of the Horatio Alger Association, "as was, by the way, [Trump's father] Fred Trump."
"The meeting with Mr. and Mrs. Wynn, which occurred several months ago, was informational, inspirational, and much appreciated," Giles said. "There was never any discussion at that meeting of Mr. Wynn's financial backing of Dr. Carson."
News of Rove's work as a go-between for Carson comes amid reports that other Republican activists are trying to stop Trump.
Former New Hampshire Republican Party Chairman Fergus Cullen unsuccessfully challenged Trump's eligibility to participate in the state's first-in-the-nation primary. "Everyone benefits from his demise but everyone wants someone else to do it," Cullen lamented, saying the front-runner could damage Republicans among minorities and women, potentially for many years.
Liz Mair, the former Republican National Committee online communications director, has also set up a conduit for anonymous anti-Trump donations, Trump Card LLC. "The sooner action is taken against Trump, the better," she said in an e-mail that expressed some frustration that the party isn't doing more to take on the front-runner. "We're also not party bigwig people and aren't as establishment as some of the folks making the calculation that we dare not offend Trump."
She said she and her allies "are getting sick and tired of a big government guy whose only 'conservative' attributes are apparently saying and thinking things that better suit an old school Southern Democrat than a Republican without minorities."
Three days after the Wall Street Journal first reported on Mair's efforts, a Trump tweet drew speculation that he was once again considering a third-party run, despite signing a pledge that he would not.
Republican strategist Ron Bonjean said that it's risky for outside groups like Mair's to attack Trump because it could give the perception that the establishment is trying to take him out politically—optics that have only strengthened Trump's political hand. Bonjean had more praise for the efforts of the super-PAC supporting Ohio Governor John Kasich, which has been airing anti-Trump ads.
"If other presidential campaign super-PACs decide to attack Trump and large donors fund or are writing big checks to make that happen it's much more legitimate than a direct anti-Trump campaign," Bonjean said. "It's standard operating procedure for rival candidates to conduct attacks against each other. But a direct anti-Trump effort? It can provide Trump with a leg to stand on to say he's being treated unfairly."
Before it's here, it's on the Bloomberg Terminal.
LEARN MORE