Donald Trump Brings Signature Bravado, and a Sort-Of Apology, to Florida
The Republican presidential front-runner came close to apologizing for his portrayal of a reporter before going on the attack again.
by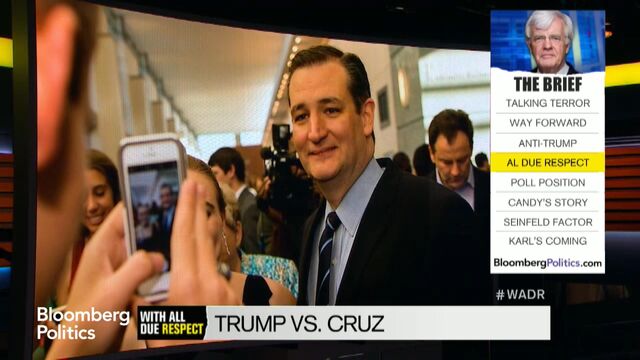 For Donald Trump, it was as close to an apology as he could muster: Bravado, a dash of humility, and a one-two punch back at critics who continue to predict his demise as the leading contender for the 2016 Republican presidential nomination.
At a rally in Sarasota, Florida, on Saturday, Trump denied critics' assertions that he had mocked New York Times reporter Serge Kovaleski, who has a disability, at a campaign appearance on Nov. 24.
"I was very expressive in saying it and they said I was mocking him. I would never mock a person that has a disability," Trump told the overflow crowd. "I'm telling you. I would never do it. I don't care if I like the person or I didn't."
Trump's feud with Kovaleski arose from the journalist refuting the candidate's claims that Kovaleski had reported there were "thousands" of Muslims celebrating in New Jersey after the Sept. 11, 2001, attacks on New York and Washington. Kovaleski reported for the Washington Post at the time that "law enforcement authorities detained and questioned a number of people who were allegedly seen celebrating the attacks."
While Trump struck an apologetic tone, the celebrity billionaire turned Republican presidential front-runner also made it clear that he doesn't like Kovaleski or the paper that currently employs him.
"He's using what he's got to a horrible degree," Trump said of Kovaleski, who has a congenital condition that limits his ability to move his joints. Trump said both the reporter and the newspaper were attempting to bring him down. 
"I gave tens and tens of millions of dollars to [help people with disabilities]. ... The New York Times owes me an apology," Trump said. "I don't mock people that have problems. Now people mock me with my hair, but it's fine."
The crowd laughed; it was classic Trump.
"He apologized," said Nancy Hoyt, a supporter who had driven two and a half hours from Ocala, in central Florida. She waited in line for another two hours to see the former host of television's The Apprentice speak in a city that, by coincidence, was once the winter home of the Ringling Brothers Circus. Hoyt paused and scratched her head before adding, "At least I think he did."
Barbara Dickson, also from Ocala, said she thought the real estate mogul was "trying to dig himself out of the hole he dug himself into with that comment." "Sometimes, Trump gets a little over the top. I wish he'd be a little more sensitive—especially to people with disabilities," Dickson said. "But he's great. He says what's on everyone's mind and we need someone who isn't a politician for president."
Trump arrived in his signature helicopter, greeting about 1,000 people who couldn't cram into the 4,000-seat capacity Robarts Arena (on Twitter, Trump estimated the crowd at 12,000, adding, "Great love in the air!"). He instructed his pilot to take children for helicopter rides. Perhaps in an homage to the city's circus heritage, an elephant was paraded around with Trump's name painted on its side. 
Inside, Trump, tieless and in signature red cap, took control of the crowd when about three protesters looked to disrupt the rally. "Be nice," he told the crowd. "Don't hurt the person." The exchange was noteworthy, coming a week after a Black Lives Matter supporter clashed with a handful of Trump supporters during another campaign rally. Trump organizers distributed about 10 VIP passes to African-American pastors.
Besides riffing on education, super-PACs and his strong standing in many polls, Trump continued to criticize his political opponents, including Senator Marco Rubio, slamming the Florida Republican's poor Senate attendance record and one-time support of a bipartisan immigration proposal.
For a change, Trump barely criticized former Florida Governor Jeb Bush, another Republican challenger, appearing almost bored at the brother and son of former U.S. presidents whose campaign has struggled to gain traction. "I don't even mention him anymore," Trump told the crowd. "You'd think he'd have an advantage because of his family—but no."
Trump also steered clear of criticizing Senator Ted Cruz, the Texas Republican often associated with the 2013 federal government shutdown. Trump seemed to give tacit approval to using the threat of a shutdown as leverage in striking a budget deal. Of former House Speaker John Boehner, the Ohio Republican who stepped down in October, Trump said: "You can't negotiate when your top person says, 'There's no way we're closing the government.'"
A survey conducted Nov. 15-16 by Florida Atlantic University showed Trump ahead in the Sunshine State, with 36 percent support among likely Republican primary voters, double his nearest challenger. Nationally, a Reuters/Ipsos poll conducted in the five days through Nov. 27 showed Trump backed by 31 percent of Republicans, down from a peak of 43 percent on Nov. 22. That poll had a credibility interval of 5.2 to 6.1 percentage points.
Before it's here, it's on the Bloomberg Terminal.
LEARN MORE