Release of Police-Shooting Video Ignites Chicago Street Protests
by and
White officer charged with first-degree murder of black teen

Dash-cam shows him firing shots after man fell to ground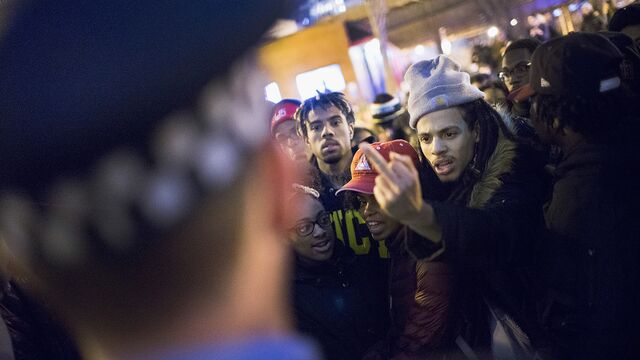 Hundreds of protesters marched through downtown Chicago Tuesday night after the city released a video showing a white police officer fatally shooting a black teenager 16 times.
The police dashboard-camera footage captured officer Jason Van Dyke shooting 17-year-old Laquan McDonald even after he had fallen. While the police union had said McDonald lunged at officers with a knife during the October 2014 encounter, the video showed him moving away from them when Van Dyke fired.
Shortly before the city released the video, Mayor Rahm Emanuel told reporters that the officer had violated the "basic standards that bind our community together." Emanuel said a judgment would also be passed on the city's reaction to the video's release.
"Will we use this episode and this moment to build bridges that bring us together as a city, or will we allow it to become a way that erects barriers that tear us apart as a city?" he said. "It is fine to be passionate, but it is essential that it remain peaceful."
The video's release came about seven hours after Cook County prosecutors charged Van Dyke with first-degree murder, 13 months after he killed McDonald on the city's southwest side. It's the first time in almost 35 years that a city officer has faced such a charge for an on-duty killing, according to the Chicago Tribune.
Hundreds of protesters made their way down Michigan Avenue, shouting "16 shots! 16 shots!" Tensions escalated at Balbo Drive and Michigan Avenue as police got into a shoving match with protesters, who said three were detained as a result of the scuffle.
"We are just frustrated," said Malcolm London, 22, co-chairman of the Chicago chapter of Black Youth Project 100, by "this city, the police department, the indifference of too many people in this city when black lives are gone, particularly at the brutal hands of police."
The protests in the nation's third-largest city follow unrest in Ferguson, Missouri, and Baltimore, where black residents died after encounters with police, setting off demonstrations that escalated into violence and looting.
Cook County prosecutors say Van Dyke began firing his 9 mm semiautomatic pistol about six seconds after getting out of his squad car. It took Van Dyke as long as 15 seconds to empty his weapon, and McDonald was lying on the ground for 13 of those seconds as his body jerked amid puffs of debris as bullets hit the pavement, according to prosecutors.
Van Dyke's lawyer, Daniel Herbert, has said the shooting was justified because the officer feared for his life. Of the eight or more officers at the scene, only Van Dyke fired his gun, Cook County State's Attorney Anita Alvarez said after Van Dyke, 37, was charged Tuesday. Police have said that McDonald, who had PCP in his system, had been behaving erratically and didn't obey orders to drop a folding knife.
The attorneys for McDonald's family, Michael Robbins and Jeffrey Neslund, issued a statement Tuesday repeating their preference that the video not be released and asking for calm.
"No one understands the anger more than us but if you choose to speak out, we urge you to be peaceful," the family said in the statement. "Don't resort to violence in Laquan's name. Let his legacy be better than that."
Cook County Board President Toni Preckwinkle issued a statement contending that "delay and obstruction have prevented justice from being carried out." She praised Judge Franklin Valderrama for ordering the video's release. "However, I am dismayed that we had to rely on his intervention and that only after his decision was the officer involved charged," Preckwinkle said.
Addressing reporters Tuesday after the charges were announced, Alvarez said Van Dyke's actions "were not justified and were not a proper use of deadly force."
After Valderrama ordered the release of the graphic footage by Wednesday, Emanuel reversed the city's long-held opposition and urged prosecutors to finish their investigation.
A University of Chicago database of police interactions with citizens shows that Van Dyke had 18 complaints filed against him since he joined the force in June 2001. In April, Chicago took the unusual step of paying McDonald's family a $5 million settlement. The family hadn't even filed a lawsuit, according to the Tribune.
Chicago has a sordid history with police brutality. In May, the city formally apologized for 20 years of torture led by a white former police commander against mostly black men. The City Council unanimously approved a $5.5 million fund to provide reparations for the victims, who suffered beatings, electric shocks and simulated Russian roulette.
Ahead of the video's release, officials took steps to demonstrate that the city holds its officers accountable. Police Superintendent Garry McCarthy and Emanuel issued statements calling for the firing of Dante Servin, an officer who was acquitted of involuntary manslaughter in the 2012 off-duty shooting of Rekia Boyd, a black woman on the West Side. Servin was acquitted in April.
Before it's here, it's on the Bloomberg Terminal.
LEARN MORE