Obama Says No Sign of Credible Terror Plot Against U.S.
by
President meets with national security team before holiday

U.S. stepping up security in wake of deadly Paris attacks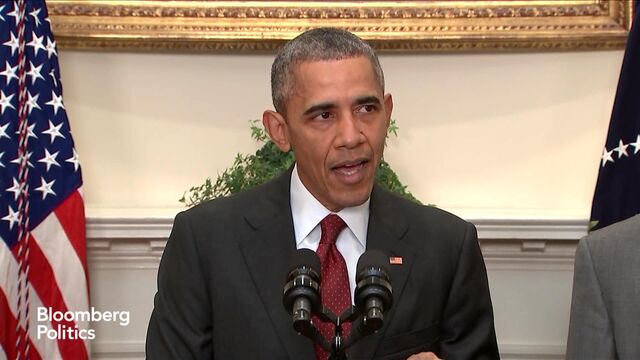 President Barack Obama told Americans preparing for the Thanksgiving holiday that there's no specific threat to the U.S. from Islamic State or other terrorists and sought to assure the public that all necessary steps are being taken to keep the country safe.
In the aftermath of the attacks in Paris that killed 130 people, Obama said U.S. intelligence agencies and law enforcement organizations are on full alert and that Americans should go forward with holiday plans.
"It's understandable that people worry something similar could happen here," Obama said Wednesday at the White House after the second meeting with his national security team in as many days. "We are taking every possible step to keep our homeland safe."
The president regularly holds high-level national security meetings ahead of the holiday season as Americans crowd malls, airports and highways. While it's typically a time of high alert for law enforcement and intelligence agencies, the Nov. 13 terrorist attacks in Paris added greater urgency to that vigilance.
The U.S. State Department issued a warning on Monday telling international travelers that the Islamic State and other terror groups continued to plan attacks. The alert urged people to avoid large crowds and to "exercise particular caution during the holiday season and at holiday festivals or events."
On Tuesday, Obama's advisers briefed him specifically on the battle against Islamic State, which claimed responsibility for the carnage in Paris as well as the bombing of a Russian airliner over the Sinai Peninsula that killed 224 people. The extremist group has vowed to take the fight to the U.S.
Even with no signs indicating a Paris-like plot on the U.S. homeland, authorities are watching closely for home-grown extremists who may attempt a copycat attack, a concern compounded during peak holiday shopping and travel seasons, FBI Director James Comey said last week.
Obama vowed that he would inform the public if the government picked up any signs of a "specific, credible threat."
Homeland Security Secretary Jeh Johnson, who was among the officials who met with Obama, said the U.S. is increasing its security measures as a precaution. Cities across the U.S., including New York, Washington, and Los Angeles, are stepping up their police presence, and airports are advising passengers to allow extra time to get through security screenings.
After leaving the White House, Johnson addressed the issue at Washington's Union Station shortly before boarding a train to his home in Montclair, New Jersey, saying that the law enforcement and intelligence communities are "working overtime" to ensure that holiday travel is safe.
"We also want to encourage the public at the beginning of this holiday season to be vigilant yourself, to be aware," he said. " 'If you see something, say something,' has to be more than a slogan."
Authorities in Europe are still investigating the Paris attacks. The Belgian capital of Brussels remains on the highest terrorism alert, though schools and transportation systems that had been locked down for four days have reopened.
Before it's here, it's on the Bloomberg Terminal.
LEARN MORE