Obama, Hollande Declare Unified Stance in Fighting Islamic State
by , , and
Russian jet hit by Turkey complicates wider coalition

Hollande agrees with Obama that Assad must leave power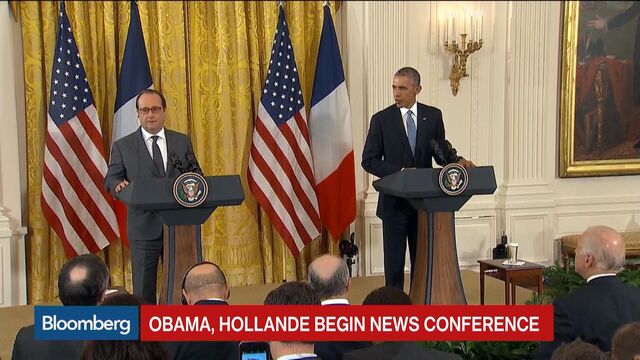 Presidents Barack Obama and Francois Hollande demonstrated unity in the fight against Islamic State, their task made more complicated by the downing of a Russian fighter jet by NATO ally Turkey.
Obama and Hollande showed no sign of yielding on the future of Bashar al-Assad's regime in Syria in order to win greater cooperation from Russia in battling the extremist group. They both urged Russia and Turkey not to escalate the confrontation in the skies along the border with Syria.
Islamic State "poses a serious threat to all of us," the U.S. president said in opening remarks of a news conference Tuesday with Hollande at his side. "It cannot be tolerated; it must be destroyed."
Obama said that while a 65-nation coalition has managed to push Islamic State from some territory it held in Syria and Iraq, U.S. partners in the fight must do more. Hollande said the U.S. and France would "scale up" air strikes with the priority of reclaiming key locations now controlled by the militants.
Like Obama, Hollande said France would continue to provide air support and aid local forces, but "won't intervene on the ground."
Political Settlement
Hollande reiterated his previous stance that Russia must focus on attacking Islamic State targets and support a political settlement in Syria if it wants to play a constructive role in the conflict. Hollande backed up Obama's stance that Assad, a Russian ally, cannot be part of a future Syrian government. Both leaders declined to set a deadline for Assad to step down, saying talks in Vienna on a cease-fire and political settlement would set the course.
The Russian plane was shot down by Turkish planes along the Syrian frontier where local forces are fighting both Islamic State and Assad's military. Turkey said the Russian warplane was in Turkish airspace and was repeatedly warned to leave before Turkish planes opened fire. Russian President Vladimir Putin on Tuesday accused Turkey of abetting terrorism and called the downing of the plane a "stab in the back."
Obama said that the U.S. government was still gathering details on the incident.
"Turkey like every country has the right to defend its territory and its airspace," Obama said. It's important that the Turks and Russians speak to each other and "take measures to discourage any escalation," he said.
Russia an 'Outlier'
The incident points to "an ongoing problem with Russian operations" in Syria because Putin's forces are conducting strikes near the Turkish border and targeting moderate groups supported by Turkey and other countries involved in the conflict, Obama said.
Russia is an "outlier" in its support of Assad, he said. "We've got a coalition: 65 countries," Obama said. "Russia right now is coalition of two: Iran and Russia supporting Assad."
Obama and Hollande met 11 days after terrorists tied to Islamic State killed 130 people in and around Paris. Hollande, who will travel to Moscow later this week, declared the attacks an act of war against France and is pressing for greater cooperation in the battle against Islamic State between the U.S. and Russia, despite differences over Syria's future leadership.
Hollande met Monday with U.K. Prime Minister David Cameron and is scheduled to meet with German Chancellor Angela Merkel on Wednesday. He will meet Putin on Thursday. 
Before it's here, it's on the Bloomberg Terminal.
LEARN MORE