Refugee Politics
After Saying No to Refugees, Rubio Opens the Door for Syrian Widows and Orphans
The son of Cuban immigrants says he's willing to accept elderly widows and young orphans fleeing Syria.
by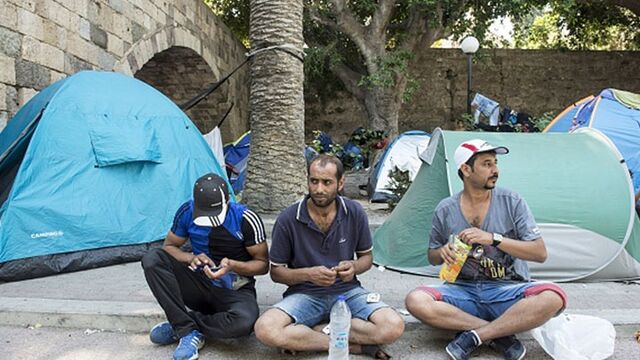 Republican presidential candidate Marco Rubio has been sending mixed signals on Syrian refugees as the question of what to do with the millions of people displaced by that country's civil war has become a flashpoint in the U.S. political debate.
Over the course of three months, the Florida senator, who frequently alludes to his own background as a child of Cuban immigrants on the campaign trail, has gone from qualified support for accepting the refugees to flat opposition to saying he'd offer exceptions from an all-out ban for certain groups like young orphans and elderly widows.
Before the Nov. 13 terror attacks in Paris, for which the Iraq- and Syria-based Islamic State terror group has taken credit, Rubio supported letting in Syrian refugees who have been vetted. "Well, we've always been a country that's been willing to accept people who have been displaced," he told Boston Herald Radio on Sept. 6, "and I would be open to that if it can be done in a way that allows us to ensure that among them are not infiltrated people who are part of a terrorist organization that are using this crisis."
Two days after the attacks, which left at least 129 people dead, Rubio appeared to close the door to refugees, arguing on ABC's This Week and on Twitter that they cannot be properly vetted for terrorist connections because the Syrian civil war they are fleeing has left the government apparatus in tatters. 
"The problem is not the background check, the problem is we can't background-check them. You can't pick up the phone and call Syria, and that's one of the reasons why I've said we won't be able to take more refugees," Rubio said on ABC. "It's not that we don't want to, we can't. Because there's no way to background-check someone coming from Syria. Who do you call and do a background check on them?" 
Then New Jersey Governor Chris Christie, one of Rubio's rivals for the Republican nomination, took a more categorical position, saying his opposition to Syrian refugees would extend to "orphans under five." (At least two other GOP candidates, billionaire Donald Trump and Senator Ted Cruz, also oppose the U.S. allowing any new refugees.) That prompted President Barack Obama, who is standing by his directive to accept 10,000 Syrian refugees in the coming year, to mock Republicans as being "scared of widows and orphans coming into the United States of America."
Over the weekend, Rubio cracked the door back open ever so slightly.
Pressed by Fox News Sunday host Chris Wallace, Rubio restated his concerns about the challenge of vetting refugees from Syria, but said he'd allow for some "common-sense" exceptions.
"No, my argument is that we can't allow anyone into this country that we can't vet. And I believe that the vast majority of refugees that are trying to come here are people we will not be able to vet," Rubio said, adding: "Does common sense still apply? Of course it does. A 5-year-old orphan, a 90-year-old widow, a well-known Chaldean priest—these are obviously common-sense applications, and you can clearly vet them just by common sense."
Rubio described as "appropriate" a Republican-led bill that passed the House last week that would require the FBI director, Homeland Security secretary, and national intelligence director to certify, as a condition for admission, that each refugee from Iraq or Syria is not a security threat.
However, Rubio's campaign didn't immediately reply when asked if he'd supporting letting in other groups of Syrian refugees or if he'd vote for the House-passed bill should it come up on the Senate floor.

Before it's here, it's on the Bloomberg Terminal.
LEARN MORE