Obama Lawyers Ask Supreme Court to Revive Immigration Plan
by
Appeal sets up possible showdown during 2016 presidential race

Administration plan seeks to shield millions from deportation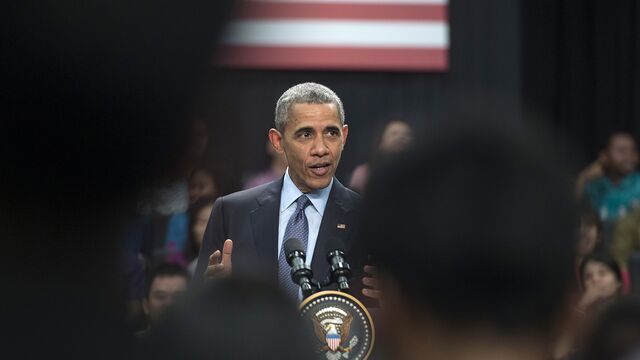 President Barack Obama's administration moved quickly to seek a U.S. Supreme Court hearing on his plan to shield as many as 5 million undocumented immigrants from deportation, setting up the prospect of a politically charged court battle next year.
Acting less than two weeks after a federal appeals court said Obama had overstepped his authority, government lawyers called on the justices to take up the case and issue a ruling that would shape the president's legacy and the 2016 presidential race.
"The court of appeals' judgment enjoins nationwide a federal policy of great importance to federal law enforcement, to many states, and to millions of families with longstanding and close connections with this country," U.S. Solicitor General Donald Verrilli argued in the appeal.
Verrilli contends that Texas and 25 other states lack the legal right to challenge the program. Verrilli also argues that past Supreme Court cases afford the president broad discretion in enforcing the immigration laws.
The program, announced in November 2014, applies to people whose children are either U.S. citizens or legal permanent residents and who meet other requirements. People in that group would be considered lawful residents and could obtain work permits and some public benefits. The administration says federal law lets it give priority to deporting people convicted of serious criminal offenses.
A New Orleans-based federal appeals court said in a 2-1 vote that the states could challenge the plan because it would cost them millions of dollars. The court said Texas would be in the position of providing subsidized driver's licenses, potentially for hundreds of thousands of people.
The majority also said Obama's program violates federal immigration law and its rules governing how parents may change their classification based on a child's status. The program "runs afoul of Congress's careful plan," Judge Jerry Smith wrote for the majority.
Verrilli said the appellate ruling "will allow states to frustrate the federal government's enforcement of the nation's immigration laws."
The quick filing gives the court the ability to schedule arguments next year and rule by June. One preliminary question will be whether Texas seeks an extension of time to file its response -- and whether the court grants that request. Under the court's normal scheduling practices, an extension would delay the case long enough to prevent a hearing in the current nine-month term.
Cynthia Meyer, a spokeswoman for the Texas attorney general's office, wouldn't say whether the state will seek an extension.
"The president said himself more than 20 times that he didn't have the authority to unilaterally rewrite immigration law," Meyer said in an e-mail. "Three times federal courts have ruled in our favor, and we stand ready to continue defending the rule of law as we lead a 26-state coalition against the president's unconstitutional use of executive power."
Before it's here, it's on the Bloomberg Terminal.
LEARN MORE