Ivanka's Belted Puffer Coat Can Solve Refugee Crisis: Read My Lips
Mittens and a hat would help, too.
by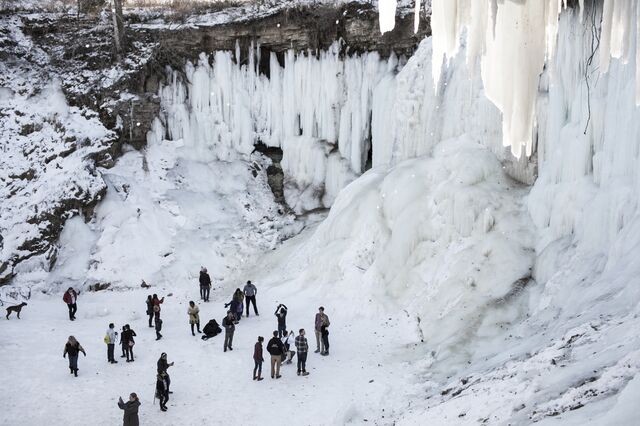 It's true, Najat Hamza acknowledges. The climate in her adopted home, Minnesota, is different from that in Ethiopia, where she was born into a persecuted ethnic minority.
In Dire Dawa, Ethiopia's second-largest city, the average high temperature reaches the toasty mid-90s in July, but ``the hot is dry, the humidity is very low, and it's breezy,'' Hamza says. She'd take that any day over the oppressive humidity she's found in the U.S. "I can't even deal with American summer," she says.
This unlikely mashup of topics -- refugees, Minnesota and the weather -- came courtesy of two Republican candidates for president during the scramble to find political opportunity in the bloodied aftermath of Paris.
In the week since, many concerns have been aired about making sure would-be terrorists are not among the Syrian refugees allowed into America. Two comments stood out for the compassionate way they considered the potential discomfort of the families seeking refuge from war.
First Mike Huckabee, then Donald Trump, suggested that Syrian refugees "who've lived in the desert their whole lives" (Huckabee) might be "very, very unhappy" being sent "up to Minnesota" (Trump) where it's "20 degrees below zero" (Huckabee).
Seeing that it's still in the balmy 30s in the Twin Cities, we figured we'd reach out for some insight before the whole place goes full-on Queen Elsa.
Hamza is interim director of the Oromo Community of Minnesota in St. Paul, "a one-stop resource center for the over 40,000 Oromo-Americans in the Twin Cities."
An indigenous ethnic group of East Africa, the Oromo have been persecuted by the Ethiopian government and prefer to say they are from Oromia, not Ethiopia. Hamza's family fled Dire Dawa for Nairobi in 1998 before gaining asylum and moving to Minnesota in 2000, when she started high school.
Her father, a prominent Oromian, had been targeted for surveillance and harassment. "They used to come into our house and ransack it," she recalled. "We lived in a pretty big compound with nice houses. They'd turn it upside down. As a child I remember being super-scared, watching those people come into our house without permission."
She fled to Minnesota with her dad, two siblings and a cousin. Additional siblings joined them five years later. Her mother died, in Ethiopia, in 2012.
So regarding those frigid Minnesota winters -- brutal, right?
"When people fear for their lives, and everything they had is gone, they don't have the luxury of worrying about the weather," she says. "I never thought in my wildest dreams that I'd be somewhere like Minnesota, but that's where it's safe, so I'm happy that's where I am."
Hamza generously agreed to share the secret to how refugees from equatorial regions can survive the cold. Here it is: Wear a coat, hat and mittens. New arrivals generally figure that out during their first winter. "That's what resiliency is," she says.
What the Syrian refugee crisis needs, then, is a good coat drive.
The mothers and daughters among them might like this "waist-enhancing puffer with a faux-fur trim," a "detachable faux-fur collar" and "concealed front zip with toggle closure," filled with duck down and waterfowl feathers. It's part of the Ivanka Trump line. Maybe her dad could get her to donate some.

By the way, if you think Minnesota's bad...
*****
It's not too late to read Bobby Jindal's policy papers.
Suspending his presidential campaign on Tuesday, Jindal offered a self-serving theory on why it never took off.
"We spent a lot of time developing detailed policy papers," he said on Fox News. "Given this crazy, unpredictable election season, clearly there just wasn't a lot of interest in those policy papers."
To be fair, here's a sampling of the original thinking in Jindal's policy papers, still available on his campaign website:
- "The Department of Defense needs to redouble its efforts to eliminate waste, both to provide extra funding and to increase efficiency."
- "A true system of choice would give parents the option to send their child to the school that best fits their needs and with their taxpayer dollars following their child to that school …"
- "We must strive for -- and achieve -- strong environmental stewardship while reaping the benefits of our energy blessings."
- "The only way to shrink the size and influence of Washington is to starve it."
Without Jindal in the race, who will be left to express these painful truths?
Another question -- now that Jindal is out, who's next?
On the prediction market site Pivit, Republicans Rick Santorum, Lindsey Graham and George Pataki are each given 90 percent probability to drop out by Jan. 1. Republican John Kasich is next at 88 percent, followed, at 85 percent, by Democrat Martin O'Malley and Republicans Rand Paul and Mike Huckabee. Still, that doesn't address the Who's Next question.
Read My Lips asked Paddy Power to compile odds on the next candidate to leave the race. The Irish bookmaker came back with a list ranging, in order of probability, from Graham to Hillary Clinton:
6/4 Lindsey Graham
4/1 Martin O'Malley
5/1 Rick Santorum
8/1 George Pataki
8/1 Mike Huckabee
12/1 John Kasich
20/1 Donald Trump
20/1 Jeb Bush
25/1 Ben Carson
25/1 Carly Fiorina
25/1 Chris Christie
40/1 Bernie Sanders
40/1 Ted Cruz
66/1 Marco Rubio
100/1 Hillary Clinton
There are a lot of people out there astonished, and appalled, that Clinton's personal AOL system hasn't yet forced her out of the race. (We know, because we've heard from many of them.) At 100-to-1, they might want to see if anybody will take their money.
*****
"What minorities deserve protection?" Antonin Scalia rhetorically asked, suggesting it's close to impossible for any person, even a robed justice, to "identify deserving minorities."
"What about pederasts?" he asked. "What about child abusers?"
It's a complicated world, but Scalia might be overstating the challenge. As a service to the justice, here is a short guide to who does, and doesn't, deserve legal protections.
Deserving: Pedestrians
Undeserving: Pederasts
Deserving: Children
Undeserving: Child abusers
Deserving: Veterans
Undeserving: Nassau Veterans Memorial Coliseum
Deserving: Chicago Cubs fans
Undeserving: New England Patriots fans
Deserving: Duck hunting with Dick Cheney
Undeserving: Quail hunting with Dick Cheney
(Read My Lips is a column dedicated to the proposition that men and women in a position of power, or the pursuit of it, will say or do things for which they will be sorry.)
Before it's here, it's on the Bloomberg Terminal.
LEARN MORE