Horse Race
Clinton Opens 25-Point Lead on Sanders in Bloomberg Politics National Poll
She also earns higher scores on commander-in-chief traits, including the ability to combat terrorism.
by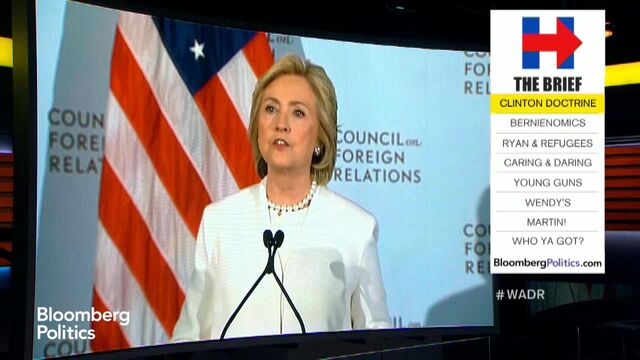 Hillary Clinton has solidified her lead nationally in the Democratic presidential nominating contest, amassing a 25-point advantage over Vermont Senator Bernie Sanders and earning higher scores than her closest competitor on a range of traits important to potential voters, including the ability to combat terrorism.
The latest Bloomberg Politics national poll, taken in the days following the most recent Democratic candidates' debate and the Paris terror attacks, shows that Clinton enjoys another key advantage over Sanders: A higher percentage of her supporters say they are certain they will vote for her next year, while more of Sanders backers say their minds could change.
And in one sign Clinton may be getting a handle on concerns about her likability inside her party, she drew a "very favorable" rating from 31 percent of Democrats and Democrat-leaners, up significantly from 23 percent in September.
Read the questions and methodology here.
Poll findings released Friday show that Clinton now leads Sanders 55 percent to 30 percent among adults who are registered Democrats or lean toward that party. In September's poll—which included Vice President Joe Biden, who later decided not to run—Clinton led Sanders 33 percent to 24 percent.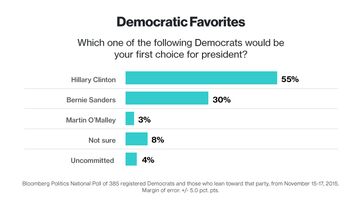 "What I see is a candidate that, before, was sort of teetering," said J. Ann Selzer, whose firm conducted the poll, "There was this undercurrent of, 'Things were not as solid as you think.'" Now, Clinton is not only leading the race for the Democratic nomination, but "has a solid majority saying, 'She's my choice.' She wasn't close to that before," Selzer added. "It's not like she's put together a fragile coalition. She's strong across the board."
Since the last Bloomberg Politics National Poll, Clinton has faced her chief rivals, Sanders and former Maryland Governor Martin O'Malley, in two nationally televised debates and won positive reviews for her performance during a daylong grilling by Republicans investigating her handling of 2012 terror attacks in Benghazi, Libya, that left four Americans dead, including a U.S. ambassador. Clinton was secretary of state at the time.
Asked to compare her personal and professional qualities to those of Sanders, Democrats and Democratic-leaning voters in the survey preferred Clinton by about 3-to-1 or higher ratios in a number of key areas: combating Islamic terrorism, having the life experience to be president, and knowing how to get things done in office.
Democrats and Democrat-leaners surveyed were asked whether Clinton or Sanders has better credentials across 15 different categories ranging from addressing global warming to dealing with Russia's Vladimir Putin. They gave Clinton higher marks in 11 areas, while Sanders was the clear winner in two categories: reining in Wall Street and being more honest and trustworthy. The two were tied or essentially tied on two other categories: fighting for the middle class and caring about "people like you."
Sanders and his team already are trying to tailor individualized strategies for winning states where the crucial early balloting will be held, a move that the poll suggests is a wise one;  the latest findings reinforce the notion that the iconoclastic senator, who has drawn huge crowds with his populist message and non-blow-dried presentation, can't count on a tide of curiosity and enthusiasm to carry him past the well-prepared, well-funded front-runner. Sanders' momentum nationally "appears to have stalled," Selzer said. "There have been two national debates and they haven't worked to his advantage."
Meanwhile, 46 percent of Clinton's supporters say they can't be persuaded by another candidate, compared with 36 percent of Sanders's backers. While Sanders does better with men than he does with women, Clinton nonetheless has a 3-percentage-points among male voters. 
Even so, despite trailing her by such a wide margin overall, Sanders leads Clinton among two constituencies, independents and those unaffiliated with any religion. 
Among adults of all political persuasions, 42 percent now say they hold a favorable opinion of Clinton, up from 38 percent in September. That's still much lower than the 60 percent favorable opinion they hold of her husband, former President Bill Clinton. Bill Clinton's score was also much higher than that of his successor. Former President George W. Bush got a 45 percent favorability rating.
The national poll of 1,002 adults, including 385 registered Democrats or Democrat-leaners, was conducted Nov. 15-17 for Bloomberg Politics by Selzer & Co. of Des Moines, Iowa. It has a margin of error of plus or minus 3.1 percentage points, with a margin of error of plus or minus 5 percentage points for the Democratic sample alone. 
Before it's here, it's on the Bloomberg Terminal.
LEARN MORE