Money Talks
Hillary Clinton Dings Bernie Sanders for Backing Middle-Class Tax Hike
The Democratic front-runner hammers home the message that middle-class taxpayers will pay more to the federal government if her chief rival wins.
by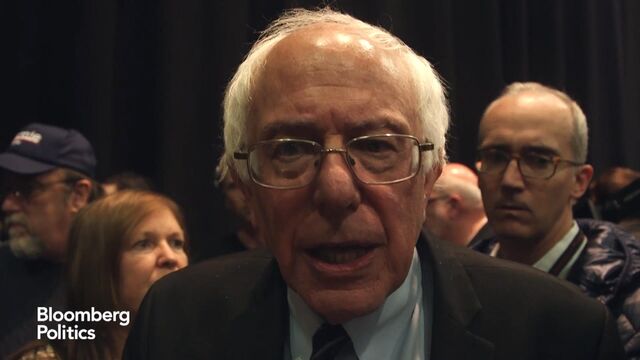 Hillary Clinton isn't letting what her campaign sees as a good hit on her closest competitor die quietly.
"I don't see how you can be serious about raising working and middle class families' incomes if you also want to slap new taxes on them—no matter what the taxes will pay for," the Democratic presidential front-runner said Tuesday at a rally in Dallas, referring to her competitor, Vermont Senator Bernie Sanders, and his proposed health care overhaul. The versions Sanders has proposed in the Senate have included a tax increase on the middle class.
"I was actually the only one on that debate stage who will commit to raising your wages and not your taxes," she said, reprising a line she'd used in Iowa the morning after she, Sanders, and former Maryland Governor Martin O'Malley debated last week in Des Moines.
Clinton's comments, at an afternoon rally that drew 1,900 to a gym at Mountain View College, came after her press secretary, Brian Fallon, issued a statement questioning the wisdom of Sanders's approach. "If you are truly concerned about raising incomes for middle-class families, the last thing you should do is cut their take-home pay right off the bat by raising their taxes," he said. "Yet Bernie Sanders has called for a roughly nine percent percent tax hike on middle-class families just to cover his health care plan, and simple math dictates he'll need to tax workers even more to pay for the rest of his at least $18 trillion to $20 trillion agenda."
Sanders's campaign charged that Clinton had seized on the tax issue to distract from the fallout from comments she made on Saturday linking the support she gets from Wall Street to the Sept. 11, 2001, attacks. "Clinton tried to use the tragedy of 9/11 as a political excuse for her coziness with Wall Street interests, including the millions she has received in Wall Street campaign funding over her career," Sanders spokesman Michael Briggs said in a statement. "That defense of the Clinton campaign's corporate fundraising has been widely assailed in the media and on social media. In an attempt to divert the public's gaze from Wall Street coziness, the Clinton campaign has launched a false attack on universal health care—something she has previously supported."
With what Briggs called a "false attack," Clinton either "is repudiating years of advocating for universal health or she's playing politics with the health of America's families," he said.
After days of criticism from Clinton and her team, one of his top aides suggested Tuesday that the Vermont senator might be backing away from the proposal he's supported for years in favor of one that doesn't impose new taxes on the middle class.
"What Bernie wants to do now [in terms of his health care proposal] is not exactly like the one proposed in past legislation," senior adviser Tad Devine told Politico in a story published Tuesday, adding it's unlikely that increases on taxes on the middle class will be part of any future proposals. "I don't see tax rate increases involving anyone other than people making a lot of money." Briggs did not address Devine's comments in his statement.
If Sanders is changing how he'll pay for the single-payer system he has repeatedly said he supports, that represents a change from what his campaign was saying as recently as last week, before the Clinton campaign launched its attacks.
Citing unnamed Sanders aides in a story published before the Clinton campaign launched its attack on Sanders' health care funding plan, the Washington Post reported that the tax increases needed to fund the senator's health care would "be more than offset by the publicly provided benefits he is proposing, such as tuition-free higher education and universal child care." Though their tax rates would rise, the Sanders staffers said, middle-class Americans would likely come out ahead because of the benefits he's proposing.
Sanders made the same argument in September in an interview with radio host Thom Hartmann. "Yes, people will be paying more in taxes, but that will be more than compensated by a reduction in the expense—the amount of money they're paying to private insurance companies," he said.
In June, at a Christian Science Monitor breakfast, he even offered an estimate of how it might work. "Yes, of course taxes would go up to pay for health care," he said. "But you know what would go down? Private insurance. You would not be paying private insurance. So if I said to you, 'Well, you're not going to pay Blue Cross $12,000 a year but you're going to pay $10,000 more in taxes, are you going to be crying? No."
Clinton, however, is pressing the argument that Sanders' policies would add to tax burdens for people who are not rich. In a statement last week, the Clinton campaign said that she is the only candidate who would not raise taxes on families earning less than $250,000 a year, raising questions about whether she supports the Family Act, a leave bill put forward by Senator Kirsten Gillibrand of New York and Representative Rosa DeLauro of Connecticut, both of whom have endorsed Clinton.
That bill would be funded a 0.2 percent tax paid by workers and employers. Sanders and O'Malley both support it and are pressing Clinton to explain how she would pay for family leave legislation, something she says she supports. O'Malley issued a challenge to Clinton on Twitter after her Tuesday rally.
Clinton has said she supports 12 weeks of paid family leave but has not yet detailed her plans for offsetting the cost. At the Democratic presidential candidates' first debate last month, she offered a clue, however, saying ""we will make the wealthy pay for it."
Before it's here, it's on the Bloomberg Terminal.
LEARN MORE