Iowa Debate
Sanders, O'Malley Try to Cast Clinton as Candidate of Wall Street
After a moment of silence to honor the victims of the Paris terror attacks, front-runner Hillary Clinton found herself on the defensive.
by and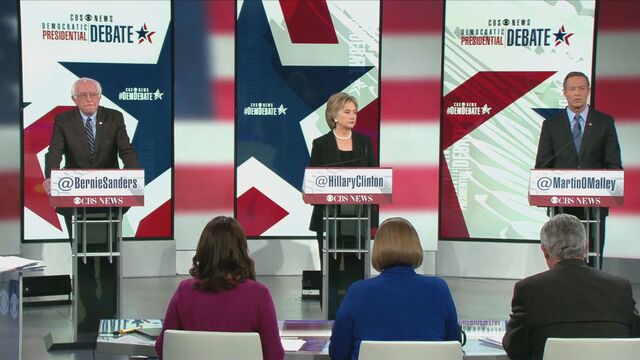 In a heartland presidential debate Saturday that was overshadowed by an act of terrorism across the globe, Democratic presidential candidates focused on countering the Islamic State before diving into sharp exchanges on Wall Street regulation, campaign finance, and guns.
Minutes after a moment of silence to honor the victims of the Paris terror attacks that left at least 129 victims dead 24 hours earlier, Vermont Senator Bernie Sanders and former Maryland Governor Martin O'Malley began working to undermine Hillary Clinton's formidable lead with questions about her past policies and her sincerity on a range of issues.
In response, the former secretary of state defended herself aggressively. "Wait a minute, senator," she said when Sanders challenged her on her relationship with Wall Street. "I represented New York on 9/11," said Clinton, referring to her time as a U.S. senator. "We were attacked in downtown Manhattan where Wall Street is."
Arguing that she used her clout to help revitalize the financial center, she said, "It was good for New York; it was good for the country and it was a rebuke to the terrorists."
Iraq War, Islamic State 
The lively debate on domestic issues followed an opening 30-minute segment devoted entirely to the terrorist threat and how to respond to it. Sanders, who has seen his surge in the polls stymied, told the audience at Drake University in Des Moines, Iowa, that the vote Clinton cast in favor of the invasion of Iraq when she was a senator from New York in 2002 helped destabilize the region, allowing the rise of the Islamic State, also known as ISIS or ISIL. Clinton has since called the vote a mistake.
O'Malley indirectly cast aspersions at Clinton by noting how many challenges remain following her tenure as America's chief diplomat. "Libya is now a mess; Syria is a mess. Iraq is a mess," he said. 
But Clinton, who served as President Barack Obama's first secretary of state, seized the moment to make the case that she's the best qualified to succeed her old boss. 
"This is not only about electing a president, it's also about choosing our next commander-in-chief," said Clinton, who called ISIS "the leading threat of an international terror network."
"It cannot be contained," she continued, using a term that has led to intense criticism of Obama's ISIS strategy. "It must be defeated."
Cameos for Trump, Bill Clinton
O'Malley blasted the Republican Party front-runner who has been calling for restrictions on immigration and deportations of people living in the U.S. illegally, earning a thunderous ovation with his reference to the "immigrant bashing carnival barker Donald Trump."
On a day that Republican presidential candidates pounded Obama for a foreign policy that they say gave rise to ISIS, Sanders promised to "rid this planet of this barbarous organization," and O'Malley said Americans must recognize "the new face of conflict and warfare." But in sharp contrast to the Republicans, who were calling for restrictions on immigration and unilateral action by the U.S., the Democrats took a more measured approach. "It cannot be an American fight," said Clinton, winning an approving tweet from her husband, former President Bill Clinton.
Sanders agreed. "Those Muslim countries are going to have to lead the effort," he said.
Big Money
O'Malley and Sanders both argued they'd be tougher on the financial elites than Clinton. O'Malley ruled out Larry Summers and Robert Rubin, who served as treasury secretaries for past Democratic presidents, from serving in his administration.
"I am not the candidate of Wall Street," he said.
Sanders stated flatly that "Wall Street representatives will not be on my cabinet." But Clinton argued that she can and will be just as aggressive. "If big banks don't play by the rules, I will break them up," she said. "And I will also go after the executives."
But Sanders suggested that Clinton's financial support from Wall Street calls that into question. "We need to show by example that we are prepared to not rely on large corporations and Wall Street," said Sanders, the only one of the three candidates on the stage who is not supported by a sanctioned super-PAC, which can accept donations in unlimited amounts. 
Bashing Pharma
Clinton and Sanders both spoke about the pharmaceutical industry in the same aggressive terms they often use on the campaign trail.
"We're going to have to redo the way the prescription drug industry does business," Clinton said. "We have to go after price gouging and monopolistic practices," in part by making it possible for Medicare to negotiate the prices it pays for drugs.
Noting that he traveled with constituents across the border from Vermont to Canada to buy cancer drugs at cheaper prices, Sanders added that he would take on "the pharmaceutical industry that is ripping off people every day."
Gun Control Fight
One of the most heated exchanges was over on the vote Sanders cast to give gunmakers legal immunity.
Sanders protested, saying there was no disagreements among the Democratic candidates on gun control. "Oh yes there is," said O'Malley, piling on. "I think we do need to repeal that immunity you granted." Turning to Clinton, he said, "You've been on three sides of this issue," saying she at one point was "portraying herself as Annie Oakley."
Sanders shot back at O'Malley, who was mayor of Baltimore from 1999 to 2007. "I think it's fair to say Baltimore is not the safest city in the country," he said. 
Before it's here, it's on the Bloomberg Terminal.
LEARN MORE