Paris Attacks
What Parisians Need Are Guns, Trump Says
by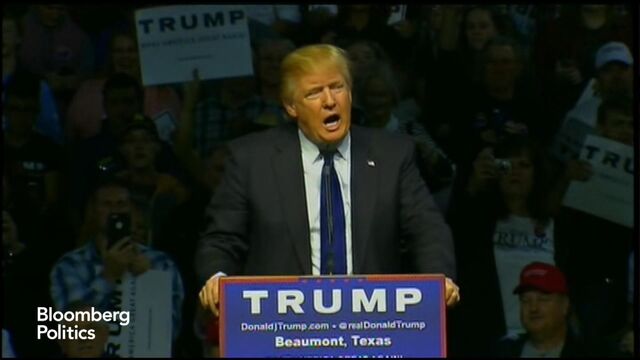 The ISIS terrorist attack in Paris might not have happened if French laws allowed for more people to carry guns, Donald Trump suggested at a rally Saturday in Beaumont, Texas.
"The toughest gun laws in the world: Paris," Trump said during a campaign rally of about 8,000 people in a community center. "If they were allowed to carry -- it would have been a much, much different situation."
The Republican presidential candidate's tough talk played well in Texas. Trump repeatedly praised veterans and their families. He repeated his suggestion that the U.S. should have taken over Iraq's oil fields and sent the profits to veterans of the invasion. That idea drew cheers from the crowd, as Trump dismissed the notion that it couldn't be accomplished.
"People say, 'You can't do it.' Yes, you can," Trump said. "You can do anything."
His comments come as the presidential candidates have begun responding to the Paris attacks. Trump attempted to use his critics' attacks against him to help his supporters envision him as commander-in-chief. Were he elected, Trump predicted, ISIS terrorists would say, "This guy is crazy -- we give up."
In what has become a standard line  in his stump speech, Trump issued a bipartisan slam at Washington's leaders. "We have some of the dumbest people in the world leading us."  He also raised one of his own negatives.
"You know, they say I'm not a nice person," Trump said.
"We don't care!" a supporter shouted.
Trump smiled, offered a thumbs up sign and then added, "Believe it or not, I am a nice person... but I really believe it doesn't matter." When it comes to creating jobs, Trump said: "I'll be the best God ever created."
After remaining relatively polite to his rivals during the last presidential debate, Trump has begun taking shots at them again. He predicted that Senator Rand Paul is going to drop out of the presidential race soon. "Otherwise he is not going to be senator of Kentucky," observed Trump. Paul is up for re-election next year. The Kentucky Republican party over the summer made a rules change that will allow Paul to keep his options open longer. 
Trump joined other rivals in attacking Senator Marco Rubio as soft on illegal immigration, saying that the Florida Republican "wants to give everybody amnesty," which Rubio adamantly denies. 
"And Ben Carson is even worse," Trump said of the retired pediatric neurosurgeon who is running neck-and-neck with him at the top of Republican polls. 
His attacks against Carson didn't play particularly well with all of the crowd. Lydia Brown, who drove an hour with her 8-month old daughter to see Trump, said that she liked how "tough" Trump was on issues like immigration but added: "I have a baby daughter and so of course I love Dr. Carson and I hate it when Trump attacks him," she said.
Ellen Panchot brought her 90-year-old mother Celeste Johnson to the rally. Both were sporting Trump's signature red campaign hat with his slogan "Make America Great Again" embroidered in white lettering on front. "He has good plans on immigration," Panchot said. "He is true to what he's saying. Next to Ted Cruz – I'd vote for him."
Trump's appearance in Cruz' home state caused excitement in conservative Jefferson County, a part of the oil patch where candidates usually come for more intimate fundraisers. Local Republican Party Chairman Billy Oliver said there hasn't been a rally like Trump's "in years."
"He's saying things no one says," said Oliver. "People are fed up and he seems to really understand that." 
Before it's here, it's on the Bloomberg Terminal.
LEARN MORE