Labor
The Tricky Politics of Hillary Clinton's Plan to Modernize Coal Country
Her $30 billion proposal is aimed at helping coal miners and their communities, but not the industry.
by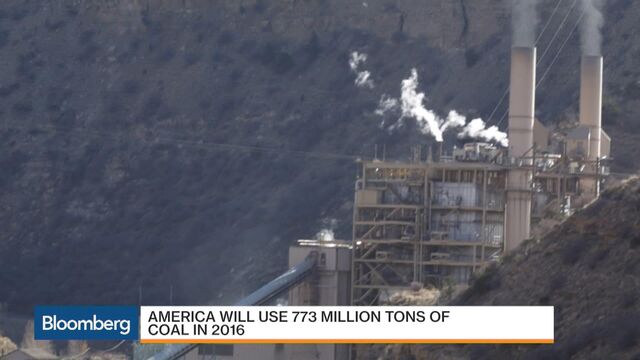 With Hillary Clinton's announcement Thursday of a $30 billion plan to build infrastructure in coal country, the Democratic presidential front-runner is directly confronting an issue that others in her party have preferred to avoid.
Clinton's proposal to fund education, entrepreneurship, broadband access, and clean energy production (as well as preserve future benefits for the employees of coal companies) is a more than tacit acknowledgement that her energy plan will move away from America's most abundant source of fuel in favor of alternative energy sources that emit less carbon.  
"The hard-working Americans who mine, move and generate power from coal put their own health and safety as risk to keep our factories running and deliver the affordable and reliable energy we take for granted. But today we are in the midst of a global energy transition," Clinton writes in the introduction to her plan for helping coal communities make it through that transition.
That's a lot more blunt than President Barack Obama was willing to be as a candidate for president in 2008. As a senator from coal-producing Illinois, Obama backed subsidies for his home-state industry, and during his first campaign for the White House, he was carefully vague on his position about coal. His campaign platform included technology for clean burning coal—a term many environmentalists consider an oxymoron. Clinton was cautious too. In her 2008 campaign, she stopped short of endorsing a moratorium on building new coal-fired power plants.
As president, Obama has made aggressive efforts to reduce carbon emissions from power plants that have prompted a furious counterattack from Republicans, one that has cost Democrats dearly in coal country. On Thursday, those guns were turned on Clinton.
"Hillary Clinton is Public Enemy No. 1 for coal miners and their communities because she wholeheartedly supports President Obama's EPA agenda that is crippling their way of life," said Republican National Committee spokesman Michael Short. "If Hillary Clinton were truly on the side of coal country, she would stand up to extreme anti-energy environmentalists that run the Democrat Party instead of embracing their agenda that is killing jobs and driving up costs."
A spokeswoman for Senator Shelley Moore Capito, a Republican who is a prime example of what Democratic carbon policies have cost the party (she won the seat of retiring West Virginia Democrat Jay Rockefeller in 2014), said the kinds of programs Clinton is proposing won't fill the hole left in her state's economy by the decline of the coal industry.  "The Obama Administration has instituted sweeping regulations that have crushed West Virginia's foundation without considering the real world impacts those policies have on families, communities and the economy," the spokeswoman, Amy Graham, said. "Hillary Clinton's new proposal signals her intention to finish what President Obama started when he promised to bankrupt coal."
It's a message that has been successful for Republicans.
In addition to Capito's victory in West Virginia, Republicans picked up seat in  coal-producing Montana. And in Kentucky, the Democratic Senate nominee, Alison Lundergan Grimes rejected the president's proposals, describing herself as a "pro-coal Democrat" in a state where two years earlier just 9 percent of voters had cast their ballots for Obama in one coal-producing county, according to a Bloomberg analysis. Nonetheless, incumbent Senator Mitch McConnell won easy re-election after a campaign in which he and allied groups successfully tied Grimes to Obama's "war on coal."
Blue-collar Democrats have sometimes felt their party's position on environmental issues threatens their livelihoods.
When Obama announced a plan to limit emissions at coal-fired plants (which the White House has paired with a smaller $10 billion proposal to rebuild coal-producing regions), the head of AFL-CIO received "the historic step" coolly.
"Solving the most global of problems will come with a very heavy cost to many communities," Richard Trumka, president of the nation's largest labor federation and the former head of the United Mine Workers of America, said in 2014. "Will any climate-activist billionaires form business plans and drive investment to these places? Will the Republican Party leadership allow the government to help, or will it exploit the suffering for political purposes?" He wondered "whether efforts to fight climate change be another excuse to beat down working Americans."
Coal miners have faced decades of plummeting employment.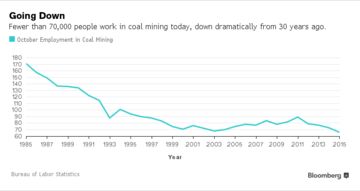 It's also not the first time during the cycle that Clinton's proposals have recently had to confront the somewhat unresolved split between labor and the environmental movement: In September, after giving several labor leaders advanced warning, Clinton announced her opposition to the building of the Keystone XL oil pipeline, which many unions supported as a job creator. 
At the same time, Clinton's environmental proposals also haven't stopped her from picking up the endorsement of 10 national unions, and some coal-country Democrats are embracing Clinton's proposal.
"Hillary Clinton should be commended for her leadership regarding help for our nation's coal miners," Senator Bob Casey of Pennsylvania told Bloomberg, praising the plan's protection of benefits. "These reforms will ensure that affected workers can receive the necessary training to find jobs that provide family sustaining incomes."
"As she has for years Hillary Clinton is standing up for workers and their families," added Casey, who has endorsed Clinton.
(Corrects spelling of Alison Lundergan Grimes's name in ninth paragraph.)
Before it's here, it's on the Bloomberg Terminal.
LEARN MORE