Photographer: Luke Sharrett/Bloomberg
Home Field
Bush and Rubio Arrive in Florida as Unlikely Underdogs
The two Floridian politicians trail the political outsiders, Donald Trump and Ben Carson, in their home state.
by
In the year of the political outsider, Florida Republican heroes Marco Rubio and Jeb Bush head to their home state on Friday for a two-day presidential summit as underdogs in their own backyard. 
Neither Bush nor Rubio, who live just a few miles from each other in Miami and have held local or state offices for a combined 23 years, are even the second choice among Florida Republicans. The first two spots, according to the past three presidential polls in Florida, belong to Donald Trump and Ben Carson.
Trump and Carson have their own connections to Florida, the largest swing state in presidential elections. Carson is a relatively new resident and Trump has long tussled with local officials, perhaps most memorably over his desire to erect a giant flagpole at Mar-A-Lago mansion in Palm Beach. But both men are much better known as the outsiders in the Republican field who have upended Florida expectations. 
"It's ridiculous," Michael Barnett, chairman of the Palm Beach County Republican Party, said about the polls standing for Bush and Rubio. "But there's a lot of buzz about Ben Carson. And I know Donald Trump is building pretty a strong campaign team in Florida."
The four candidates will be in Orlando on Friday and Saturday for the Sunshine Summit, a state party fundraising event that will feature speeches from 14 presidential contenders, including Mike Huckabee, the former Arkansas governor who now also lives in Florida.
A Texan, U.S. Senator Ted Cruz, is also looking to make inroads in the state. He's campaigned several times in Florida, and will hold a rally in Orlando on Friday after he speaks at the summit. "Let's send a message to Marco," read an e-mail sent by the Tea Party Patriots of the Treasure Coast, which was planning to bus Cruz supporters to the rally from Stuart.
Bush, who was governor from 1999 to 2006, was one of the state's most popular figures. When he left office, 57 percent said he was a great or good governor, according to a Quinnipiac poll at the time. He left office with an 87 percent approval rating among Republicans. Among all state voters, his approval hit a high of 62 percent in 2004, according to Quinnipiac.
Floridians have been happy with Rubio, too. His approval rating in October among all Floridians was 52 percent, six percentage points higher than Bill Nelson, Florida's Democratic U.S. senator.
But the presidential polls haven't been as kind. On Nov. 3, Trump was lapping the field with 37 percent among Florida Republicans, according to a Bay News 9 poll. Carson was second at 17 percent, followed by Rubio (16 percent) and Bush (7 percent). The results stumped former U.S. Representative Lou Frey. "I don't understand," Frey, the new channel's political analyst, said when the poll was released.
But those numbers tracked with other surveys from the state. A University of North Florida poll in October had the top four as Trump (22), Carson (19), Rubio (15) and Bush (9). The Quinnipiac poll that month was in the same ballbpark: Trump (28), Carson (16), Rubio (16) and Bush (14).
"We're in the sensational phase of the Republican primary," Florida Senate Republican Leader Bill Galvano, who is backing Bush, said in an interview. "If we're having this conversation in February of next year, then it will be an issue. But there are millions upon millions of dollars waiting in the queue to be spent. That's when voters will look at the reality that they're picking somebody to lead the nation."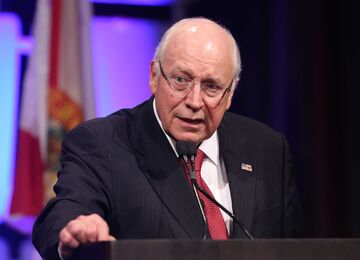 Former Vice President Dick Cheney struck a similar theme while speaking to more than 970 Republicans during a speech to the Florida Republican Party on Thursday night, said it was "absolutely essential" for party to do a better job attracting Hispanic voters, which have been strengths for both Bush, a fluent Spanish speaker, and Rubio, whose parents immigrated from Cuba. Cheney and then-President George W. Bush received 44 percent of the Hispanic vote in 2004, the highest rate for Republicans in the past nine presidential elections.
"If we hadn't gotten that 44 percent of the Hispanic vote, given how close that election was, we'd have been in big trouble," said Cheney, who took the stage as Darth Vader's theme music played. "It's the right thing to do. ... All of us are immigrants."
Bush has worked to shore up support in Florida. His "Jeb Can Fix It" tour earlier this month kicked off in Tampa and included a stop in Jacksonville. The former governor has also released an exhaustive list of supporters in Miami-Dade County, and won endorsements from eight of the 10 state House speakers. The two he's missing: Johnnie Byrd, who clashed with Bush in office, and Rubio.
Rubio hasn't spent as much time lately campaigning in Florida. While his Senate office gives him reach into the far flung corners of the state, his campaign headquarters is in Washington. Rubio's campaign on Thursday announced chairmen in each of the Florida's 67 counties, where the effort is being led for Rubio by U.S. Representative Tom Rooney and former state House Majority Leader Adam Hasner.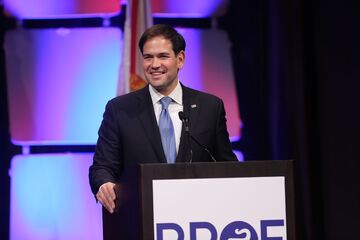 "We're going to have our debates, we're going to have our intra-party competition," Rubio said Thursday, speaking at the state party dinner after Cheney. "People will say things to point out the differences among us. But this election we cannot afford to lose because the consequence are extraordinary."
Asked over the summer about the state's March 15 primary, and a possible showdown with Bush, Rubio shrugged it off, saying it was a long way away. And while the Florida contest is in the first six weeks of the five-month primary, Rubio is correct. By the time Florida Republicans head to the polls, 45 percent of the delegates in the nomination race will have been awarded.
Still, Trump is organizing in the state.
To lead his campaign in Florida, Trump hired Karen Giorno, who helped organize Tea Party support for Governor Rick Scott and ran the state office for American Commitment—a nonprofit group founded by former Americans for Prosperity strategist Phil Kerpen—during the 2012 presidential election. Trump is also being helped in the state by Joe Gruters, vice chairman of the party and one of the state group's most active members, and Susie Wiles, who was Scott's campaign manager in 2010 and led Jon Huntsman's presidential campaign manager in 2011.
Trump has long had real estate holdings in the state. The Trump National Doral in South Florida, where the spa menu includes a 35-minute beard shave and a 80-minute hydrating cocoon, earned him nearly $50 million last year, his single largest revenue source.
Carson retired to a West Palm Beach golf community in 2013. He has less organization to speak of in Florida. Christie Day, a volunteer organizer and first-time political activist in St. Johns County, devoted much of the summer to promoting Carson, according to the Tampa Bay Times. 
"Across the state devoted fans are showing up at auto shows, Republican club meetings, anywhere they can find a crowd to talk up Dr. Carson," the Times' political editor, Adam Smith, wrote in September. "Many of them are new to politics, not especially connected to their local, state or national GOP leaders, but see something inspiring in the former Baltimore doctor."
Before it's here, it's on the Bloomberg Terminal.
LEARN MORE