Labor for Bernie Means Headaches for Hillary
Sanders supporters want to slow the Democratic endorsement train.
by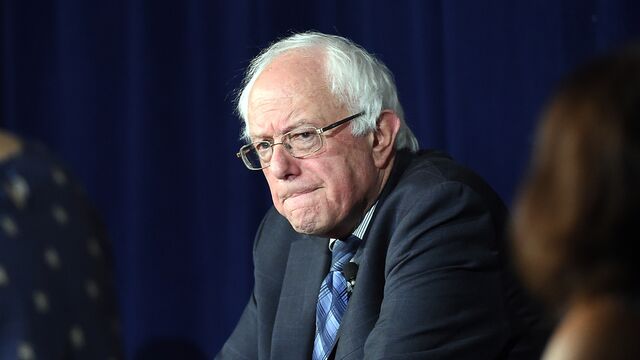 The 35-person executive board of the American Federation of State, County & Municipal Employees voted on Oct. 23 to endorse Hillary Clinton for president, the 10th national union to do so. "AFSCME members want the candidate who will be the most effective champion for working families and who will be able to deliver a victory in this critically important election," Lee Saunders, the union's president, said in a statement. The vote, he added, was based on polls of AFSCME's 1.6 million members. "The majority of the people I talk to definitely are for Hillary," says Julie Schultz, an Iowa parole officer who serves as president of her local.
Yet the vote did nothing to squelch enthusiasm among AFSCME members for Clinton's chief rival for the Democratic nomination, Senator Bernie Sanders of Vermont. An hour or so before the AFSCME press release went out, a group calling itself Labor for Bernie e-mailed reporters a petition from AFSCME members asking the union to delay an endorsement. "An undemocratic decision at this time will only confirm what so many members already believe: that AFSCME is not an organization run by and for its members," it said. Similar sentiments flooded AFSCME's Facebook page.
Labor for Bernie is loosely organized, earnest, and fueled by the sense that there should be a contest for the Democratic nomination. It was created after Sanders announced his candidacy last spring by longtime organizers including Rand Wilson, who directs policy and communications for Service Employees International Union (SEIU) Local 888 in Massachusetts. Labor for Bernie offers online tools to link Sanders supporters by union or region as well as templates for talking about his candidacy. "This doesn't take a lot of work," Wilson says. "People are hot to trot."
So far the group has secured endorsements from two dozen union locals and federations, and it says it drew 17,000 union members to a September conference call with Sanders. "The rank-and-file members that I know are all voting for Bernie," says Illinois mechanic Al Wagner, a member of the International Association of Machinists & Aerospace Workers, which has endorsed Clinton. 

Skepticism of Clinton is fueled in part by frustration with her positions on issues important to many union members, including the $15 federal minimum wage. (Clinton said on Nov. 3 she would back a $12 federal minimum.) "The best we can get from all of our political efforts is our name on a piece of paper, an acknowledgment, a ticket to the inauguration," says Larry Hanley, president of the Amalgamated Transit Union, who joined a Labor for Bernie call. Neither he nor his union has made any endorsement.
While Clinton skeptics like Hanley say Sanders has helped force Clinton to the left, Clinton backers say endorsing her now improves not just her chances of winning, but also how she'll govern. "The people that are there early when you most need them, you're going to put them on your speed dial," says Lily Eskelsen Garcia, president of the National Education Association. "The NEA voice will be deep inside the Clinton campaign in a very good way."
In July, Larry Cohen, former president of the Communications Workers of America (CWA), joined the Sanders campaign as a volunteer liaison to organized labor. "Technology gives us more opportunities to link up with other people than when we were left solely to walk neighborhoods and workplaces," he says. Union members are now "getting used to linking up in those ways and taking action."
"There's a democratization that elevates every single individual voice in social media," says Randi Weingarten, president of the American Federation of Teachers, whose July Clinton endorsement spurred a protest petition and a torrent of angry tweets. Weingarten says her members overwhelmingly back Clinton. "They're not on Twitter as much, they're not on Facebook as much, but you see tremendous support." 
In August, Sanders scored his first national union endorsement, from National Nurses United. The American Postal Workers Union followed suit Thursday, urging members to join Labor For Bernie because, its president Mark Dimondstein said in a statement, "Politics as usual has not worked."
Other unions have held off on endorsements after Sanders supporters pressured them. Members of the Massachusetts-based International Brotherhood of Electrical Workers Local 2222, whose picket lines Sanders has supported, got their local union to endorse him and successfully lobbied the national union's newly elected president, Lonnie Stephenson, not to endorse Clinton right away. He's said IBEW plans not to endorse anyone until the new year at the earliest, if at all. Chris Shelton, CWA's president, says he's holding a binding poll, open to all members and closing in mid-December.
The biggest union that still hasn't made an endorsement is the 1.9 million-member SEIU, which is holding an executive meeting on Nov. 17. "Our process has always been to consider an endorsement when local leaders indicate that they have completed discussions with member leaders and local executive boards," says SEIU spokeswoman Sahar Wali.
"I always expect the unions to fall in line with the D.N.C.," says RoseAnn DeMoro, NNU's executive director. "There's the unions, and then there's the workers."
Before it's here, it's on the Bloomberg Terminal.
LEARN MORE