Backstory
How Ben Carson Reading Rooms Help Kids (And the Candidate)
The Republican front-runner's charity, the Carson Scholars Fund, has established a network of reading rooms in schools across the country. That good turn has earned him plenty of political support.
by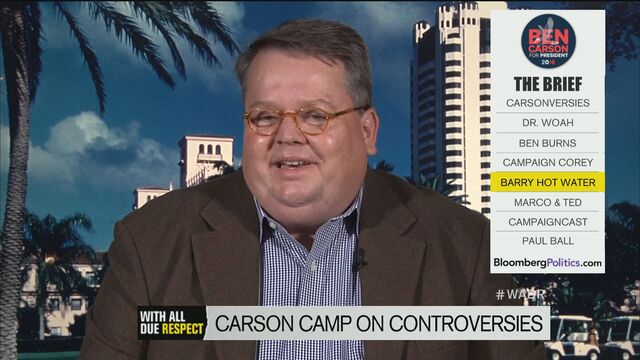 In his campaign for president, Ben Carson is utilizing the same tools as most of his rivals. He's got an official campaign committee and the support of several super-PACs. But the retired neurosurgeon has another potential asset that is exclusively his own: the Carson Scholars Fund. 
Founded in 1994 by Carson and his wife, Candy, in response to what they saw as an over-emphasis on athletic scholarships, the educational foundation awards $1,000 stipends to students based on academic achievement. In addition, the fund in 2000 added a new mission, establishing "Ben Carson Reading Rooms" in elementary schools around the country. The schools where reading rooms are located are encouraged to celebrate "Ben Carson Reading Day" every November during American Education Week, during which students celebrate reading with special activities such as guest readers.
In the last 13 months, three Ben Carson Reading Rooms have opened in Florida, which holds its primary on March 15 and is traditionally a key battleground in the general election. There are now 132 Ben Carson Reading Rooms in 17 states and Washington, D.C., according to the foundation's website. There aren't any of the candidate's reading rooms, however, in Iowa, New Hampshire, or South Carolina, where the first nominating contests will be held.
Since its inception, the Carson Scholars Fund has awarded $4.2 million in scholarships to children and has become a central part of the inter-connected Carson eco-system that includes the presidential candidates' best selling books and paid speeches. Each pillar has helped elevate his national profile. The more speeches he gave and more books he sold, the more money he raised for the foundation. The group's annual reports routinely list the Carsons in the $20,000+ donor category.
As Carson's profile grew, so too did his donor network and his grassroots support system rooted in the hundreds of schools thousands of students throughout the country that his foundation benefited, potentially giving Carson a grassroots network of grateful voting-age parents. A spokesperson for the foundation said they are "completely independent from the campaign." But the foundation also gave Carson entrée to corporate America.
In recent years, the Carson Scholars Fund has collected donations in excess of $20,000 from the Charles Koch Foundation, the Heritage Foundation, Bank of America, AT&T, Intel Americas, Inc., and Blackstone, according to a review of the non-profit's annual reports.
"A lot of these people were people he ran into while he was giving speeches throughout the country," said Roger Bennett, a Baltimore-based attorney who helped the Carsons get the fund off the ground in the 1990s. "He's really phenomenon. If you meet him and talk to him, you want to be involved with him."
The foundation declined multiple requests for comment to disclose annual reports from fiscal years 2014 and 2013 and it has only released annual reports dating back to 2009. According to tax forms that non-profits must make available under law, the foundation reported $2.48 million in total revenue last fiscal year and $1.89 million in expenses. Federal law does not require non-profits to make donors public, so the annual reports are the only potential source of that information. The foundation also declined multiple requests for interviews.
Key to the foundation's success, according to Bennett, was Carson's compelling personal story of his rise from poverty in inner-city Detroit to become an Ivy League-educated brain surgeon, as chronicled in his now-much scrutinized autobiography Gifted Hands.
"Anybody who read the book was already hooked on Ben. They wanted to help in any way they could," he said. "It was an easy pairing to look at his life story through his book and look at what his goals are in regards to the scholarship fund."
The foundation began with a focus on Baltimore, where Carson lived and worked. It got off to a somewhat rocky start: According to contemporary reports, the group briefly lost its corporate charter for failing to file proper paperwork.
"Records indicate that a personal property return that missed a filing deadline was later filed with amended articles and revived the charter," a spokesman for the foundation said in an e-mail.
But by 1997, the Carson Scholars Fund board included several of Carson's colleagues from the Johns Hopkins University Hospital as well as famed televangelist Robert Schuller (who died earlier this year at the age of 88), and Carson was seeking to go national. Multiple reports on his efforts at the time stated that he was seeking corporate donations. While Carson looked to expand, he hired a fundraiser: Susan Johnson, an influential, well-connected Baltimorean who was married to Davey Johnson, the then-manager of the Baltimore Orioles.
That same year, Davey Johnson fined one of his players, Roberto Alomar, $10,500 for missing an exhibition game and a team banquet and ordered him to donate the money to the Carson Scholars Fund. The ballclub's majority owner, Peter Angelos, along with the MLB Players' Association, argued conflict of interest. In a statement to the Baltimore Sun at the time, Carson said that "the Carson Scholars Fund is appreciative of the intention of the Baltimore Orioles to donate to this worthwhile cause." The incident ended with Johnson—who had a tumultuous relationship with Angelos to begin with—resigning.
Today, the foundation lists music mogul Quincy Jones, former Secretary of State Colin Powell, actor Samuel L. Jackson, and former NFL coach Tony Dungy as national honorary board members.
The foundation also took money from dietary-pill company Mannatech, which is listed in the foundation's 2010 fiscal year report as having made a donation valued somewhere between $10,000 and $19,999. Carson's relationship with the company has been criticized as he's climbed in the polls. The Texas attorney general accused Mannatech of deceptively marketing their pills as cure-alls for diseases like cancer. Mannatech admitted no wrongdoing and settled with the state for $7 million.
Carson has given four paid speeches to the group in the last decade, and his adviser, Armstrong Williams, has said that Mannatech compensated Carson for two of the speeches by donating to the the Carson Scholars Fund.
Before it's here, it's on the Bloomberg Terminal.
LEARN MORE