De Blasio's Presidential Forum on Income Inequality Is Canceled
by
Organizers say issue becoming more prominent in 2016 campaign

Forum cancellation follows NYC mayor's endorsement of Clinton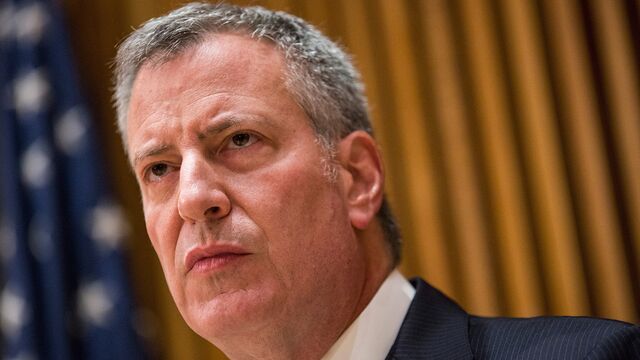 A presidential forum on income inequality next month in Iowa that was proposed by New York Mayor Bill de Blasio has been canceled, his organizing committee announced Tuesday.
The Progressive Agenda Committee, set up by de Blasio, said in an e-mailed statement that the issue had become so much a part of the 2016 presidential campaign that the Dec. 6 forum was no longer necessary. No candidates had said they would attend.
"It is clear other efforts beyond the previously-planned presidential forum will more effectively advance the cause of fighting income inequality," Geri Prado, the group's executive director, said in the statement.
De Blasio, a Democrat who has sought to distinguish himself as a national leader on progressive causes, proposed the event in April. He said as recently as Oct. 30, when he endorsed former Secretary of State Hillary Clinton to be the Democratic Party's presidential nominee, that he planned to attend.
The forum at the University of Iowa in Iowa City was beset by organizational difficulties as de Blasio became a target of criticism by Republican candidates. When invitations went out last month, no presidential campaign, Democrat or Republican, indicated an intention to be present.
An early sign that the forum could present a problem for the mayor appeared in an Aug. 5 Quinnipiac University poll, which showed his approval rating at a low of 44 percent, reinforcing a similar survey in May in which 46 percent of respondents said his travels outside New York were distracting him from his job.
The mayor this year traveled to the Midwest and to Washington proposing a multi-faceted agenda that included ending preferential tax treatment on carried interest, more public investment in infrastructure, higher minimum wages and paid sick pay.
In an Oct. 29 Quinnipiac poll, 50 percent said his involvement in national issues was distracting him from his mayoral duties, while 37 percent said it wasn't. The same poll reported his approval rating at 45 percent, with 46 percent rating his performance negatively.
Part of his national agenda included the Iowa forum, which de Blasio envisioned as a bipartisan conference where Democrats and Republicans would discuss their ideas for reducing income inequality.
"For the past several months, addressing inequality has become more and more a central part of the Democratic presidential contest," Prado said. "Some of these issues have even made their way into the GOP contest."
Before it's here, it's on the Bloomberg Terminal.
LEARN MORE