Obama Tells Netanyahu Their Differences Must Be Narrowed
by and
He says split is mostly on `narrow issue' of the Iran deal

Netanyahu says shared goals will keep the alliance strong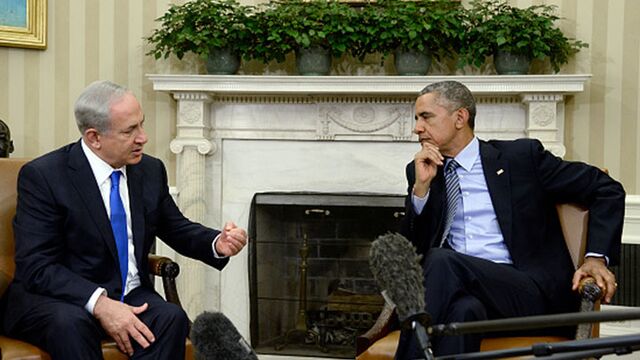 President Barack Obama told Israeli Prime Minister Benjamin Netanyahu that while their differences on the Iran nuclear pact are "no secret," their countries must work together in fighting terrorism and seeking peace with the Palestinians.
The split between the two leaders is on the "narrow issue" of the nuclear agreement with Iran, Obama said as he met with Netanyahu in the Oval Office Monday for the first time in 13 months. "We don't have a disagreement on making sure that Iran doesn't get a nuclear weapon," he said.
Still, other sources of friction remain, particularly the stalled Israel-Palestinian peace process. Obama said the "legitimate" aspirations of Palestinians must be recognized. He called on both sides to lower tensions that have sparked an outbreak of violence. Netanyahu said he remains "committed to a vision of peace of two states for two peoples." Clasping hands after each made a statement to reporters, they took no questions.
"There was a real effort to convey the impression that things are different and better" through the leaders' tone and body language, said Aaron David Miller, vice president of the Wilson Center in Washington, who served as a Middle East negotiator under Democratic and Republican presidents. "They seem to have drained out some of the tension, but there is no illusion whatsoever about what each man thinks of the other."
QuickTake: U.S.-Israel Relations
Netanyahu's return to the White House comes eight months after he offended the Obama administration by accepting a Republican invitation to address a joint meeting of Congress to denounce the multinational deal to limit Iran's nuclear program, which the president has defined as one of the signature actions of his two terms in office. The Israeli leader was pointedly not invited to the White House when he came to Washington for the speech in March.
While this was their first White House meeting in more than a year, Obama said the number of times he's talked with the Israeli leader is "testament to the extraordinary bond" between their nations.
"We are obviously tested today from the instability and insecurity in the Middle East," with the "savagery of" Islamic State terrorists and the "aggression and terror by Iran's proxies and by Iran itself," Netanyahu said.
Netanyahu thanked Obama on Monday for strengthening the military alliance that delivers $3.1 billion in aid annually and said he's eager to discuss a 10-year extension for the package that expires in 2018. Obama said he wants to get "a head start" on negotiating that future defense assistance.
Military Aid
In the aftermath of their split over the Iran agreement, Israel is seeking to increase the military assistance it gets from the U.S. Ben Rhodes, Obama's deputy national security adviser, has declined to discuss what that increase could look like, but the package could reach $4.5 billion a year, according to Michael Eisenstadt, director of the Military and Security Studies Program at the Washington Institute for Near East Policy.
Asked about the prospect of increased U.S. aid, a spokeswoman for the House Appropriations Committee said "any request would be thoroughly and thoughtfully considered."
"The committee has always been in strong of aid to Israel," Jennifer Hing, a spokeswoman for the committee headed by Republican Representative Harold Rogers of Kentucky, said in an e-mail.
Adam Sharon, a spokesman for Senator Ben Cardin of Maryland, top Democrat on the Senate Foreign Relations Committee, said Cardin and eight other Democratic senators already have introduced a bill that could bring more aid.
Efforts to repair the political damage between Obama and Netanyahu were dealt a setback last week with Netanyahu's appointment of a media adviser who had earlier suggested on Facebook that Obama was an anti-Semite and Secretary of State John Kerry had the mind of a 12-year-old. The appointee, Ran Baratz, apologized and Netanyahu issued a statement saying the Facebook posts did not reflect his views.
In addition to the White House meeting, Netanyahu's three-day visit to the U.S. includes speeches to the conservative American Enterprise Institute, and the Center for American Progress, a Washington-based institution with ties to liberal Democratic groups and to Hillary Clinton, the front-runner for the party's presidential nomination. He will also meet with both Republican and Democratic leaders of the Senate.
On Monday night, Netanyahu received an award from the American Enterprise Institute, a conservative research group, during a dinner for 1,600 guests at the National Building Museum in Washington. They waited as long as an hour in the rain amid heavy security, and were taunted by about 100 Palestinian demonstrators across the street chanting that Netanyahu is a war criminal.
Netanyahu said at the dinner that he and Obama agreed they must "keep Iran's feet to the fire" to stop any cheating on the nuclear deal. He acknowledged his disagreement with Obama over the agreement, saying he would be "delighted" it he's wrong but "I suspect I'll be proved right. "
Before it's here, it's on the Bloomberg Terminal.
LEARN MORE