Donald Trump Says Ben Carson Has to 'Explain a Lot of Things'
by and
Carson says he's a threat to `secular progressive movement'

Inaccurate details possible in autobiography: Carson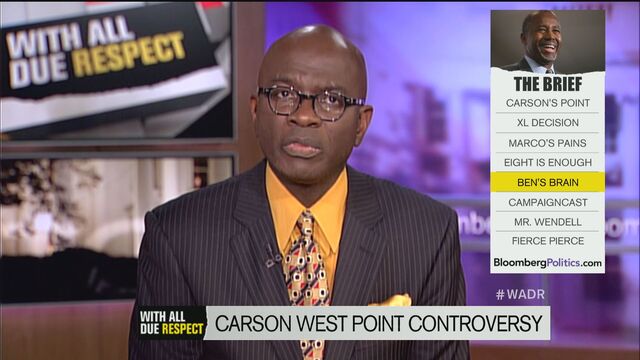 Republican presidential contender Ben Carson "will have to explain a lot of things away" given questions about whether parts of his life story have been exaggerated or fabricated, rival White House hopeful Donald Trump said Sunday.
Carson, a retired neurosurgeon leading some polls for the 2016 Republican nomination, has been under scrutiny after media outlets including CNN and the Wall Street Journal were unable to verify anecdotes in his widely read autobiography, "Gifted Hands," including that he was offered a scholarship to the U.S. Military Academy at West Point.
Trump, the billionaire real estate mogul, spoke on four Sunday morning talk shows about the fellow political outsider who has emerged as his top challenger.
"I just don't know what to think," Trump said on CBS's "Face the Nation." "I hope it works out for Ben."
Carson "said he has pathological disease" in his autobiography, Trump said on ABC's "This Week." "When you have pathological disease, that's a very serious problem because that's not something that's cured."
Carson's statements that Egypt's pyramids were built to store grain, not to inter pharaohs, are a puzzle, Trump on NBC's "Meet the Press." "You don't put grain in a pyramid," Trump said. Carson first spoke about that belief in a 1998 commencement speech and said last week it's still his view.
Carson, also appearing on "Meet the Press," said he is being vetted more severely than previous presidential hopefuls, including Barack Obama and Bill Clinton. "What's going on with me -- I have not seen that with anyone else," Carson said. "Not even close."
Carson said he's under scrutiny "because I'm a threat to the secular progressive movement in this country."
Recollections in the autobiography may have had inaccurate details but weren't lies, Carson said on ABC's "This Week."
"Show me somebody, even from your business, the media, who is 100 percent accurate in everything that they say that happened 40 or 50 years ago," Carson said. "Please show me that person. I will sit at their knee and I will learn from them."
Before it's here, it's on the Bloomberg Terminal.
LEARN MORE