Resume Revisionism
Ben Carson Defends Claim He Was Offered Scholarship to West Point
Faced with a major charge against the personal narrative that helped launched his candidacy, the candidate fights back fiercely.
by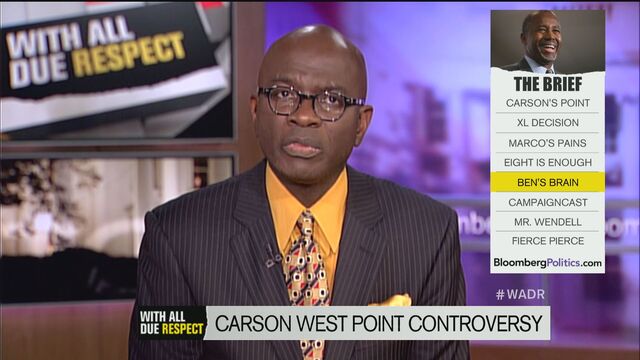 After weeks of rising as a Republican candidate for president, Ben Carson on Friday found himself in the unusual position of playing defense, contending that a report saying he exaggerated a piece of his impressive résumé was itself an exaggeration.
Speaking to reporters in Florida, where he has been on a book tour this week, an uncharacteristically animated Carson accused Politico of telling "a baldfaced lie" in reporting he had walked back his claim of receiving a scholarship to the U.S. Military Academy at West Point after the publication questioned the lack of evidence for it. "I never said I got a scholarship," Carson said. Questioned about whether he had mischaracterized his dealings, Carson added, "I'm not going to say it is a mistake, so forget about it."
The retired neurosurgeon, whose personal narrative of rising from poverty has helped propel him to national prominence, also had tart words for his rival Donald Trump, who accused Carson of "lying" in a tweet.
"What would you expect Donald Trump to say?" Carson asked. "What would you expect from someone who is running neck-and-neck with you in the polls?"
Carson's campaign described the controversy as a misunderstanding. "They told him they could help him get an appointment based on his grades and performance in ROTC. He considered it but in the end did not seek admission," campaign manager Barry Bennett told Politico. Later, Bennett acknowledged in an interview with Bloomberg Politics that the candidate, in his autobiography Gifted Hands, made a "marginally bad word choice" in describing the experience with West Point.
But Carson himself, when asked by the Christian Broadcasting Network if he had any regrets about writing that he was "offered a full scholarship to West Point" in his 1992 book, defended his characterization.
"I mean, that was the way it was presented to me," he replied. "I understand the way West Point works is through a different mechanism, but that's the way it was presented to me, and you know I'm thinking of something that happened almost a half century ago."
The scholarship offer is a claim that Carson has made for years in his books and media appearances, including an interview last month on Charlie Rose and an online chat in August on his Facebook page. 
"The next question is from Bill. He wanted to know if it was true that I was offered a slot at West Point after high school," Carson wrote on Facebook. "Bill, that is true. I was the highest student ROTC member in Detroit and was thrilled to get an offer from West Point."
Between the interpretations of Carson's brush with West Point was the possibility that he misunderstood how the process worked. Armstrong Williams, Carson's longtime adviser, defended the candidate on Bloomberg's With All Due Respect, arguing that Carson's misinterpretation of the West Point offer was a sincere misunderstanding. When Carson wrote the book, Williams said, he was relying on the memories of a 16-year-old from the inner city. "In his mind, he was offered a scholarship," Williams said.
Vu Tran, who runs a Colorado-based company advising students on how to apply to military academies, said only the president, vice president, and members of Congress can nominate a student to attend West Point—not ROTC officers. Once a student is nominated, he or she can still be rejected during the application process, Tran said.
"There's no such thing as being awarded a full scholarship to West Point. No one refers to it like that," said Tran, whose firm is called Service Academy Coach. "That's because there's no tuition at all to attend West Point."
Tran added that costs for books and uniforms are deducted from the money students are paid to attend military academies.
Bennett described the controversy as a "majorly hyper-reaction from the media" and suggested that some of Carson's rivals might be behind it. Carson's campaign "makes our challengers very nervous," Bennett said. "They've got opposition researchers trying to spread some dirt."
Earlier this week, CNN raised questions about the accuracy of another Carson story from Gifted Hands in which he described attacking a "friend" whom he named "Bob" with a knife. Carson told the network the friend was actually a relative whom he would not name. 
Carson's supporters sought to shift the blame on an over-zealous media. The 2016 Committee, a pro-Carson super-PAC, e-mailed supporters Thursday asking for donations to defend Carson from the "demeaning media attacks."
"There may be a detail or two misplaced, but there's very few things that people remember that happened exactly more than 20 years ago," said Andy Yates, executive director of One Vote, another Carson super-PAC.
"But this could end up helping Carson," Yates said. "If you noticed at the last debate the biggest applause lines were when the candidates criticized the media."
One of Carson's rivals, Jeb Bush, bought into that line on Friday. "If it's between Politico and Ben Carson, I'm in the Ben Carson column," the former Florida governor said.
Bill Gustoff, a member of Iowa's GOP state central committee, also downplayed the significance of questions. 
"Which politician in either party doesn't get their biography questioned any time after they publish it?" said Gustoff, who is still undecided. He said that Iowa caucus-goers have a "deep suspicion of the mainstream media."
Before it's here, it's on the Bloomberg Terminal.
LEARN MORE