Netanyahu Names Media Adviser Who'd Called Obama Anti-Semitic
by
Ran Baratz also insulted Israel's president, Secretary Kerry

The online commentator apologized for his past remarks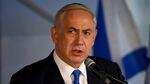 Days before his fence-mending mission to Washington, Benjamin Netanyahu named a new media adviser who wrote in a Facebook post in March that President Barack Obama's treatment of the Israeli prime minister "looks like modern anti-Semitism."
Ran Baratz, 42, who runs a news commentary website and lives in a West Bank settlement, was picked Wednesday as head of public diplomacy and media in the prime minister's office, subject to approval by Netanyahu's cabinet. The appointment immediately prompted denunciation from other politicians he's insulted, including Israeli President Reuven Rivlin.
Baratz suggested in an Oct. 25 post that Israel should send the 76-year-old president over the Syrian border in a paraglider because "he's such a marginal figure that there's no concern for his life." He's also said that U.S. Secretary of State John Kerry, who failed last year in his effort to revive Israeli-Palestinian peace talks, had the "mental age" of a 12-year-old.
Netanyahu branded Baratz's posts "totally unacceptable" in a statement Thursday, saying he was unaware of his appointee's comments beforehand, and that the remarks "in no way reflect my positions." Baratz apologized and asked for a meeting to "clarify the matter" after Netanyahu returns from Washington, according to the statement.
Baratz's appointment comes the week before Netanyahu is due to meet Obama in Washington for the first time since he delivered a speech to Congress March 3 opposing the president's effort to win approval of of a multinational deal to limit Iran's nuclear program. The Obama administration, which wasn't consulted on Netanyahu's invitation to speak by Congressional Republicans, signaled its anger by refusing to see him at the White House. Aides to both Netanyahu and Obama have said the Nov. 9 meeting in the Oval Office is an effort to lower the tension between the two.
Reacting to the White House snub in March, Baratz wrote on Facebook that Obama's response to Netanyahu's speech "is what modern anti-Semitism looks like in Western liberal countries."
White House press secretary Josh Earnest was asked about the appointment at his daily media briefing Thursday. "It's readily apparent that that apology was warranted," he said.
Before it's here, it's on the Bloomberg Terminal.
LEARN MORE